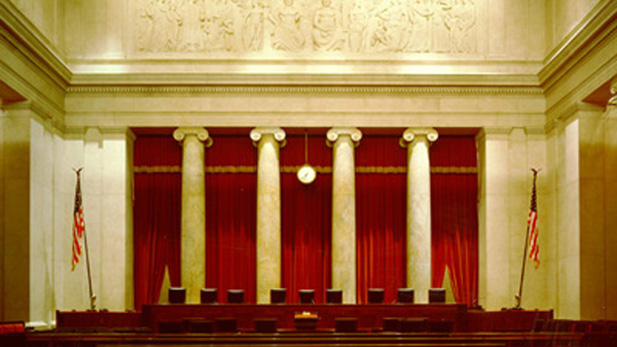 The U.S. Supreme Court in Washington, D.C.
This story was updated at 2:50 p.m. with reaction from Arizona.
The U.S. Supreme Court announced Thursday it was deadlocked on President Barack Obama's plan to shield millions of immigrants from deportation.
The 4-4 tie leaves in place a lower court ruling that put the Obama administration's plan to defer deportations for people who are in the country illegally and have U.S. citizen children.
Reaction in Arizona was mixed.
U.S. Rep. Matt Salmon, R-Ariz., applauded the deadlock.
"No other president has so brazenly disregarded the fundamental duty of his office to 'take care that the laws be faithfully executed'," Salmon said in an emailed statement. "The matter is now settled; there is no equivocation. With this ruling, the president must now accept the will of the people and enforce our nation's immigration laws."
Petra Falcon, director of Promise Arizona, a pro-immigrant group, called it "heartbreaking."
"The Supreme Court's failure to act on President Obama's plan to block the deportation of millions of undocumented immigrant families nationwide, including nearly 150,000 people in Arizona, is heartbreaking news to our community," Falcon said in an emailed statement.
Sierra Vista native Victoria DeFrancesco Soto, a professor of political science at the University of Texas in Austin, said there is a silver lining in what the issue can do to organize the Latino vote.
"It is bad news; there's no way to sugar coat this," Soto said. However, "I think it can help mobilize the Latino electorate to go to the polls in November and make a difference."
Soto said future Supreme Court decisions about immigration will rest on the appointment of a ninth justice.
Until then, she said, parents in Arizona and across the country who are here illegally will remain in the shadows, regardless of their children's legal status.

Obama announced in 2014 that he was expanding his Deferred Action for Childhood Arrivals program, which stopped the deportation of young people, commonly referred to as "dreamers," who were brought into the country illegally by their parents.
Texas filed suit and Arizona and two dozen other states joined the case as plaintiffs. The Court of Appeals in Texas ruled Obama's policy was unconstitutional, and it is that ruling that is in place because of the Supreme Court's deadlock.
The court is operating one justice short after the death earlier this year of Antonin Scalia.
That program shielded 1.1 million immigrants from deportation, including an estimated 20,000 in Arizona. The expansion of that program and the creation of another, called Deferred Action for Parents of Americans and Lawful Permanent Residents, would have shielded some 4 million others, including an estimated 150,000 in Arizona.