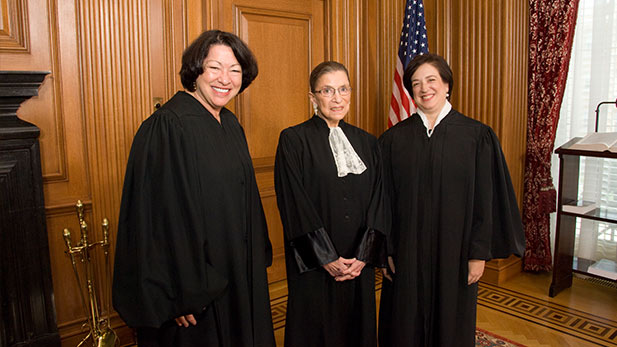 Justices Sonia Sotomayor (left) and Ruth Bader Ginsburg (center) with Justice Elena Kagan in the Justices' Conference Room prior to Justice Kagan's Investiture Ceremony on October 1, 2010.

Steve Petteway, photographer for the Supreme Court of the United States.
U.S. Supreme Court Justice Elena Kagan will visit Tucson and the University of Arizona James E. Rogers College of Law next month, the school announced to its students Wednesday in an email.
Kagan had been scheduled to visit earlier this year but canceled her trip because of the death of fellow Justice Antonin Scalia.
The college's announcement said Kagan will deliver the annual McCormick Society Lecture Aug. 31, an evening event at Crowder Hall on campus, and will participate in a question-and-answer discussion with law students earlier in the day.
Law school officials say there's a waiting list for the public to attend the McCormick Society Lecture. To get on the list, call 520 626-3056.
Kagan was appointed to the Supreme Court by President Barack Obama in 2009, and the Senate confirmed her later that year. She served as U.S. solicitor general in the Obama administration before that.
Kagan earned her undergraduate degree at Princeton University, a graduate degree at Worcester College, Oxford, England, and her law degree at Harvard University. She taught at the University of Chicago Law School.