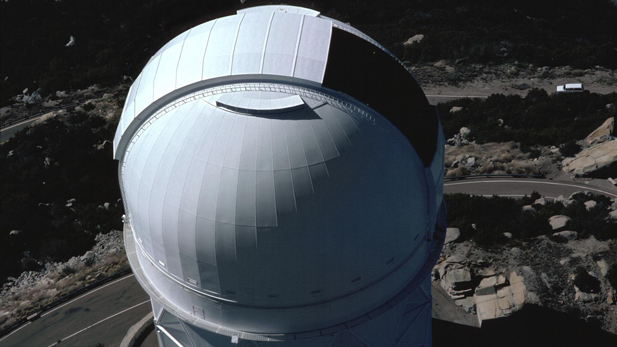 The NOAO Mayall 4-meter telescope at the Kitt Peak National Observatory.

P. Marenfeld (NOAO/AURA/NSF)
An instrument being built for Kitt Peak National Observatory near Tucson will allow a look back in time. And that will enhance concepts developed by Albert Einstein about how dark energy is driving the expansion of the universe.
University of Arizona astronomy professor Xiaohui Fan is among the 300 scientists and engineers from around the world working on the 3-D galaxy mapping project to be installed on the Mayall 4-meter telescope at Kitt Peak.
"I really hope we could, in the end, get some more information about what the nature of dark energy is. Right now, the best guess is what we call the cosmological constant, a concept invented by Einstein 80 years ago," Fan said.
The UA now is conducting a pre-imaging survey, creating a navigation map that will help guide researchers when the Dark Energy Spectroscopic Instrument starts making observations in early 2019.
"Any new information about how the expansion of the universe changes over time is going to tell us a lot about what dark energy might be. It may be our only hope to figure out what is actually … the dominating force in the universe," he said.
Fan said the spectroscope will measure the light from more than 35 million celestial objects in five years. That light will reveal how fast the objects are moving away.