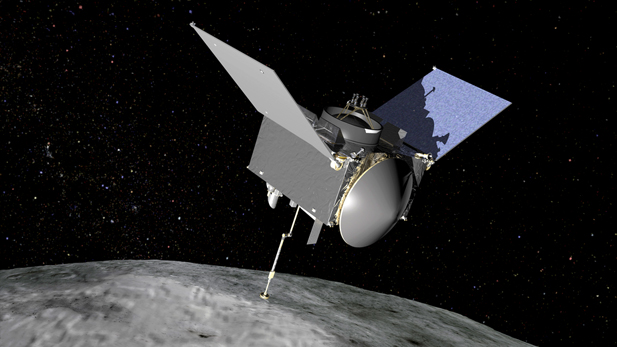 An artist's conception of the OSIRIS-REx spacecraft at the asteroid Bennu

NASA/GSFC
The University of Arizona mission to an asteroid is days from its scheduled launch. It's now a matter of waiting until just after 4 p.m. Arizona time Thursday, Sept. 8.
Everyone involved with the planning, design and construction of the mission known as OSIRIS-REx has gathered in Florida.
The mission was proposed 12 years ago. OSIRIS-REx's target is an asteroid named Bennu. The carbon-rich rock is a half-mile wide and may hold clues about formation of the solar system.
The spacecraft will carry an instrument that will stir up dust, dirt and rocks on the asteroid's surface, and that material will be swept up and carried back to Earth.
After blastoff, OSIRIS-REx will orbit the sun for a year, then head toward the asteroid. It is scheduled to reach Bennu in 2018 and spend two years surveying the surface before scientists choose the spot to grab a sample.
OSIRIS-REx will turn back toward Earth in 2021. The sample return capsule will land in the Utah desert in 2023. Then scientists will spend two years studying the materials it brings back.