The ancient remains of a mammoth discovered in 1951 near Naco, Arizona tell a fascinating story. Mark McLemore visits the Arizona State Museum to find out what it says about the humans who lived and hunted in this region more than 12,000 years ago.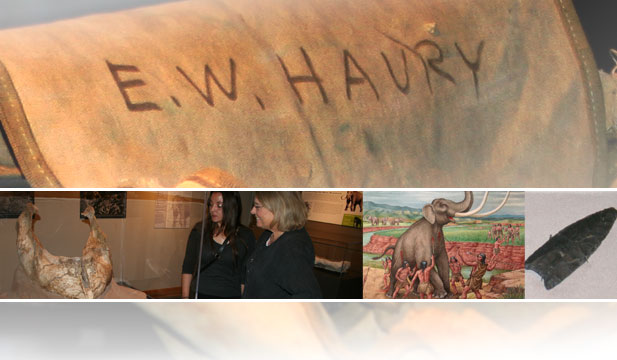 arizona spotlight Naco mammoth 617X350 no logo
Hear the story behind the recovery of these ancient mammoth remains, a unique paleontological find that is the best surviving evidence of human beings hunting mammoths in North America. A sensation back in 1951, the Naco Mammoth has served as inspiration for a generation of scientists, many of whom read about it in a landmark Sports Illustrated article that is also part of the Arizona State Museum exhibit, along with an highly detailed diorama of what Arizona may have looked like in prehistoric times.
The exhibit, Ice Age Arizona: Preserving the Naco Mammoth is on display at the Arizona State Museum through October.
The Museum is located on the University of Arizona campus, just northeast of the Main Gate at Park Ave. and University Blvd. The street address is 1013 E. University Blvd. (85721).
Directions; From Interstate-10, take the Speedway Blvd. / University of Arizona exit. Head east on Speedway Blvd. to Euclid Ave. Turn south (right) onto Euclid Ave. You will see a five story parking garage to your left, at First St. This is the Main Gate Garage and you may park here for a small fee on weekdays (free on weekends). Or you may proceed south on Euclid Ave. to Fourth St. The parking garage at Fourth St is also on your left. You may park here for a small fee on weekdays (free on weekends). In both cases, the Arizona State Museum is just about one and a half blocks to the east.