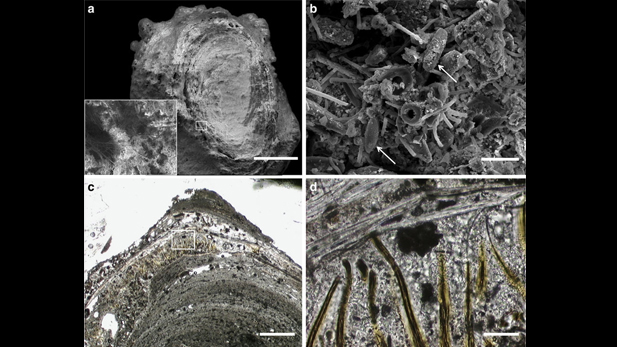 Scanning electron microscope images of two samples from El Tatio, Chile: (b) (scale bar = 20 micrometers) shows silica-encrusted microbial filaments and sheaths, and spindle-shaped diatoms (arrows); (d) (scale bar = 50 micrometers) shows silicified sheaths of Calothrix, a type of blue-green algae.

Courtesy of Steve Ruff/Jack Farmer/Nature Communications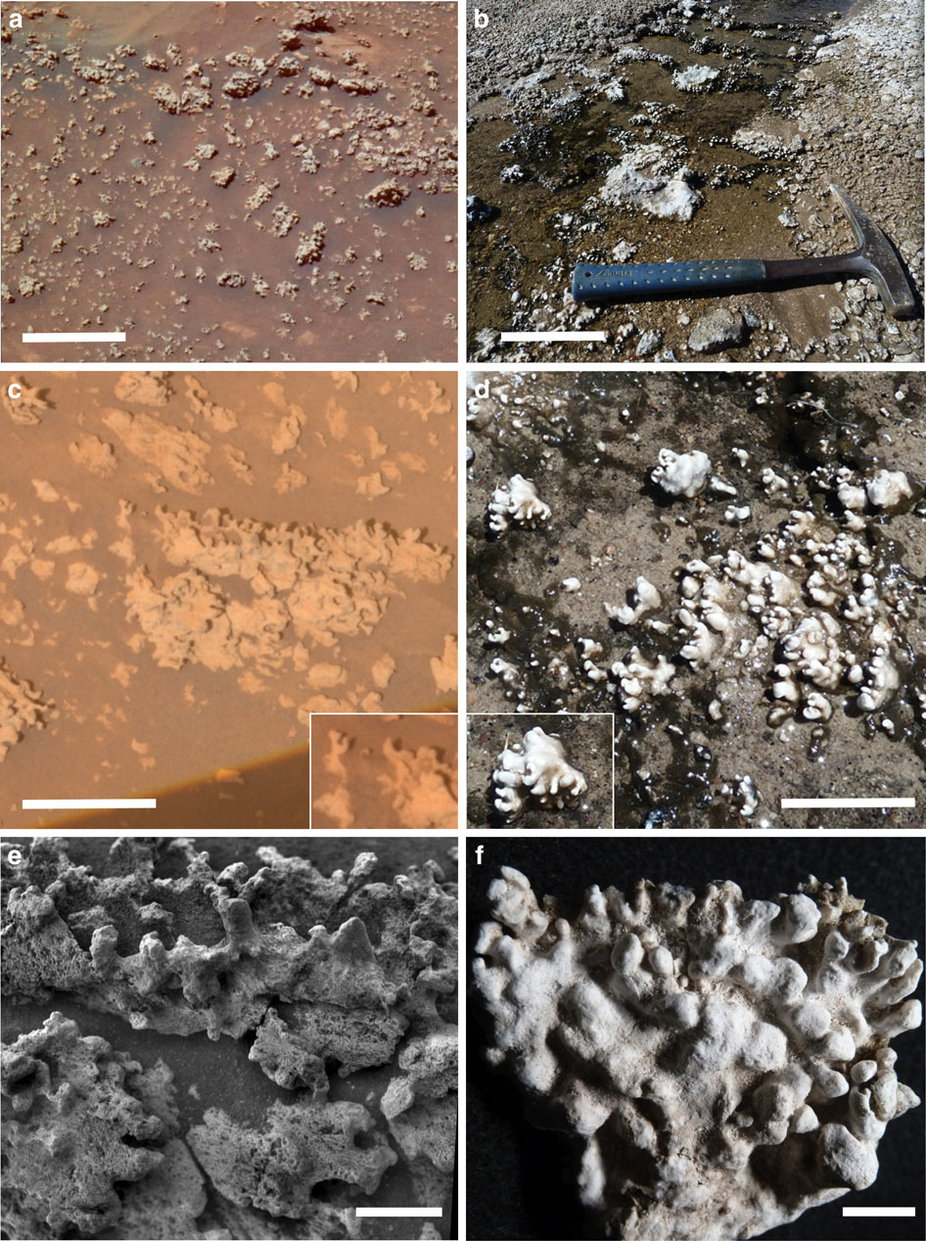 VIEW LARGER Comparison of Mars opaline silica (left) to deposits at El Tatio (right). Scale bar in (a) and (b) represents 10 cm; in (c) and (d), it corresponds to 5 cm.

Courtesy of Steve Ruff/Jack Farmer/Nature Communications
The idea that ancient Mars hosted microbial life has gained strength recently thanks to the work of two Arizona State University planetary geologists doing research in a in a desert in Chile.
When NASA's Spirit rover collected samples in Mars' Gusev Crater in 2007, it found soil rich with silica – which only forms in water. That finding bolstered the possibility of ancient Martian life.
Now, ASU's Jack Farmer and Steve Ruff have found similar silica nodules in one of Earth's most Mars-like spots: Chile's El Tatio geyser field. The Earthly nodules need microbes to form, and Ruff says their Martian counterparts might have needed them too.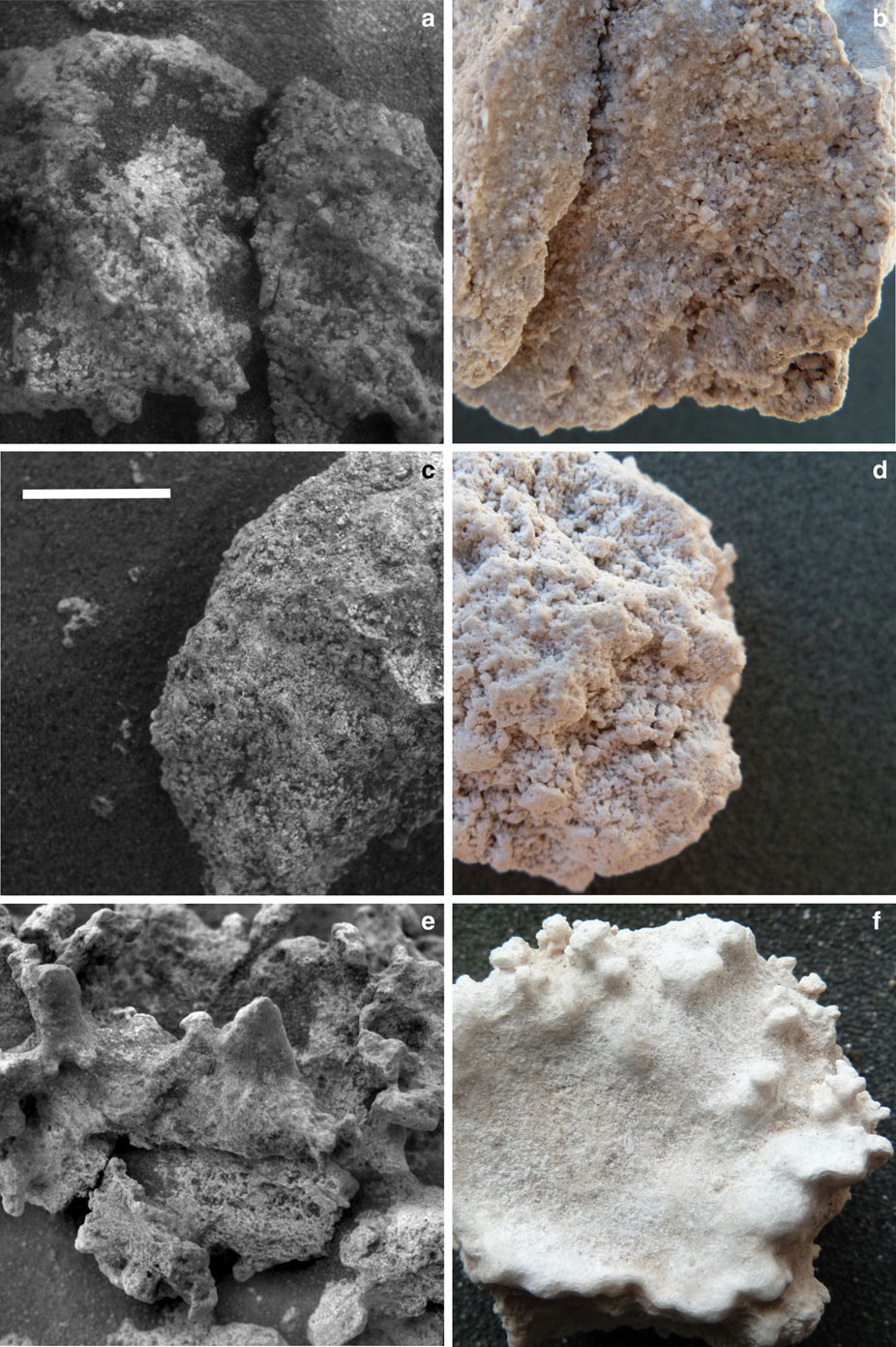 VIEW LARGER Comparison of Mars opaline silica (left) to deposits at El Tatio (right). Scale bar represents 1 cm in all images.

Courtesy of Steve Ruff/Jack Farmer/Nature Communications
"It's the same mineralogy. They're in a very similar volcanic environment on both Mars and at El Tatio. And the ones in Chile, at El Tatio – there's biology involved," Ruff said.
Ruff and Farmer's paper, published in Nature Communications, does not prove that microbes built the Mars fragments, but it does argue for a return to Gusev when NASA sends its next Mars rover in 2020.