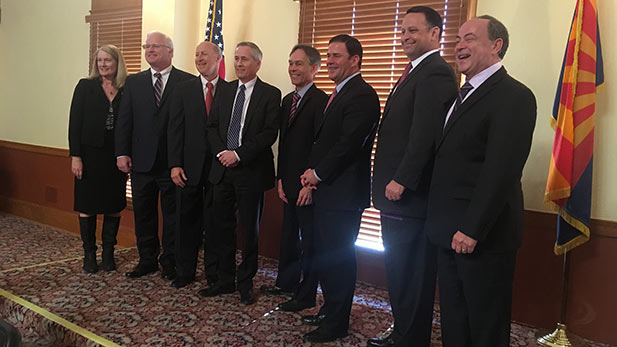 Gov. Doug Ducey with seven members of the Arizona Supreme Court following the swearing in of Justice Gould and Justice Lopez at the state capitol. Dec. 19, 2016

Christopher Conover, AZPM
Justice Andrew Gould and Justice John Lopez IV were sworn in as the newest members of the Arizona Supreme Court on Monday.
Gov. Doug Ducey appointed the two men after the Legislature passed a law expanding the court to seven seats.
Chief Justice Scott Bales said Ducey's picks will fit in well.
"In terms of their qualification by way of experience, temperament and collegiality they are each outstanding appointees to the Arizona Supreme Court," Bales said.
Democrats accused Ducey of pushing the legislation to expand the court so he could pack it with Republicans. After the ceremony he told reporters that was not true.
"We've right-sized the court. We are able to ensure justice for all Arizonans, and I think the message of today should not be around politics. It should be around the quality of these two justices," Ducey said.
Lopez most recently served as Arizona's solicitor general and is the first Latino to serve on the state Supreme Court.
Gould spent more than a decade as a superior court judge in Yuma.
Both will hear their first cases in January.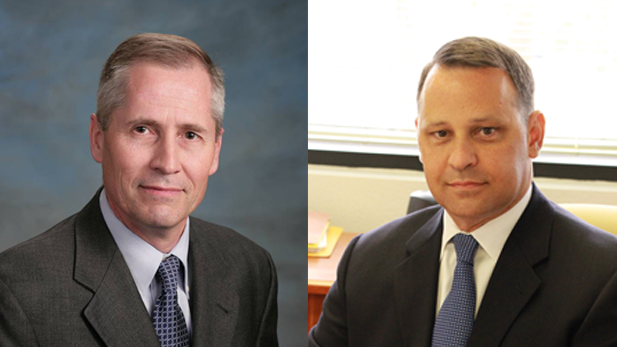 Arizona Appeals Court Judge Andrew Gould, left, and Solicitor General John Lopez were appointed to the Arizona Supreme Court Monday, Nov. 28.

AZPM Staff