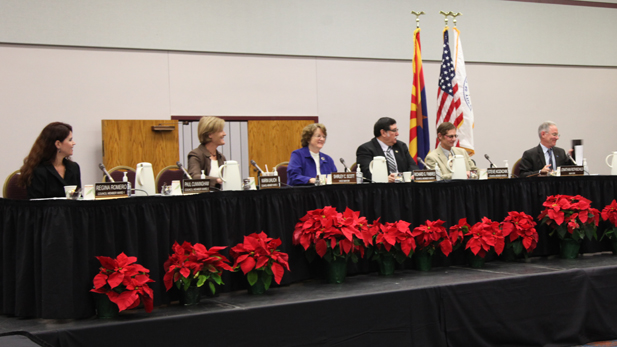 The Tucson City Council meets Dec. 2 after swearing in reelected members Karin Uhlich, Richard Fimbres and Steve Kozachik. Councilman Paul Cunningham is absent.

Andrea Kelly, AZPM
The City Council reaffirmed that Tucson is an "immigrant friendly" city in a unanimous vote Tuesday night, and Mayor Jonathan Rothschild insisted it is not a "sanctuary city."
The vote came in the wake of the election of Republican Donald Trump as president and amid discussion of what his tough-on-immigration stance will mean for the thousands who live in the U.S. illegally. As part of it, Trump said he would seek to cut off federal funding for any "sanctuary city."
The difference between a "sanctuary city" and and an "immigrant friendly city" appears to be one of semantics. In both, elected officials say their police departments should not enforce federal immigration law unless a crime is committed.
Rothschild said Tucson will not use the term "sanctuary city."
"It's a term that has no definition and is being used to inflame passions on both sides," he said after the council's vote.
At a news conference before the council meeting, Tucson's Mexican Consul General, Ricardo Piñeda Albarra, joined Rothschild and other city officials and said his office stands ready to help any Mexican citizen in Pima County who has questions.
"What's most important to us now is to let our citizens know, and by the way, the citizens of Mexico know that this is a place that they are welcome," Rothschild said at the news conference.
The council instructed its legal staff to work with the University of Arizona's Immigration Law Center to ensure Tucson's interpretation of local and federal laws can stand up, if need be, in court.
Trump promised in his campaign to build an impenetrable wall along the Mexican border and to deport millions of people in the country illegally.