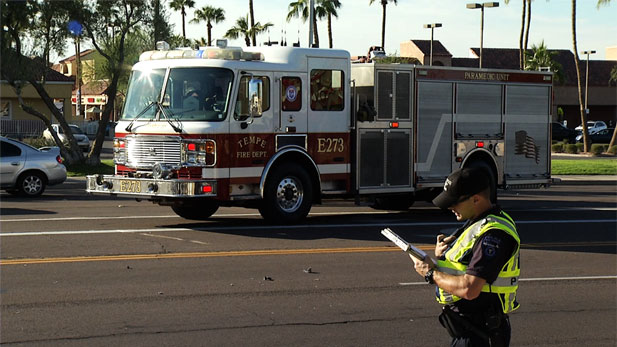 A Tucson fire truck arrives on the scene of a car accident.

AZPM
Tucson firefighters are helping University of Arizona researchers find a way to reduce the cancer risk faced by firefighters around the world.
Tucson Fire spokesman Captain Barrett Baker said the department conducted a controlled burn at the Public Safety Academy Thursday. Half the crew members involved wore a new kind of hood - one that includes a moisture barrier to keep chemicals in smoke from reaching a firefighter's skin.
Baker described the hypothesis being tested in Thursday's burn: "Does that one thing different in the hood, that moisture barrier, help prevent the body from absorbing some of these carcinogens and agents that are in these fires that are getting into our bodies?"
UA researchers swabbed the skin of all the firefighters involved - those who wore the experimental hood and those who wore the current version - to check for potential cancer-causing chemicals, Baker said after the fire.
FEMA is funding the study to cut down on cancer cases among firefighters, Baker said. One study showed firefighters are diagnosed with certain cancers at a rate 30 percent higher than the general public.