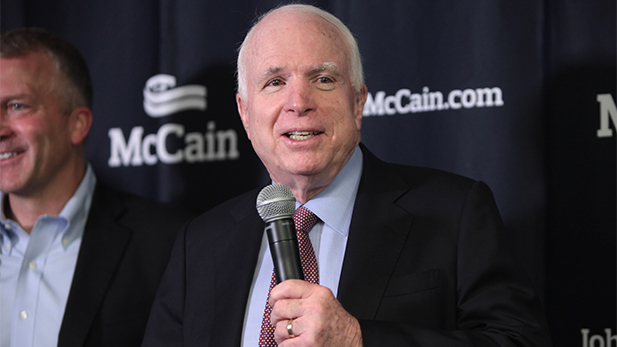 U.S. Sen. John McCain, R-Ariz. (PHOTO: Gage Skidmore )
President Donald Trump's firing of FBI Director James Comey Tuesday drew condemnation from Arizona politicians of both parties.

Republican Sen. John McCain released a statement saying he was "disappointed" by the move, and repeating his call for "a special congressional committee to investigate Russia's interference in the 2016 election."
Sen. Jeff Flake, also a Republican, tweeted, "I've spent the last several hours trying to find an acceptable rationale for the timing of Comey's firing. I just can't do it."
Democratic U.S. Rep. Raul Grijalva, who represents Southern Arizona's 3rd Congressional District covering western Pima County and the southwestern corner of the state, said in an interview the firing may have been part of a cover-up.
"I think this all points to the fact that it's an effort to convolute, to slow down, to dismantle and to begin to cover up what potentially this investigation was looking at down the road," Grijalva said.
Republican Rep. Martha McSally, who represents the 2nd Congressional District covering eastern Pima County and all of Cochise County, posted a statement on her website Wednesday morning.
"The timing of this decision to fire FBI Director James Comey is deeply concerning, especially in light of the ongoing Department of Justice's investigation into Comey's handling of the Clinton email scandal," McSally's statement said.
Democratic U.S. Rep. Tom O'Halleran, whose 1st Congressional District includes the northernmost part of Pima County, was among those calling for an independent investigation.
"We need to seek the truth—fearlessly and without prejudgment—about how Russia impacted the 2016 election," O'Halleran said. "I continue to support the work of our dedicated FBI agents. Now more than ever, though, we must do all we can to guarantee impartiality in the wake of the firing of James Comey."
Phoenix area Democratic U.S. Rep. Ruben Gallego issued a statement saying in part " ... Comey's sudden dismissal looks an awful lot like a cover-up."