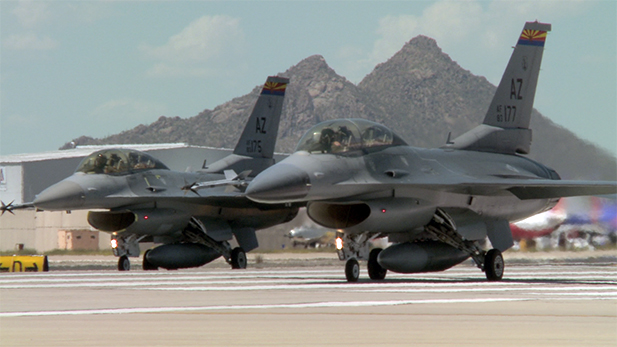 Fighter jets from the Arizona Air National Guard's 162nd Fighter Wing will perform five flyovers on Memorial Day morning.
The unit, based at Tucson International Airport, called the opportunity an honor.
"The 162nd is proud to honor our fallen brothers," said 1st Lt. Lacey Roberts. "We actually have pilots, maintainers, operations group folks that are coming in on their day off to be able to be part of this Memorial Day flyover."
The flyovers will take place 9-10 a.m. on Memorial Day at the following locations:
Memorial Day Parade and Service at Tucson Estates Park - 9 a.m.
Memorial Day Service at East Lawn Palms – 9:05 a.m.
Memorial Day Service at South Lawn Cemetery – 9:10 a.m.
Memorial Day Service at Green Valley Mortuary – 9:15 a.m.
Memorial Day Service at Purple Heart Park – 10 a.m.
Two groups of two planes will handle the flyover duties.
Brig. Gen. Andrew MacDonald, 162nd Fighter Wing Commander, will speak at the East Lawn Palms service.