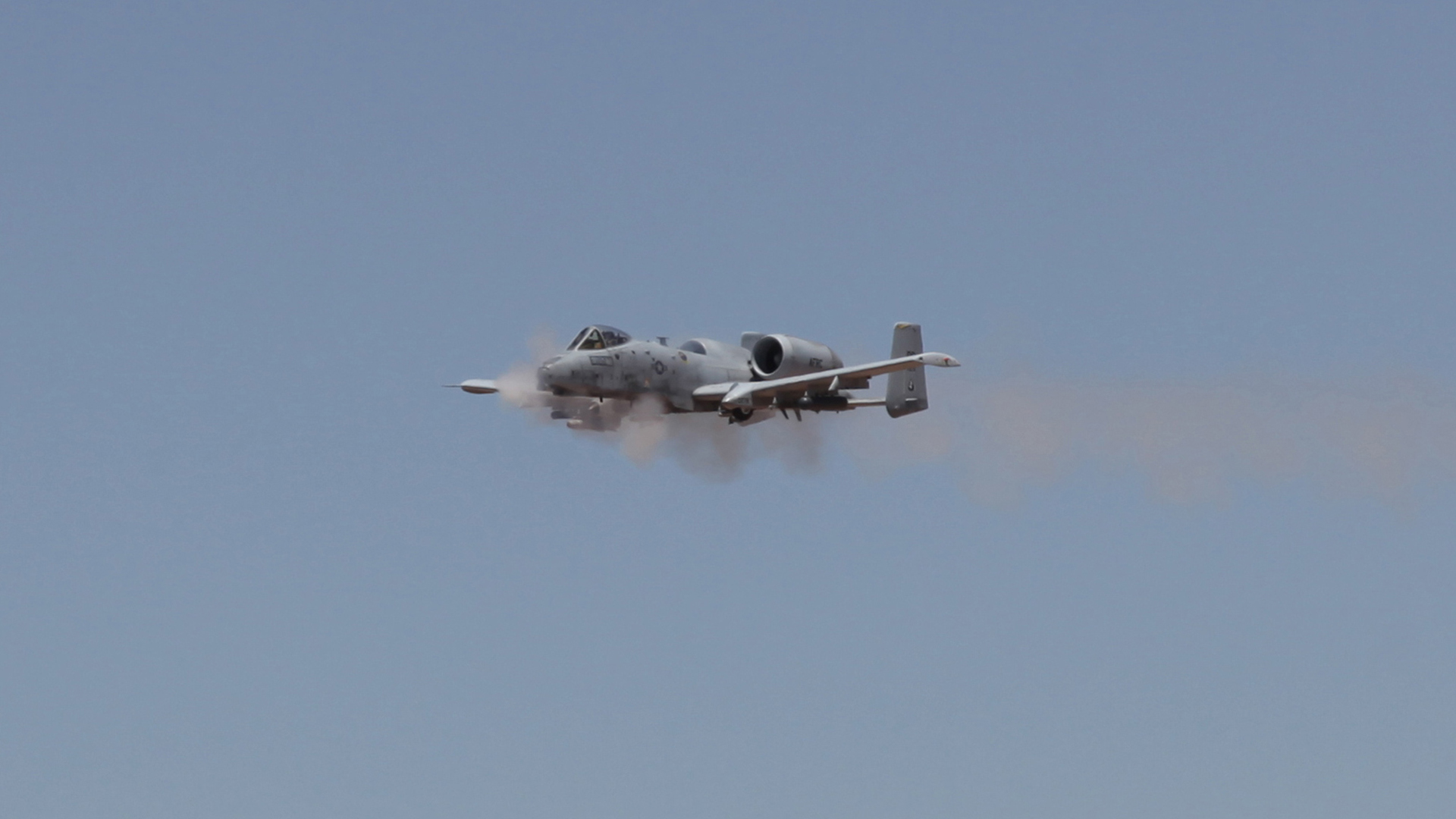 An A-10 from Davis-Monthan Air Force Base fires its gun at the Goldwater Range during the Hawgsmoke competiton. June 2016
Christopher Conover, AZPM
Air Force generals told Congress Wednesday that they plan to reduce the number of A-10 combat squadrons from nine to six.

The aging warplane, which is the main craft stationed at Tucson's Davis-Monthan Air Force Base, is supposed to be kept flying until 2030. This is the first time a change in that plan has been mentioned.
Republican U.S. Rep. Martha McSally, a former A-10 pilot, said Thursday that reducing the number of combat squadrons is not what Congress directed the Air Force to do.
"We've authorized and demanded that they keep 283 total A-10s with a minimum of 171 combat coded," McSally said. "Which right now equates to nine deployable squadrons."
Davis-Monthan is home to four squadrons that fly or train pilots in the A-10. One squadron is marked for combat and three for training, although one of the three training squadrons, the 355th Training Squadron, has no planes assigned to it. That squadron's pilots fly planes from two other training squadrons when needed.
The Air Force did not say which squadrons are on the chopping block. McSally said she should hear that with in two weeks.
One issue, which may explain the Air Force decision to cut back to six combat squadrons, has to do with the wings on the planes. Over time the wings suffer from metal fatigue and must be replaced.
So far, 173 A-10s have received new wings, keeping them air worthy. That leaves 110 in need of the wing replacement, McSally said, equivalent to three squadrons.
McSally said she is working to get that money put in the budget. Much of the wing replacement work is done at Davis-Monthan's aircraft storage facility, known as the "Boneyard."
CLARIFICATION
An earlier version of this story did not mention that one of the four Davis-Monthan squadrons has no planes assigned to it.