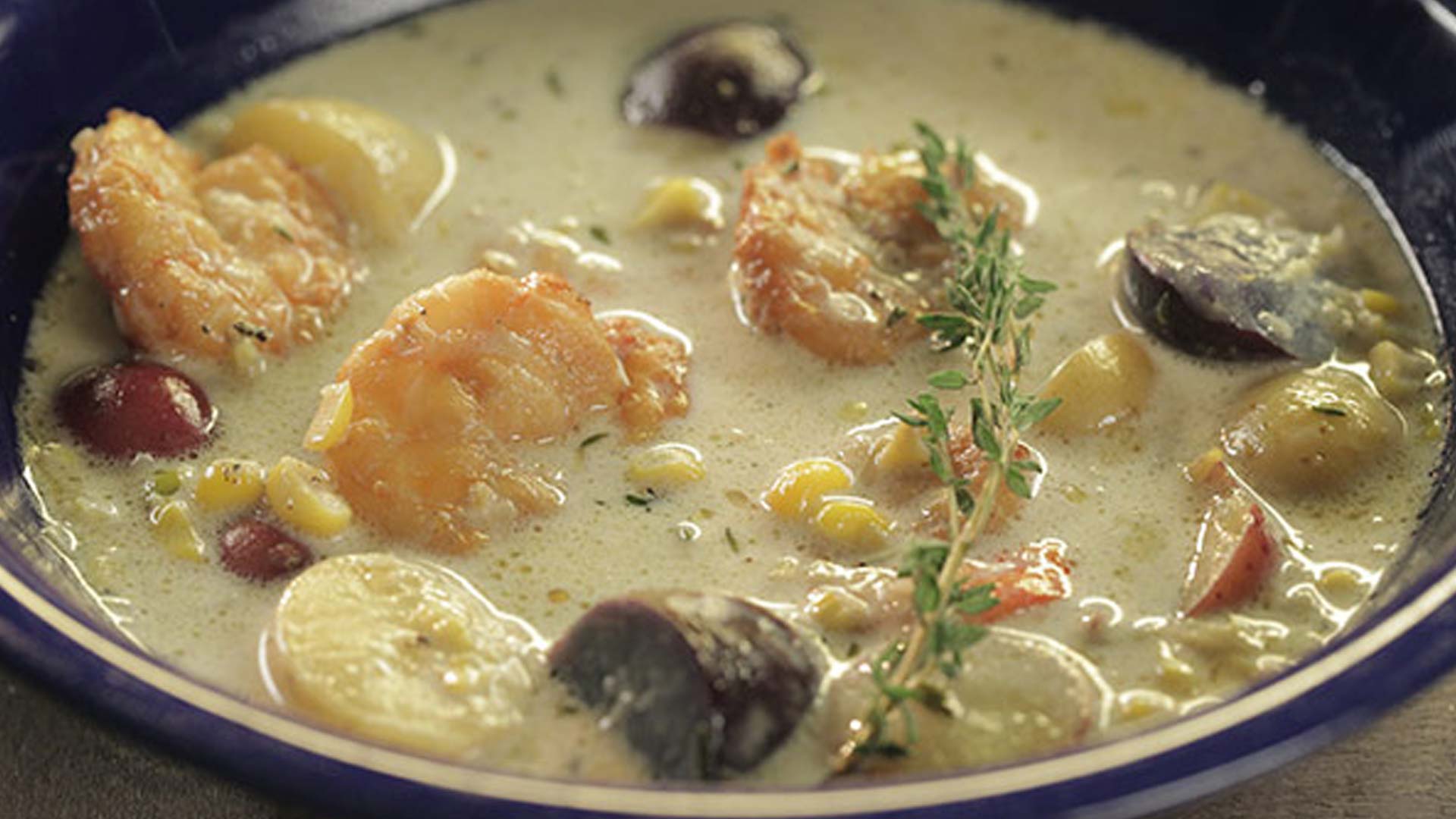 Stephen Raichlen's Smoked Shrimp and Corn Chowder
Richard Dallett
Ingredients
1 pound smoked shrimp (smoked for 30 to 60 minutes at 300 degrees F)
2 tablespoons butter or extra virgin olive oil
2 shallots or 1 small red onion, finely chopped
2 leeks, trimmed, thoroughly washed, shaken dry, and thinly sliced
4 red new potatoes, scrubbed and quartered
2 sprigs fresh thyme, plus thyme leaves for serving
1 bay leaf
Salt and freshly ground black pepper
4 cups low-sodium chicken or fish stock, preferably homemade
1 cup heavy cream
1 to 1 1/4 cups corn kernels (2 ears), preferably from smoke-roasted corn

Yield: Serves 8 as a first course; 4 as a light main course
Method: Hot-smoking
Directions
Shell and coarsely chop the shrimp.


Melt the butter in a large heavy saucepan. Add the shallots and leeks and cook over medium heat until soft and translucent, 3 minutes, stirring often.


Increase the heat to high and add the potatoes, bay leaf, and thyme sprigs. Cook until the potatoes are browned and crisp, about 5 minutes, stirring often. Season well with salt and pepper.


Stir in the chicken stock and simmer over medium heat until the potatoes are tender, about 10 minutes. Stir in the smoked shrimp and cream and simmer until the soup is richly flavored, 5 to 10 minutes more; stir in the corn kernels the last 3 minutes. Correct the seasoning, adding salt and pepper to taste. Remove and discard the thyme stalks.


Ladle the chowder into bowls. Sprinkle thyme leaves on top and dig in.


Recipe Credit: Stephen Raichlen of Barbecue Bible. For additional tips for this recipe visit BARBECUE BIBLE online.