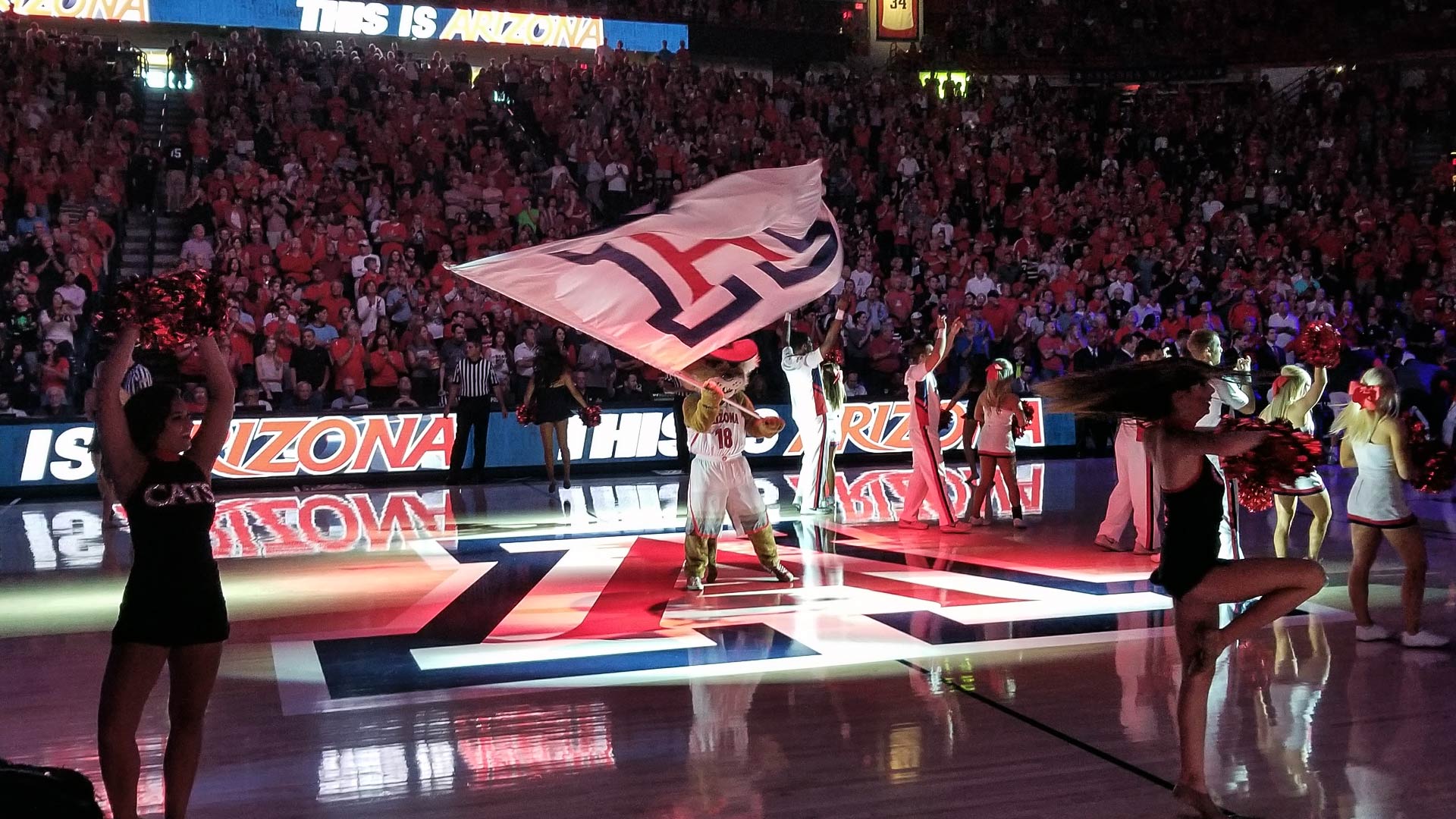 Wilbur the Wildcat waves a UA "Block A" flag before an exhibition match between the University of Arizona men's basketball team and Chico State on Nov 5, 2017.
AZPM Staff
The Arizona State Liquor Board approved the sale of alcohol at McKale Center Thursday afternoon after considering concerns raised by one Tucson resident.
University of Arizona Associate Vice President for Student Affairs Joel Hauff, representing the UA, worked to address the concerns of a nearby resident in front of board members. Those concerns included worries over post-game traffic and how drinking could lead to potential lawsuits.

"There is 15,000 people that need to exit the area safely after a game, and Arizona Athletics has a very well-developed and refined plan to do that safely," Hauff said. "We will staff up to be sure that having an alcohol license and selling alcohol at McKale does not create any impact on that experience."
The state liquor board was scheduled to vote on the matter in January. But in an email to the department, the Tucson man, who lives within a mile from McKale Center, said having alcohol sold at the arena could lead to sales to minors and crowd violence.
Hauff explained to the board that a third-party vendor will provide alcohol during game-day operations and wrist bands will be issued to adults over the age of 21 to make the sale of alcohol more transparent.
He also said McKale Center will add additional security.
Six kiosks will be installed in McKale, two inside the arena and four on the second deck outside the arena.
All alcohol sales will end when the first timeout is called after the game clock has 16 minutes left. Hauff said that leaves fans approximately 45 minutes to finish their drinks before the final buzzer.
Hauff said the university has had six other liquor licenses in place since 2011.
Follow Brandon Mejia on Twitter or contact him via email at BMejia@azpm.org.