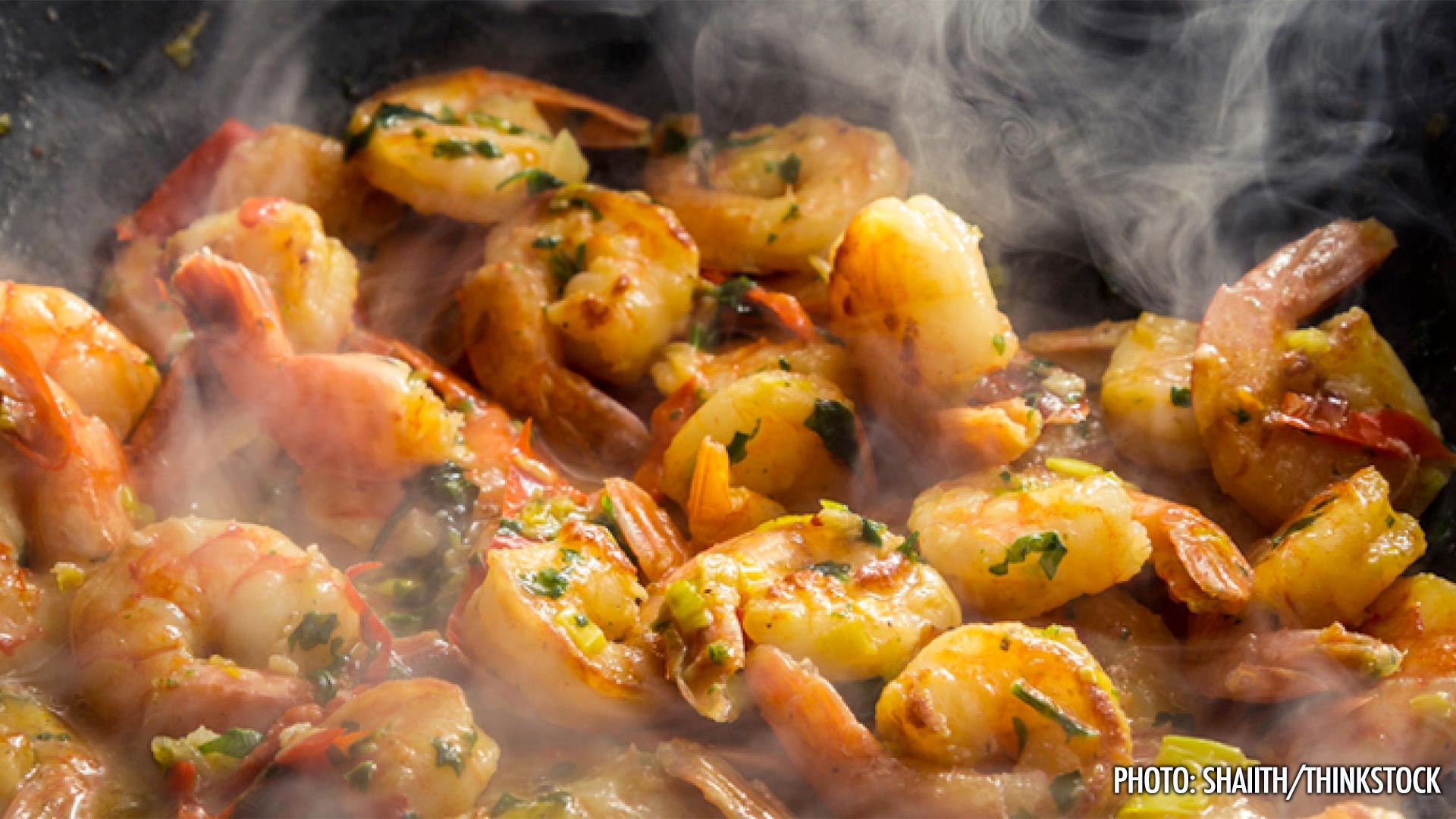 On our way to surfer's Nirvana, the north shore of Oahu, we stopped for lunch at Giovanni's Shrimp Truck for an island favorite, shrimp scampi--the most garlicky, luscious scampi we'd eaten. This is my divination of the recipe. The shrimp truck serves it in true Hawaiian plate lunch style with two scoops of rice. Our recipe for Dumbed-Down Rice makes that easy.
Ingredients: Marinate
1/3 cup good tasting extra-virgin olive oil
1 tablespoon lemon juice
1/4 teaspoon salt
1/4 teaspoon fresh-ground black pepper
1 1/2 pounds raw extra large or jumbo shrimp, shelled (organic if possible)



Cooking the Shrimp

3 tablespoons butter
1/4 cup dry white wine
Juice of 1/2 large lemon
2 tablespoons parsley leaves, chopped

Yield: 3-4 servings, easily doubled

Directions
In a medium bowl gently combine the olive oil, lemon juice, garlic, salt, pepper, and the shrimp. Cover and refrigerate overnight.


About 15 minutes before serving, set a 12-inch skillet over medium-high heat. In the pan melt 2 tablespoons of the butter with a little salt and pepper. Add the shrimp with the rest of its marinade, stir once or twice, and turn the heat down to medium low. Cover the pan, and cook the shrimp 3 to 4 minutes, or until they are barely firm. With tongs, transfer them to a heated serving platter. Taste a shrimp for seasoning.


Turn the heat under the skillet up to medium high. Stir the 1/4 cup wine into the pan juices, and boil it for 1 minute, or until its evaporated and the pan juices are rich tasting. Off the heat, stir in the remaining 1 tablespoon butter. Scrape the contents of the skillet over the shrimp. Drizzle the lemon juice over them and scatter with the chopped parsley.


Serve hot.


Lynne Rossetto Kasper and Sally Swift * Reprinted from The Splendid Table's How to Eat Supper: Recipes, Stories, and Opinions from Public Radio's Award-Winning Food Show.