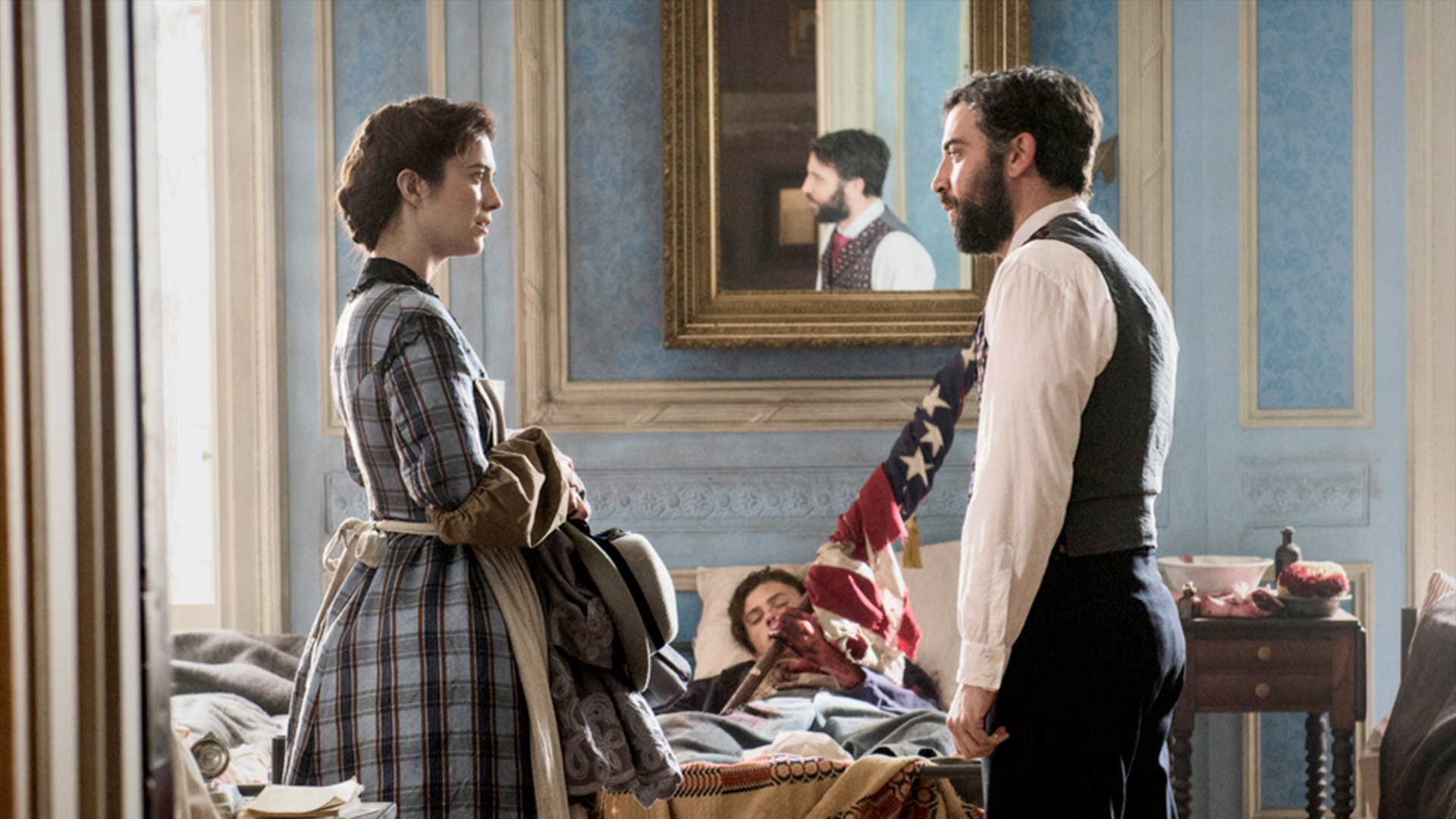 Nurse Mary Phinney (Mary Elizabeth Winstead) and Jedediah Foster (Josh Radnor).
Based on real events, Mercy Street takes viewers beyond the battlefield and into the lives of a distinctive cast of characters — doctors, nurses, contraband laborers and Southern loyalists — realizing the chaotic world of Union-occupied Alexandria, Virginia, and the Mansion House Hospital in the early years of the Civil War.
Weekdays at 6 p.m.
Beginning August 6 on PBS 6 Plus
SEASON 1 Episode 1: The New Nurse
New England nurse Mary Phinney navigates her first day in Mansion House, a hotel turned Union hospital in an occupied Southern town.
Episode 2: The Haversack
Confederate belle Emma nurses her wounded friend. Dr. Foster wrestles with his marriage and career.
Episode 3: The Uniform
Dr. Foster operates on his brother, a Confederate soldier. Alice realizes the depth of Tom's trauma.
Episode 4: The Bell Alliance
During a Union ball at their house, the Green girls and Frank initiate a daring plan to help him escape.
Episode 5: The Dead Room
The unexpected visit of a hospital inspector throws the staff into disarray.
Episode 6: The Diabolical Plot
President Lincoln's visit sets in motion a diabolical rebel plot and offers an opportunity to free James Sr.
SEASON 2
Episode 1: Balm in Gilead
The staff unites to save one of their own. A former slave turned activist arrives in town, causing a rift between Foster and Mary.
Season 2 Episode 2: The House Guest
A house guest becomes the focus of Alice's schemes. When Mary falls gravely ill, Foster's attempts to care for her antagonize the new chief.
Season 2 Episode 3: One Equal Temper
As Pinkerton looks at the Greens more closely, they join forces to hide an ugly secret.

Season 2 Episode 4: Southern Mercy
After the Second Battle of Bull Run and Battle of Chantilly, Hopkins and Emma set out to rescue a stranded group of wounded Union soldiers.
Monday August 20, Back-to-Back Episodes
Season 2 Episode 5: Unknown Soldier
Lisette re-creates on paper the face of a disfigured, amnesiac soldier, leading to a family reunion.
Season 2 Episode 6: House of Bondage
After Antietam, the Greens suffer a setback and Pinkerton's inquiry heats up.