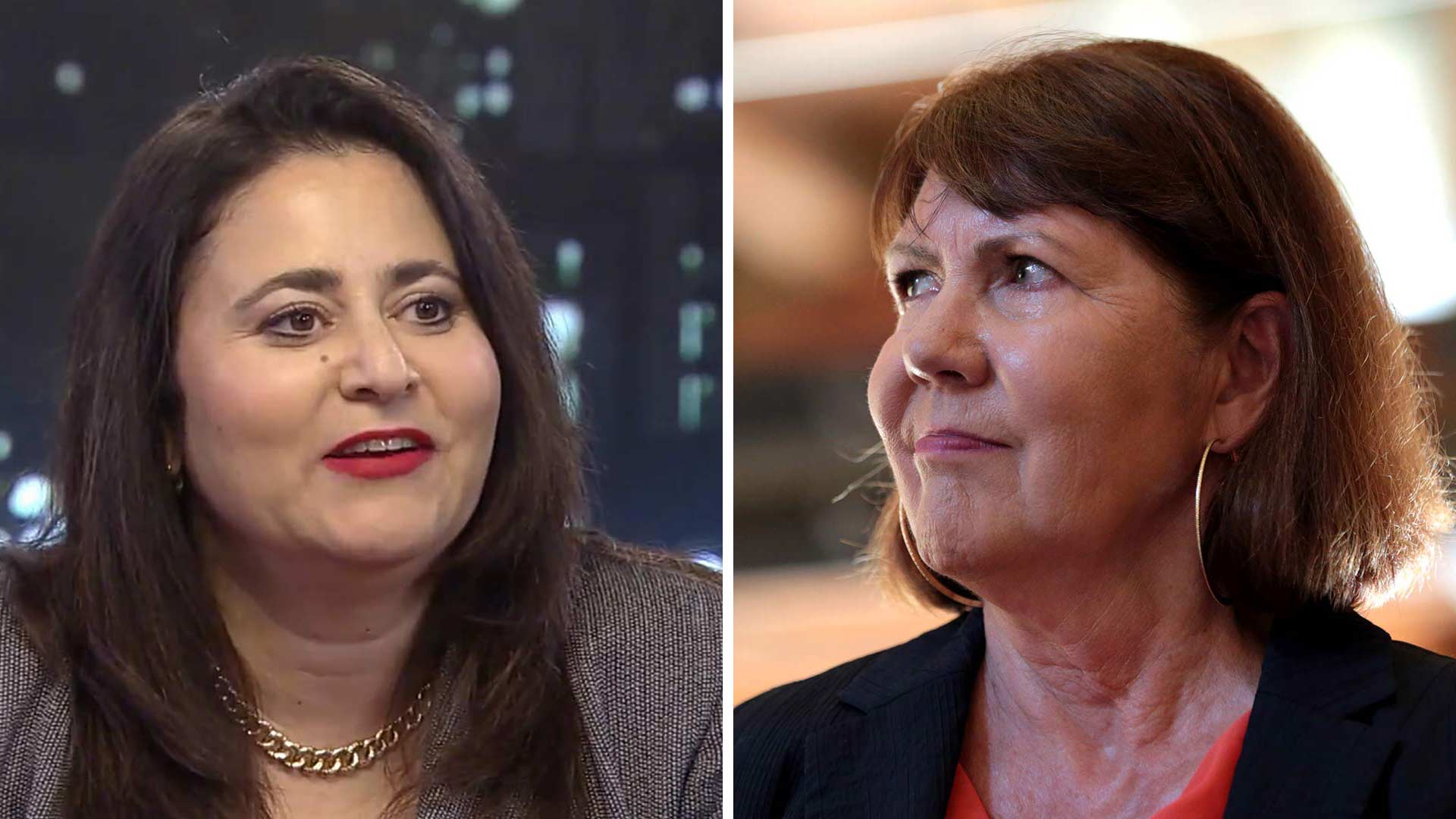 Lea Marquez Peterson, left, and Ann Kirkpatrick
Gage Skidmore (left), and AZPM
2nd Congressional District
Ann Kirkpatrick beat Matt Heinz to take the Democratic ticket to the November general election while Lea Marquez Peterson took the Republican nomination in the 2nd Congressional District, according to initial results.
The district is consistently competitive, and this year the seat is up for grabs as Republican Martha McSally is leaving the spot open in a bid to replace retiring Sen. Jeff Flake in the U.S. Senate. McSally has already won the Republican nomination for the seat.
Four Republicans and seven Democrats were seeking their party's nomination in the district, which includes the east side of Tucson and all of Cochise County.
Democratic candidates include former Congresswoman Ann Kirkpatrick, who lost a Senate challenge to Sen. John McCain in 2016, and Matt Heinz, who was beaten handily by McSally in the district's election that same year.
Also in the race on the Democratic side are Billy Kovacs, Maria "Mary" Matiella, Bruce Wheeler and Yahya Yuksel of Tucson. Barbara Sherry of McNeal rounds out the crowded Democratic race.
Republican Lea Marquez Peterson, leader of the Tucson Hispanic Chamber of Commerce, went into the primary with momentum from strong fundraising efforts compared with opponents Brandon Martin of Sierra Vista, Daniel Romero Morales, Jr., of Douglas, and Casey Welch, from Tucson, according to the Associated Press.
The district has 136,000 Democrats, 133,000 Republicans and 121,000 unaffiliated voters, according to state election data.
U.S. Rep. in Congress - District No. 2 Primary (REP)
| % | Candidate | Votes | |
| --- | --- | --- | --- |
| 34.15% | Marquez Peterson, Lea | 23,571 | |
| 28.70% | Martin, Brandon | 19,809 | |
| 16.13% | Morales, Daniel Romero, Jr. | 11,135 | |
| 21.01% | Welch, Casey | 14,499 | |
U.S. Rep. in Congress - District No. 2 Primary (DEM)
| % | Candidate | Votes | |
| --- | --- | --- | --- |
| 29.59% | Heinz, Matt | 23,992 | |
| 41.85% | Kirkpatrick, Ann | 33,938 | |
| 6.60% | Kovacs, Billy | 5,350 | |
| 9.38% | Matiella, Maria "Mary" | 7,606 | |
| 2.56% | Sherry, Barbara | 2,074 | |
| 8.40% | Wheeler, Bruce | 6,814 | |
| 1.63% | Yuksel, Yahya | 1,319 | |
1st Congressional District
First counts gave the Republican nomination to Wendy Rogers, who beat Steve Smith in the 1st Congressional District.
The vast district is the 10th largest in the United States, stretching from Tucson's northern suburbs to the Utah border. It includes Flagstaff and all or part of 10 Native American reservations and touches on 11 of Arizona's 15 counties.
The district has leaned Democrat in recent years. Retired Air Force pilot Wendy Rogers, Arizona state Sen. Steve Smith, and attorney and farmer Tiffany Shedd were competing to change that as the Republican nominee.
Likely candidate Rogers will face Democratic incumbent Rep. Tom O'Halleran, who has served one term.
Zhani Doko is a Libertarian write-in candidate.
Visit our primary election results page for updated numbers on this race.
3rd Congressional District
Nick Pierson beat Sergio Arellano in the Republican primary for the 3rd Congressional District.
The district is the west side of Tucson, and continues west to Yuma.
Sergio Arellano, Nicolas "Nick" Pierson and Edna San Miguel are competing in the Republican primary for Arizona's 3rd Congressional District, long held by Democrat Raúl Grijalva.
No Democrats made the ballot to challenge Grijalva in the primary. Joshua Garcia is a Democratic write-in candidate.
Visit our primary election results page for updated numbers on this race.

Read more coverage of national, Arizona, and local elections at our 2018 elections portal,
Your Vote 2018
.