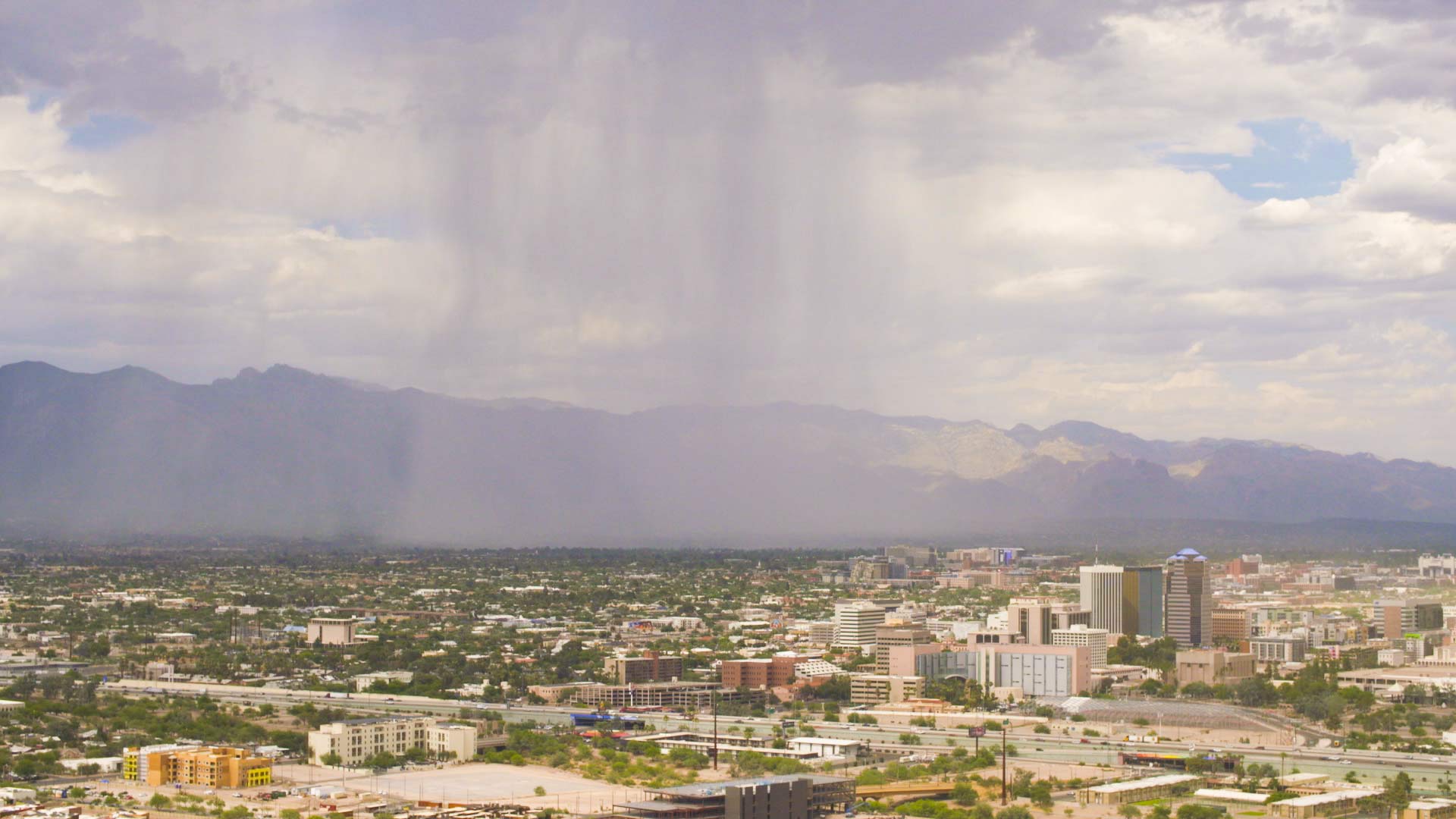 Rain and sunlight interact over Tucson, July 5, 2018.
Andrew Brown, AZPM
Weekend precipitation brought the Tucson area to 6.2 inches of rain for the 2018 monsoon, meaning the area has already exceeded the summer rain season's normal total of 6.08 inches with roughly four weeks to go.
The 0.32 inches of rain received so far in September came from a storm that traveled from the Pacific ocean off the coast of California.
"Typically once we see that kind of pattern settle in, where we're having those low pressure systems coming in off the coast, that tends to spell the beginning of the end for the monsoon," said National Weather Service Meteorologist Emily Carpenter.
She said that is not surprising, since September is often a dry month.
"Other than the latter half of June, September tends to be our driest month," said Carpenter. "We've had Septembers where we've had no rain, and we've had Septembers where a tropical weather system has come up and we've had multiple inches."
Much of Southern Arizona has already exceeded seasonal averages. NWS stations in Nogales, Douglas, Sierra Vista and Oracle have measure above normal totals this season.
Ajo and Picacho Peak have both received more than double their normal totals for the monsoon.
Bisbee and Safford have yet to reach seasonal averages.
Statewide, Phoenix and Yuma are both around an inch below normal monsoon totals. Weekend storms in Flagstaff also pushed its seasonal totals above average.
MORE:
Arizona
,
Cochise County
,
Pima County
,
Environment
,
Flagstaff
,
Monsoon
,
News
,
Santa Cruz County
,
Tucson
,
U.S.
,
Water
,
Weather