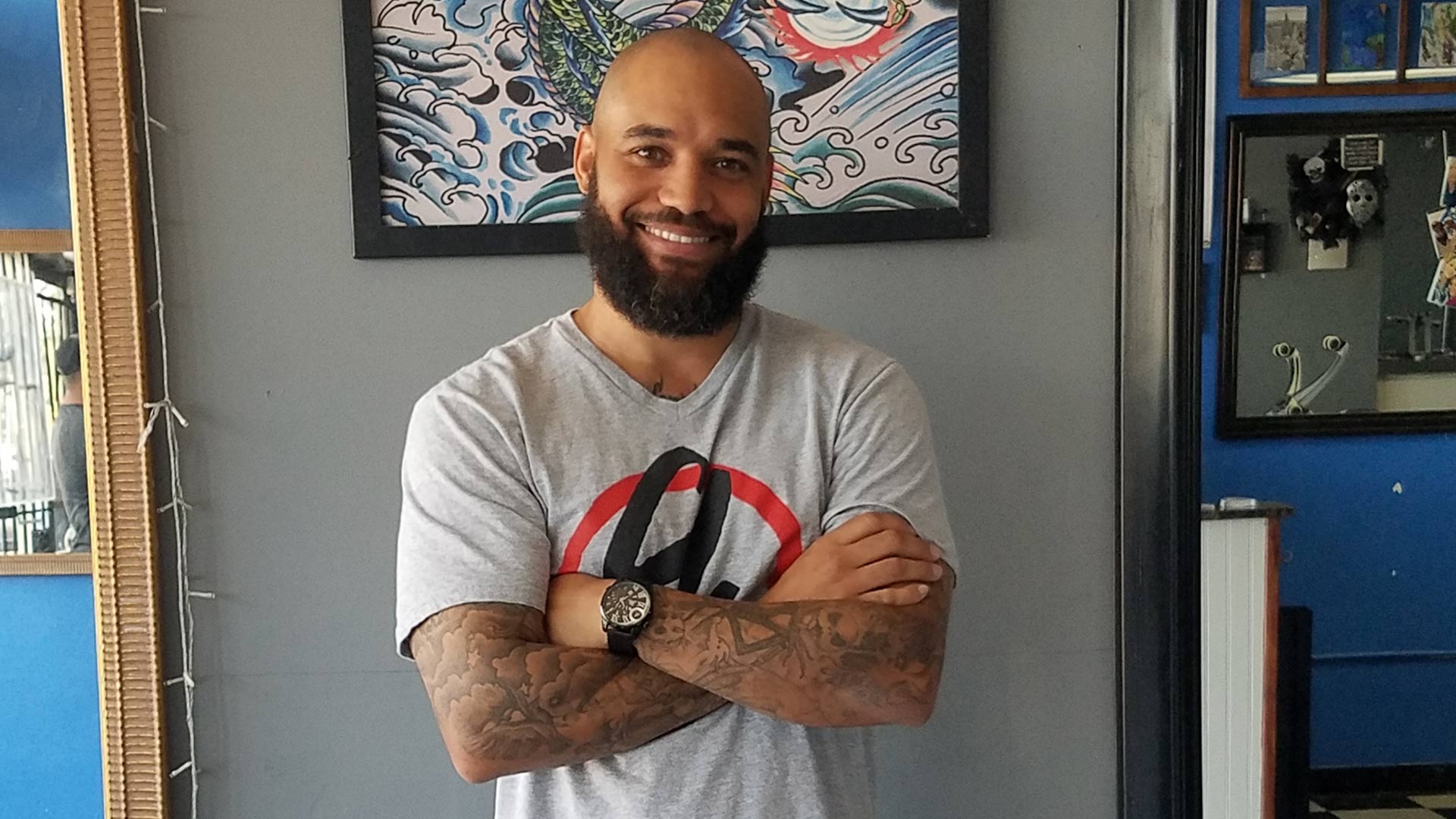 Clyde Hardin, tattoo artist.
Candace Manriquez Wrenn, AZPM
A group of scholars at the University of Arizona sought to find how felony convictions affect those looking to re-enter the workforce. Their study shows that the convictions aren't the only hurdle for getting a job.
The U.S. Department of Justice projects that 9 percent of all men will serve time in federal or state prison. With the median time served being just over two years, most formerly incarcerated people will eventually be back on the job market.
Tamar Kugler is an associate professor in the Eller College of Management at the University of Arizona. She said the ability to find a job is critical, not only for those who've been to prison, but also for society.
"We want those people to be productive members of society, to be able to get a legit job, stay out of prison, earn enough money so they rehabilitate their lives."
But she said convicted felons can have a hard time finding work once they are released.
"Those people usually have lower education so it's harder for them to find a job. And they have also experienced an erosion of skills from the fact that they have been out of the job market."
She notes that people who have served time also have a lack of ties to legitimate employers.
According to the Brookings Institution, in the first full calendar year following their release, almost half of those previously incarcerated have no reported earnings and the median earnings of those that do are just above $10,000 a year.
Kugler, along with Barry Goldman at the University of Arizona and Dylan Cooper at California State University, Channel Islands, cited research that shows that blacks and other minorities are more frequently denied jobs because of racial discrimination, but they wanted to test whether blacks with felony convictions were penalized more than whites with identical felony convictions, work experiences, and skills during the hiring process. Dr. Kugler says:
"We find that black applicants pay a much bigger price in terms of their desirability to get hired for a job than white applicants. The reduction that the white applicants suffer from having a felony conviction is not nearly as big as that that you see for black applicants."
"I would just hustle"
Findings like these aren't purely academic.
Clyde Hardin, a tattoo artist in Tucson, served two stints in prison. When he was released, he had help finding a job.
"My, now, wife got me my first job. I did commercial cleaning in buildings, banks, overnight and that paid my fees, fines, restitution and then when I wasn't doing that, I would just hustle my butt off with tattooing."

But working overnights hindered Hardin's ability to tattoo, a passion he developed in prison that he hoped to turn into a career. So, he began to look for a different job:
"Probably in a four-month span over 100 applications. Legitimately. I'm talking Craigslist jobs, jobs listings, newspaper, door-to-door," he said.
And when he would land an interview, things often went downhill quickly.
"I would get to the interview process and as soon as I started explaining my record or why I was incarcerated, you would see the momentum swing of he's a potential future hire to I would never hire this guy."
Hardin said he became frustrated and made a difficult decision in order to land a job.
"I flat out lied about my incarceration. Flat out. And never got caught or in trouble for it because the person that hired me, she was formerly incarcerated as well. And like four months into employment with her, I finally told her because I just didn't want that bad energy to ever be there. They were understanding of my situation. I'm lucky in that regard."
While in prison, Hardin became good friends with fellow prisoner Joe Watson. Watson, who is white, talked to Arizona Illustrated in 2017.
"The majority of people who get out of prison go through something very difficult upon re-entry. I think I've been given more opportunities than the vast majority of prisoners that I did time with. I think being white, being articulate—those are probably the biggest factors in people just, on first impression, giving me an opportunity," Watson said.
Last year, Arizona became the 30th state to adopt "Ban the Box" hiring procedures, which dictate that state agencies not ask about an applicant's criminal record until an applicant has applied and received an initial interview, with hopes that all candidates receive full and fair consideration for the job. Those applying for non-state job can still be subject to answering questions about their record at any stage.