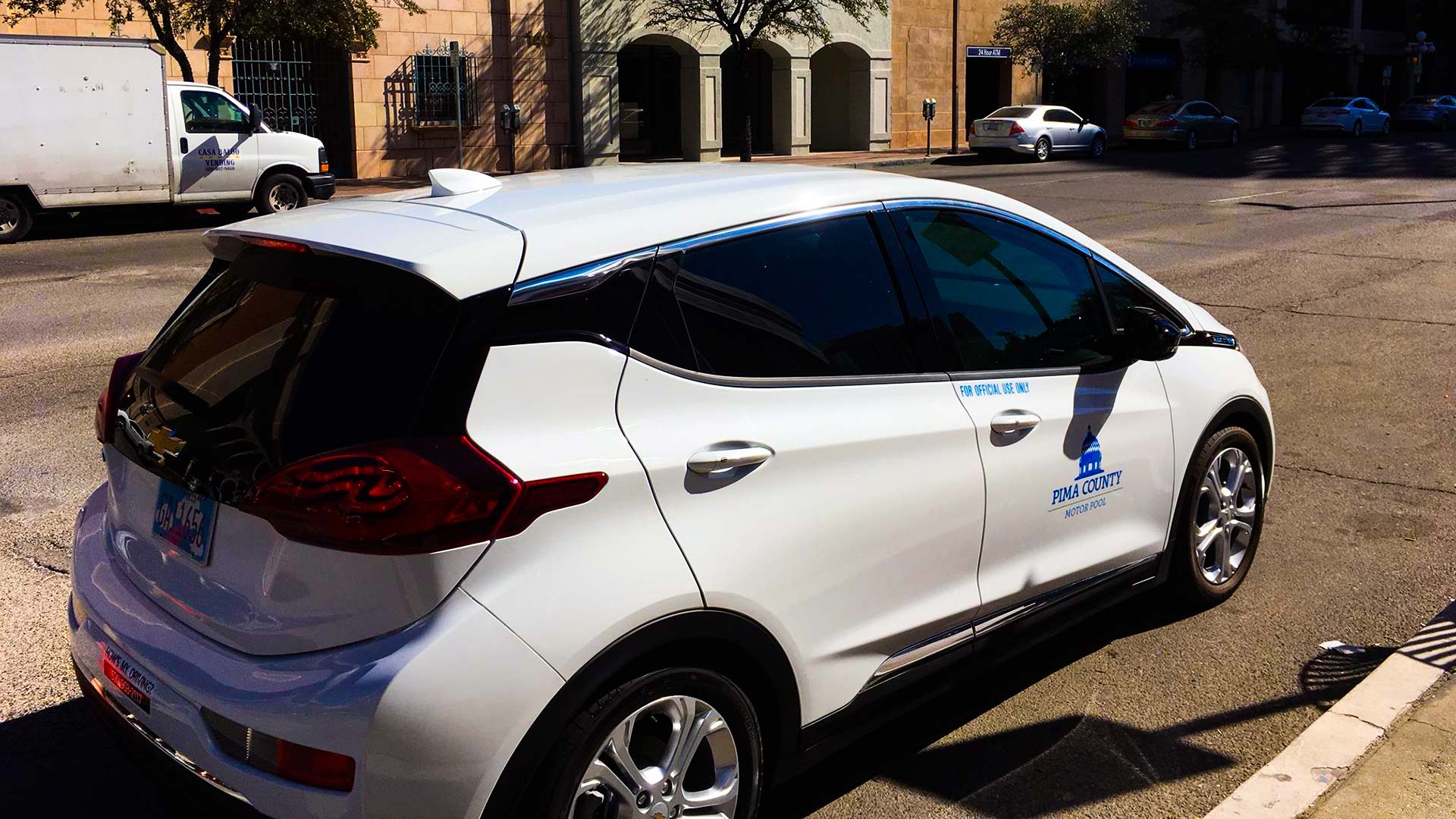 One of the electric vehicles in the Pima County fleet. The county plans to convert 10 percent of its fleet to EVs by 2025.
Outside the Joel D. Valdez library in downtown Tucson, a few people have gathered around an electric car with Peter Bowers of Pima County Fleet Services. He's giving a demonstration of a Chevy Bolt, one of 20 the county has in its fleet. A couple county employees hop in to take the car for a test drive. There's almost no noise as they start up the car and drive away.
Transitioning some gas-powered cars to electric vehicles is a major part of Pima County's renewed effort to reduce carbon emissions. As part of the sustainable action plan, the county will add another 20 electric vehicles each year for five years, for a total of 120, or about 10 percent of its total vehicle fleet. Bowers says in addition to reduced carbon emissions, electric or hybrid vehicles offer easier maintenance schedules and work well for city driving because of regenerative braking.
"They actually get the equivalent of 120 miles per gallon to a gasoline burning car. So it's actually very, very good for what we'd call "gas mileage" for an electric vehicle," Bowers said.
The Pima County Board of Supervisors approved a new seven-year sustainability plan in October, increasing targets for carbon reduction and other conservation measures within county operations. Sustainability Programs Manager Julie Robinson says the county has a legacy of conservation work, starting with the Sonoran Desert Conservation Plan more than 20 years ago.
"This is an extension of that work now, looking at the challenges ahead, particularly the climate challenges we're facing," Robinson said. "Recognizing the county has a role to play and taking seriously climate risk threats."
Robinson says the plan deepens the county's commitment to the Paris Agreement, a non-binding international treaty to address global climate change. The new plan streamlines an earlier sustainability plan and spans many county departments. It includes five chapters, or focus areas: carbon, water, landscapes, workplace preparedness and materials.
Robinson says her department gathered baseline data of how much carbon county operations produce annually and then set a firm target to reduce those numbers by 50 percent by 2025.
"And when we put those calculations together we realized it will be a challenge in some areas to get to that 50 percent reduction, but we feel confident we can do it," Robinson said.
As another part of the carbon reduction strategy, plans are in the works at the county wastewater department to capture a potent greenhouse gas emitted during wastewater treatment: methane.
"So we've embarked on a capital project to clean the biogas and bring that 65 percent methane into 100 percent methane, which is basically natural gas that people use to heat their homes," said Jackson Jenkins, wastewater department director.
They're about a year and a half away from actually selling the gas, but when they do, they plan to target the compressed biofuel market for vehicles.
"It will help our revenue stream because it's an income source, it's a product that we can sell. And it also is great for the environment and we will no longer be flaring that gas. It will be used in a beneficial way," Jenkins said.
Other climate adaptation strategies include building more green infrastructure to cool the urban environment, reducing water consumption and increasing local food production on county land.
The Board of Supervisors passed the measure on a 3-2 vote. Supervisor Steve Christy, who voted against the measure, questions the aggressive timeframe and necessity of carbon reduction requirements.
"Is that urgency that is being conveyed through this whole issue of sustainability and climate change indeed legitimate? Or is it an attempt to politicize what the Trump administration has done with regards to withdrawing from the Paris climate accords?" Christy said.
Robinson says her office looked at the costs to taxpayers, "and we found, by and large in nearly every area, that we're going to save money by doing this. Building energy efficiency improves our properties, reduces our energy, electricity use and cuts carbon. So we can see a return on investment for these upfront costs over a period of seven to 10 years."
Robinson says work from the 2014 Sustainable Action Plan saved the county more than $9 million in avoided costs.