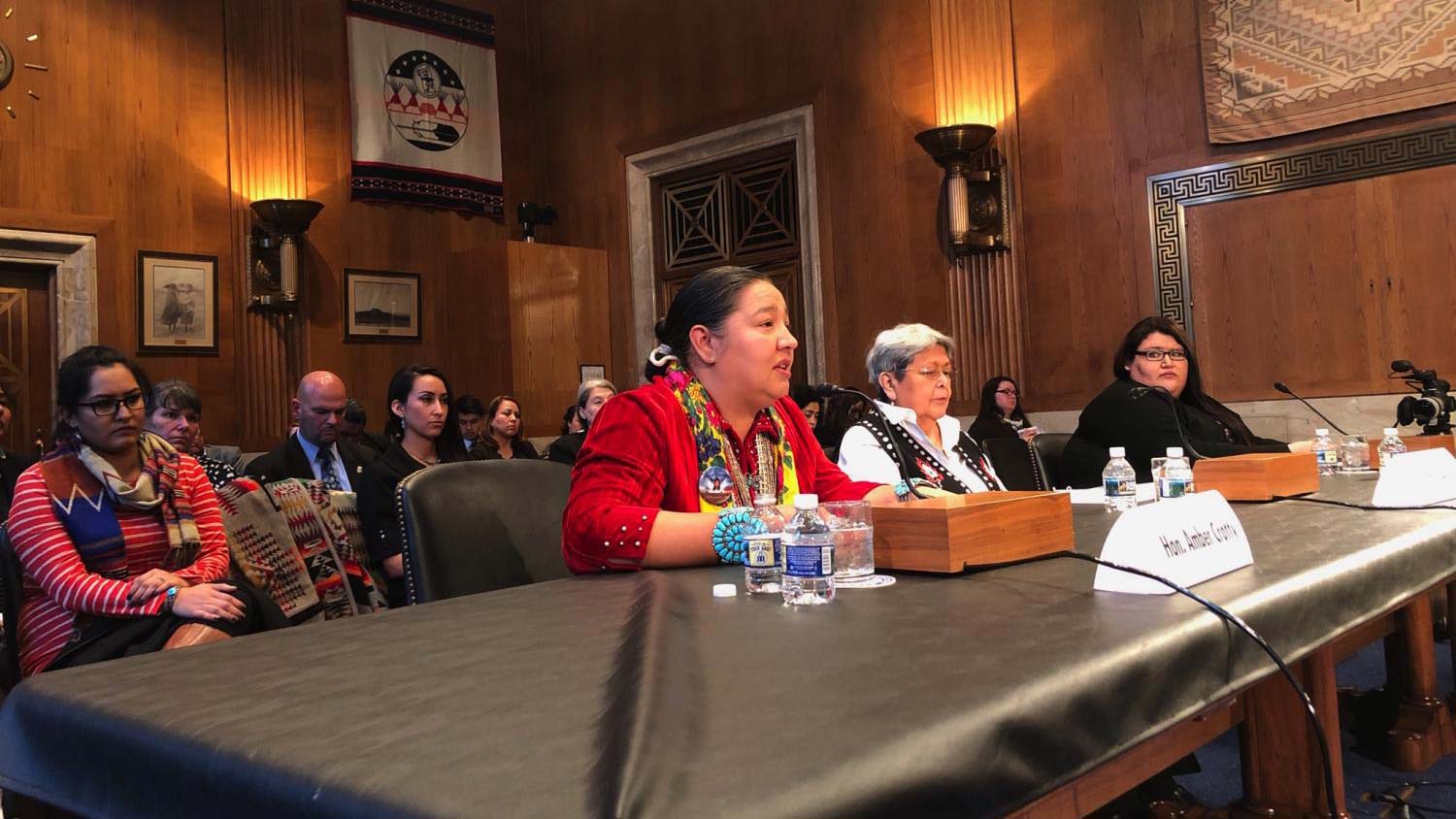 Navajo Council Delegate Amber Kanazbah Crotty sits alongside indigenous women giving testimony before the Senate Committee on Indian Affairs about missing and murdered indigenous people.

Courtesy of the Navajo Nation via Fronteras Desk
Ashley Loring-Heavy Runner was last seen running away from a vehicle on a Black Feet reservation highway in June 2017. Her sister Kimberly says the Bureau of Indian Affairs and tribal police have given up searching for her. But she hasn't. Senators at a committee hearing asked Kimberly why the FBI hadn't investigated the case right away.
"We were told by the BIA agent that was the head of Ashley's case, if the case was switched over to the FBI, then Ashley would never be found," Kimberly Loring-Heavy Runner said.
Sen. Heidi Heitkamp of North Dakota told the FBI and BIA staff giving testimony at the hearing they need to provide training for tribal police.
"This is your problem, and you two need to figure out how to work together to make sure the evidence is ready to actually pursue prosecution because when you don't have prosecution guess what, you have absolutely no deterrence and it's open season in Indian Country," Heitkamp said.
Congress is considering two laws that would help tribes investigate missing and murdered indigenous women cases.
They're looking at the Savanna Act, which would improve access to federal databases that track missing people and would provide training for tribal law enforcement. Lawmakers are also looking at the SURVIVE Act, (Securing Urgent Resources Vital to Indian Victim Empowerment) which would provide funding for tribal programs such as domestic violence shelters, rape crisis centers and legal services.
Sen. Tom Udall of New Mexico pointed out in the hearing police departments typically hire three officers per every 1,000 people. There are 140 FBI agents to cover all of Indian Country. On the Navajo Nation, the largest reservation in the United States, there are five.
See the full committee hearing here.