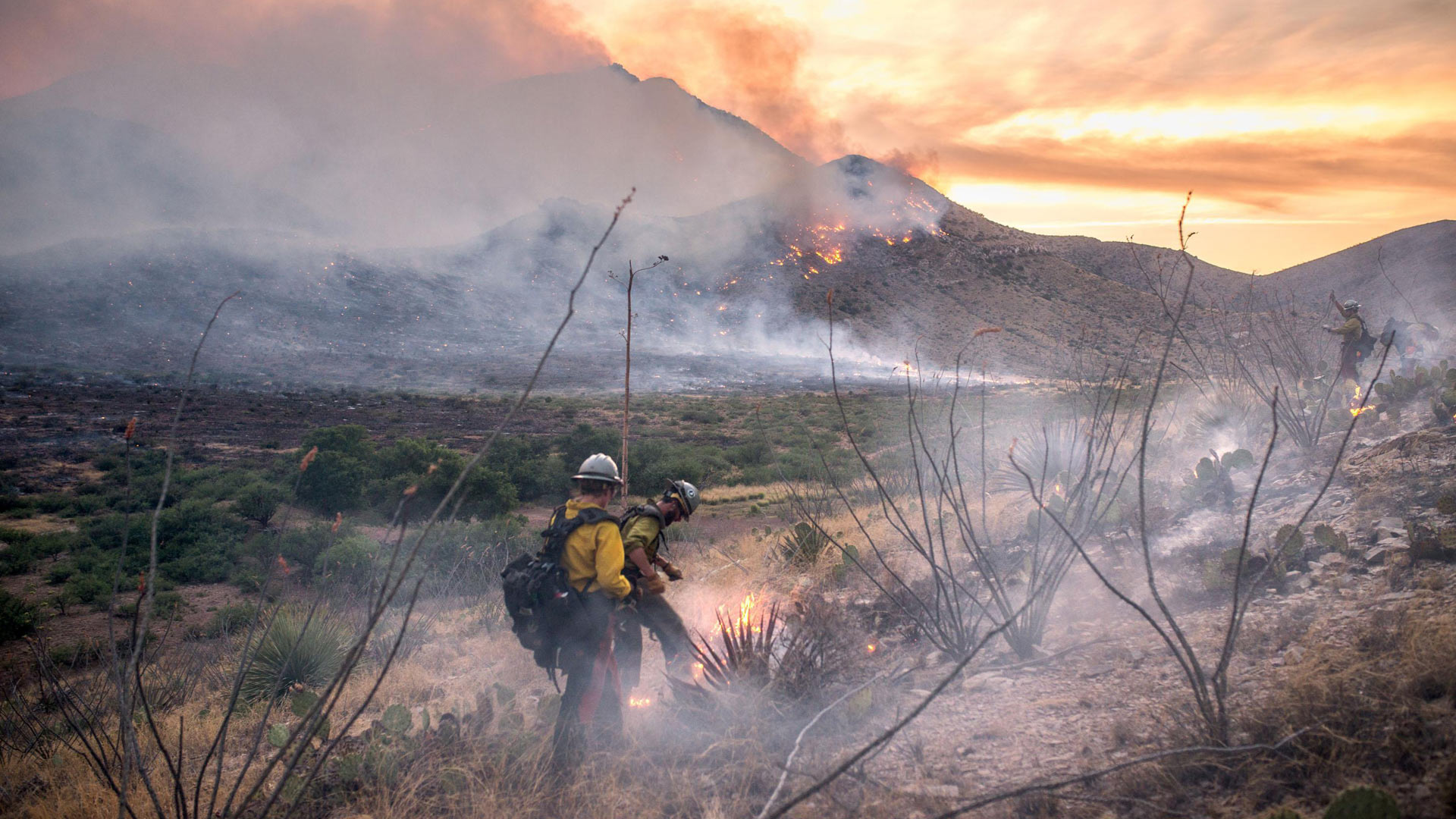 A changing climate is prolonging and intensifying heat waves, scientists say, driving wildfires.
Wyoming Hotshots via inciweb.nwcg.gov
Federal firefighting agencies had to postpone trainings, prescribed burns and hiring during the shutdown, which may affect how prepared their firefighters are for wildfire season.

Firefighters in the National Forest Service, National Parks Service and Bureau of Land Management will have to reschedule workshops they missed, prepare the land and the paperwork for prescribed burns that had to be cancelled, and rehire seasonal firefighters for wildfire season. They hope they can do it all before wildfire season hits Arizona.
Coronado National Forest employees will be burning piles of wood on Mount Graham near the Turkey Flat area as part of regular forest maintenance over the next several weeks.
Coronado Forest Spokesperson Heidi Schewel said the goal of a wood-pile burn or a larger prescribed fire is to improve wildlife habitats, rejuvenate the soil with nutrients and reduce the likelihood of future devastating wildfires.
"It really puts fire back in its natural role of keeping the landscapes more open and less dense," said Schewel.
She said the denser a forest is, the easier it is for a fire to climb up young trees and set the tops of mature trees ablaze. These fires are called crown fires and are hotter and more intense than fires that skirt the forest floor.
Though forest employees build wood piles throughout the whole year, Schewel said it's best to burn the material in Arizona's cooler, more humid, winter months.
"And these are our opportunities for using prescribed fire, so we're going to be engaging in more activity over the next month or two on some of our other mountain ranges as well," said Schewel.

Teams on federal public lands couldn't take advantage of those prime burning days during the partial federal government shutdown, which lasted most of the month of January.
Saguaro National Park fire information officer Michelle Fidler said that because they lost 35 work days during the shutdown, the fire staff will have to do more in less time to catch up.
"This is a key time of year for us to really prepare for the season ahead and make sure that we're maintaining our qualifications, so that we're able to respond to wildfires," said Fidler.
Fidler said fire staff missed physical fitness exams and had to cancel important professional development trainings that help their staff gain new skills and higher positions on the team. Now that the government is open, their goal is to fit in as much critical training as possible in the next few weeks.
"It's a challenge to try and schedule some of those, so many of those trainings may not happen again till next year," said Fidler.
Fidler said they couldn't even prepare for scheduled prescribed burns in the park during the shutdown, because the paperwork needed to be filed with offices that weren't open. The park delayed all upcoming burns till the spring when it, with the help of Coronado National Forest employees, will be prepared.
But by then, no one knows if there will be any of those cool and humid days left before summer.
The shutdown also held up the hiring process at Saguaro National Park and other federal lands. Jessica Gardetto, the spokesperson for the National Interagency Fire Center, said after a firefighter is hired it can take several weeks to properly train and prepare that person for wildfire season. That means the delay could have implications for the upcoming wildfire season.
"If we do happen to have another government shutdown in three weeks, we're looking at making sure that we still have all of our fire and aviation employees on and working, even though part of the government may be shut down, because we have to prepare for the coming fire season," said Gardetto.
If there is another shutdown, Gardetto said she hopes federal agencies won't notice a delay in training, prescribed burns or hiring.
"Thankfully, fire and aviation employees are very good at conducting a lot of work in a short amount of time and under pressure," said Gardetto.
To jump start the process, she said the Bureau of Land Management brought back human resources staff in the last weeks of the government closure to begin looking at firefighter applications.
Those new wildland firefighters will start their year just like those at Saguaro National Park: playing catch-up.
---
Learn more about wildfire and climate change: