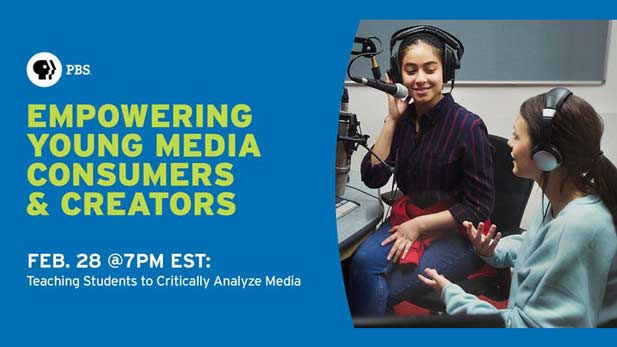 Empowering Young Media Creators is the first of a 3-part PBS "Live Learning" experience.

PBS
Register now for the free online seminar.

The world is saturated with information--all types of media, with millions of varying messages. Not only are your students consuming the media, but with new technology, and inexpensive tools, they are also creating content and using media in myriad ways to test their ideas, and tell their stories. With access to these tools, we have the opportunity to empower students so they can be both to be critical consumers of media, and authentic storytellers.
Join your peers for the first of a three part PBS "Live Learning" experience: Empowering Young Media Consumers and Creators. Designed by educators, this virtual professional learning series will introduce a number of teaching models and strategies to enhance your practice. Teaching digital media literacy can be daunting. In the first episode of this three-part series (designed especially for middle and high school teachers) we'll consider how to tackle misinformation, how to analysis digital media, why it's important for your students.
Led by PBS Digital Innovator All Star Leigh Herman this session highlights exciting resources and models that you can immediately implement in your classroom.
Prioritizing fun, engaging and accessible tools for your students, the series will highlight techniques for analyzing media, and amplifying student voice through authentic storytelling. PBS will provide a certificate of attendance for each one hour virtual professional learning event.