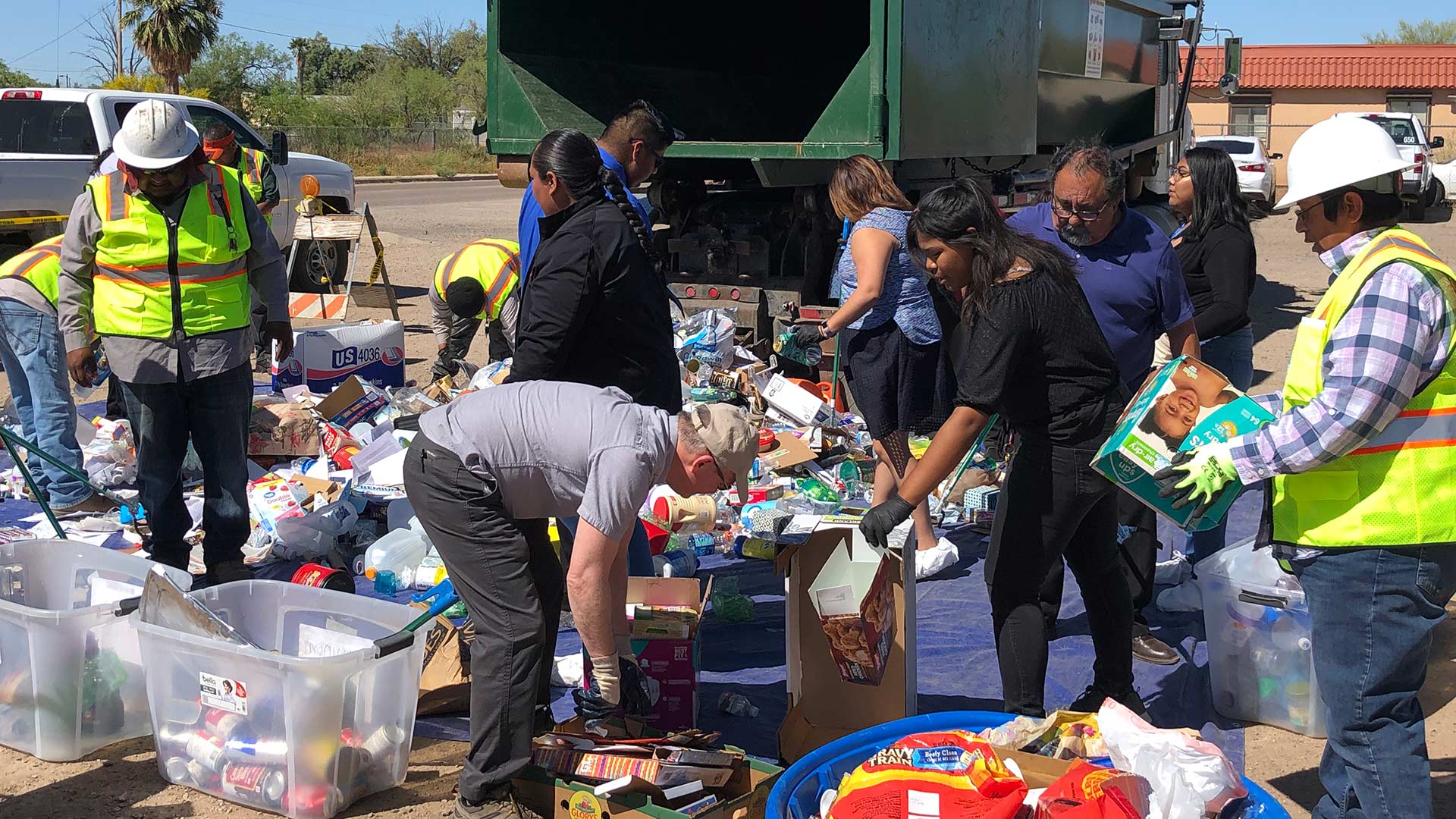 The Tohono O'odham Nation Youth Council and Representative Raúl Grijalva learned how to sort recyclables with the Tohono O'odham Nation Solid Waste Management team Monday, April 22, 2019.
Courtesy of the Tohono O'odham Nation
As the city of Tucson decreases its recycling program, the Tohono O'odham Nation is increasing its efforts to teach eco-friendly practices through the newly established Indian Youth Corps.
The Tohono O'odham Nation Youth Council and leaders in tribal and state government celebrated the creation of the Indian Youth Corps with a recycling education workshop Monday. The vice chairman of the Tohono O'odham Nation, Verlon Jose, said the plan is also to bring the nation's veterans into the group. He says with their help he hopes the youth corps' conservation efforts will reach people of all ages.
"The youth that are concerned about conservation and protection and recycling, and then we got the veterans, which a lot of them are elders and will take it to their elder circles as well. It would just reinforce the best practice of recycling," said Jose.
He said the workshop taught the youth council what products are recyclable and how to sort them.
Jose said that recycling has been an individual effort for many years, but he believes the tribal government enacted the reservationwide program a couple of years ago.

According to a press release from Rep. Raúl Grijalva, Congress passed the John B. Dingell, Jr. Conservation, Management and Recreation Act, which created the Indian Youth Corps program in March 2019.
"Our lands are a living library out there. If you go out there, they'll tell you many, many things that you'll never learn from a book. We need to preserve and conserve those areas for not only today's generation but for the future generations coming behind us," said Jose.