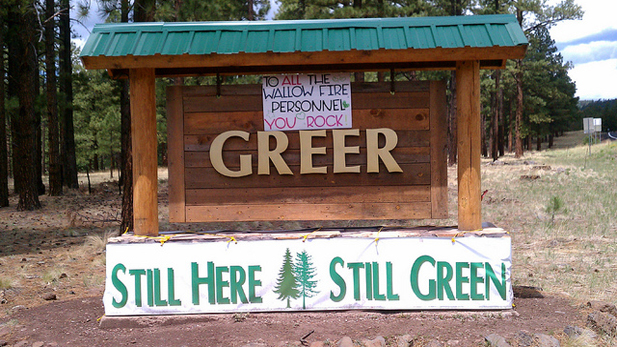 Many mountain communities are determined--and even defiant--in the wake of devastating fire damage.

Robert Rappaport
White Mountains residents are running the gamut of emotions in the wake of the Wallow Fire, which burned 538,000 acres of ponderosa pine forest and grasslands in one of Arizona's summer playgrounds.
"At first, it was a matter of shock, as in any grieving situation," said Becki Christensen, executive director of the Springerville-Eagar Chamber of Commerce, in an interview for Arizona Week. "And now I'm seeing a little bit of anger, because the fires' burning seems like something that didn't have to happen. But the next step in that process is acceptance, and I also think we're getting toward that."
Christensen said Apache County, site of the fire that was contained over the July 4 weekend after raging for over a month, has suffered as a result of environmental regulations that all but banned logging and ranching the forest. Not only were there job losses in those industries, but the stop to timber cutting and cattle grazing contributed to the conditions that fed the fire.
"Local people have a long history with logging and ranching, and they're a little angry that some of the environmentalists and the government have passed laws that have restricted us being able to take care of the forests the way we used to," Christensen said. "Consquently, we're now the poorest county in Arizona and the fourth poorest county in the nation, so this has had a devastating effect on us.
She said she hopes that businesses that are "value added" to the forest, in addition to tourism, will return now that people see the effects of total bans on logging and cattle grazing in the national forest.
Christensen and Beverly Stepp, executive director of the Pinetop-Lakeside Chamber of Commerce, said they want people to know that major parts of the White Mountains are still open to visitors, are not scarred by fire and are safe to be in.
"They opened Big Lake, which is a very big draw for fishing, last week," Christensen said. "But there weren't as many tourists as usual, because I don't think the word has gotten out that we have some beautiful places left that weren't affected."
"We're open for business," Stepp said of her communities, which are west of the fire and weren't directly affected by it.
Economic recovery could take several years, Springerville Town Manager Steve West said, but the resilience of the area's residents is manifest.
"What you find in small communities that you don't necessarily find in big communities, in metropolitan areas, is that everyone, when it's the worst, they band together," West said.
He said that during the town's evacuation, no major crime was reported -- no burglaries, larcenies, thefts of any kind or other problems -- and he attributed it to the trust people have in one another and in government officials who stayed to watch the town.
West, a former Springerville chief of police, was one of two town officials who stayed behind when everyone else was evacuated.
Reporter Michael Chihak further explores the economic and ecological recovery of Arizona's fire-affected communities in the July 15 issue of Arizona Week. Watch it now:
AZPM