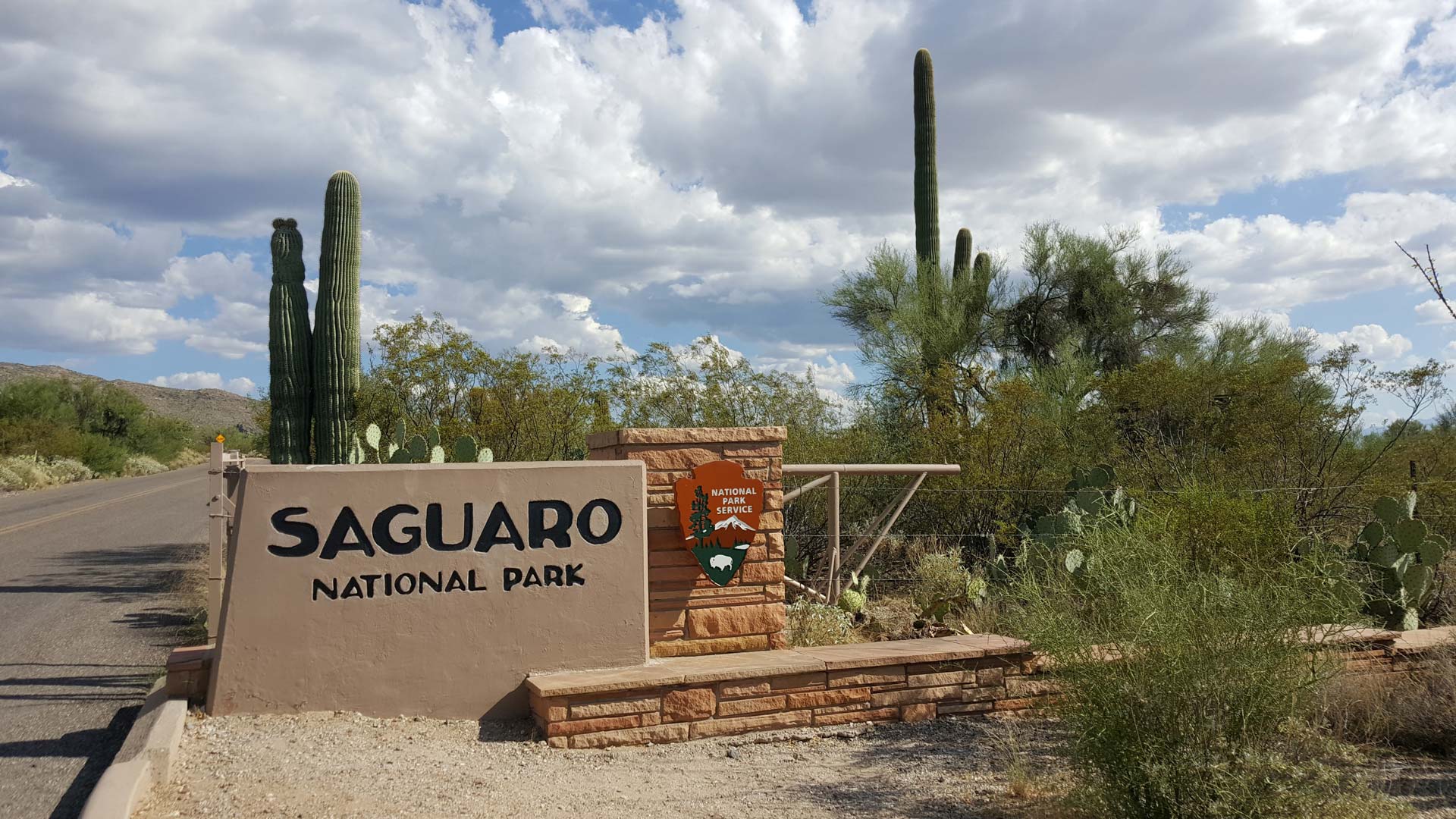 The entrance to Saguaro National Park east.
AZPM Staff
Directly across Old Spanish Trail from the entrance to Saguaro National Park East is a 20-acre parcel of open desert that looks much like the park across the road. Kelley Matthews and her husband Peter Lashar own this plot of land, and they want to turn it into a eco-friendly "bike ranch."
She says with Tucson quickly becoming a mecca for cycling, and with the Chuck Huckelberry Loop slated to connect up with the park, a bike ranch is the perfect complement. In addition, she says, it connects with historical east-side traditions. For, example through the mid-20th century, guest ranches dotted the landscape near the park, and she says they want to continue that tradition with a modern twist.
"What we are is a 21st-century guest ranch," she says. "But instead of horses, we have bikes".
Ordinarily, Bike Ranch Tucson would be a fairly uncomplicated project, but the land is in the buffer overlay zone, an area Pima County designated to protect the nearly 67,000-acre Saguaro National Park East from unabated development. It is a restricted, low-density residential zone with a building height limit and regulations for a natural watershed and wildlife migration.
But it also provides for conditional uses the county can approve on an individual basis. Those include what's called a "minor resort," and that's where the bike ranch comes in.
VIEW LARGER One of a series of illustrations depicting planned facilities at Bike Ranch Tucson.

Courtesy of Bike Ranch Tucson
Matthews say she grew up in the shadow of the park, riding her bike and horseback riding in it. She and her husband still live close to the park and do not want to do anything to harm the park.
"We wanted to do something that would have lasting benefit to the park and we see this as having a very symbiotic relationship with Saguaro," she says.
She says they have worked hard to design the ranch to meet more than the minimum requirements. The design uses the LEED (Leadership in Energy and Environmental Design) guidelines from the U.S. Green Business Council. They're shooting for "platinum," the highest designation. Currently, only five hotels in the country have earned that distinction — none of them in Arizona. She says the idea is not only to be environmentally sustainable, but to have as small a footprint as possible with guests using the park in a low-impact way.
"We'd like to see as many people using the park without cars," she says. "Cycling or running or walking, but not by using their cars, because we are all about promoting alternative transportation."
She says that means guests will arrive, park their cars, then leave the ranch on bikes or shuttles, coming back to relax, eat and sleep onsite. The ranch café will not be open for non-guests to use as a local restaurant.
Those against the bike ranch, such as Connie Franz, say while the development may abide by the letter of the buffer zone regulations, it does not fit with the spirit.
"We have no problem with the concept of the bike ranch. It's the location," she says.
Franz lives in the buffer zone and is a member of a group called Save Saguaro National Park. She's lived on the fringes of the park since 1954 and says she has watched Tucson — once miles distant — expand ever closer to the park. She says unlike the proposed bike ranch, the park can't be relocated, so it must be protected at all costs.
"Saguaro National Park East is the only national park being encroached upon by a major metropolitan area. The other 62 national parks do not have this problem," she warns. "They have urban encroachment problems, but not a major metropolitan city knocking at their door. There's a very real danger. It's very simple: Either we protect the openness of the buffer zone, and the park, or we don't."
She says allowing a commercial venture directly across from the park entrance is opening Pandora's box. Once you crack it open, she says, you can't close it and say no to the next developer. And she cautions that while there are not a lot of 10-acre parcels in the buffer zone — the minimum needed for a minor resort — it only takes a single-sheet application to combine existing small plots into larger ones.
Ray O'Neil is Chief Ranger at Saguaro National Park. He says the Park Service would always prefer no new building in the overlay zone, but they have great trust in the county to protect the park despite the city's growth eastward.
"Tucson is growing and will continue to grow," he says. "If we don't have the bike ranch, we would have additional large homes. We don't believe the site would be more impacted by the resort than it would be by additional large homes."
He says the Park Service remains officially neutral, but thinks the ranch could fit nicely with park initiatives to provide fitness opportunities and increase human-powered traffic
"One clear way to accomplish those goals is to encourage cycling in the national parks, which we believe this resort will do that in Saguaro National Park," he adds.
Opponents also say the potential increase of traffic is a concern. Mike Willman lives about three quarters of a mile from the park entrance. He's a cyclist but says OId Spanish Trail has already gotten too busy.
"I refuse to ride on this road anymore," he says. "It's too dangerous."
He says the road is the only alternative to I-10 for people from the Vail area headed back and forth to Tucson. And with large developments planned, including one at the old Rocking K Ranch next to Old Spanish Trail south of the park, he says things can only get worse. He believes adding more cyclists to the mix can only result in more dangerous traffic, especially since cyclists often ride in groups.
"Whenever a group rides down this road we have to swerve into the oncoming lane," he says. "And if there were more groups, if this ranch is approved, and we had a lot of groups come here, it would be a real problem and a real safety hazard."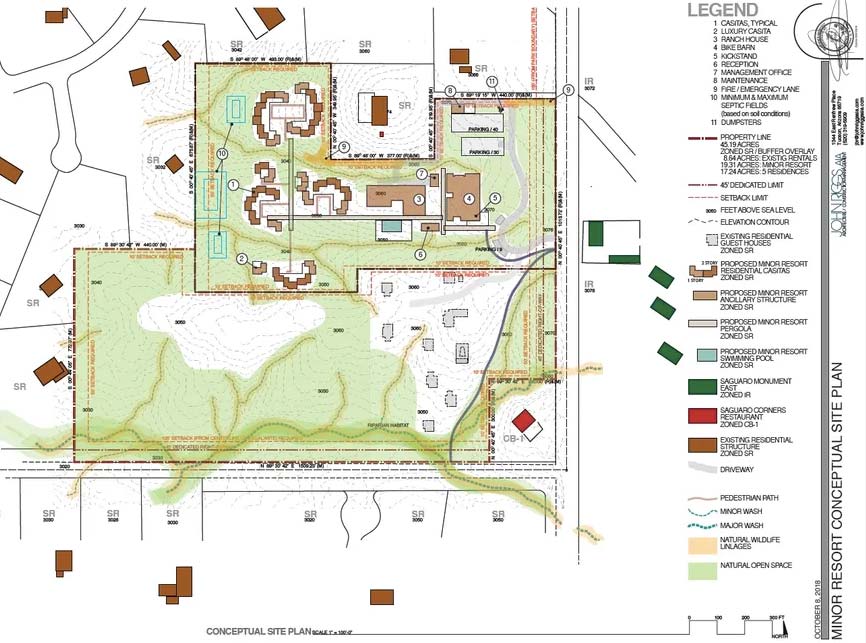 VIEW LARGER Bike Ranch Tucson site plan.

Bike Ranch Tucson
Ranger O'Neil says the park is always concerned about increased traffic with any new development — whether commercial or from private homes. But again, he says, they trust the county to make a decision that will protect the park.
"The traffic study that was requested by the developer shows, and the county agrees, that the amount of traffic on Old Spanish Trail — any added traffic — is not going to cause any significant problems," he says.
In order to mitigate some of the increased traffic, the county has approved and hopes to begin construction later this year for a third option from Vail to Tucson that it expects will ease some of the pressure. The Valencia Road extension will connect Houghton Road across the Pantano Wash to Old Spanish Trail southeast of the park.
Neither side will have to wait much longer for an answer. The Pima County Board of Supervisors has scheduled a vote on the bike ranch for May 21.
National Park Service Position Letter - Saguaro National Park

View at Google Docs
|

Download File