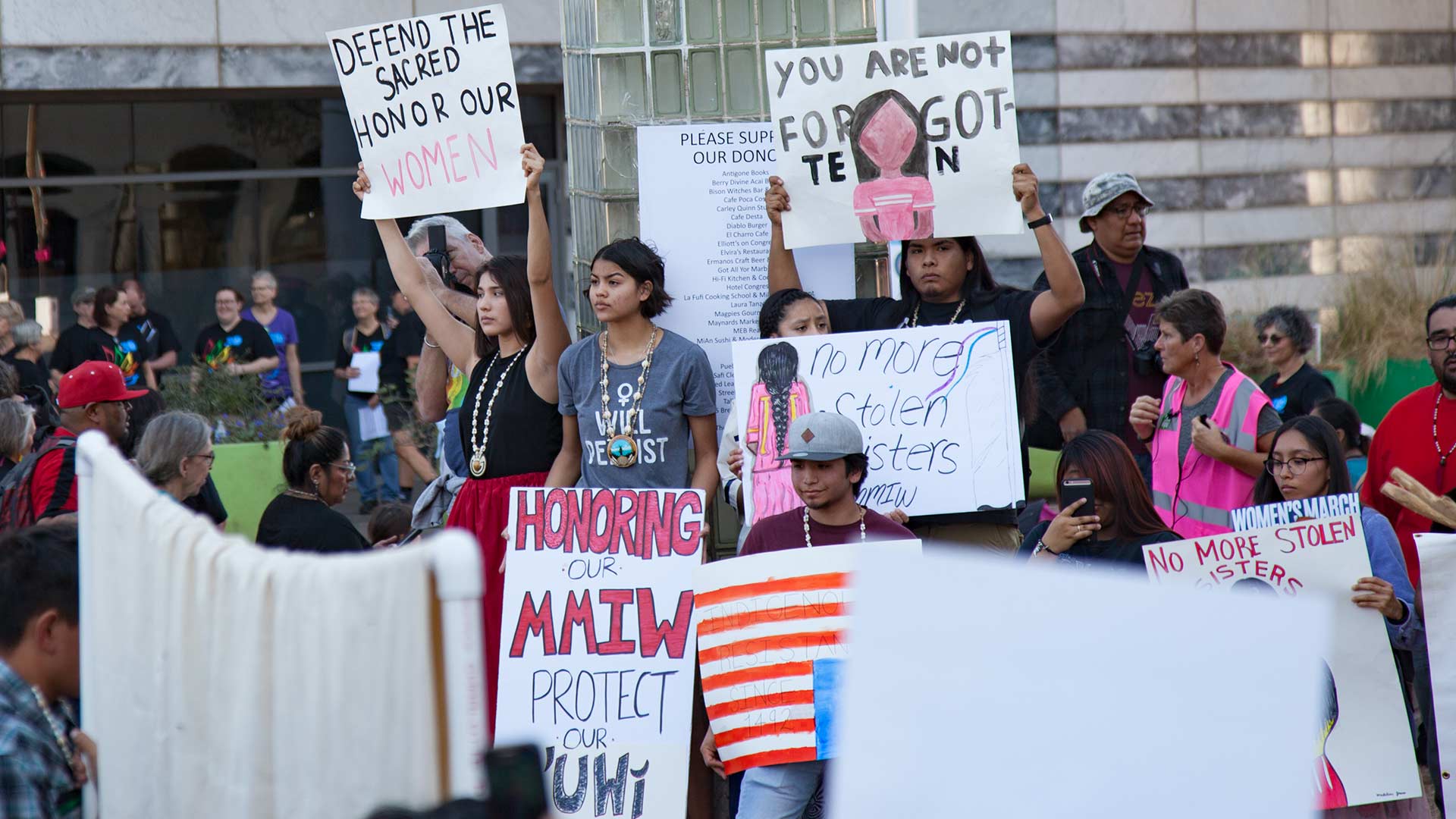 Demonstrators at the 2019 Tucson Women's March carry signs reading "MMIW" ("missing and murdered Indigenous women") and "no more stolen sisters."
Nick O'Gara/AZPM
Gov. Doug Ducey signed a bill Tuesday requesting law enforcement agencies across the state record and share data on missing and murdered Indigenous women and girls.
The new law will create a study committee which will spend the next year collecting information on these cases from local, state, tribal and federal agencies. The committee will be composed of officials from the state, tribes and counties, and it also have a variety of advocates on board.
The law requires the committee to send a report on the data to Ducey before November 2020.
In an interview before the bill was signed, Tohono O'odham Chairman Edward Manuel said this law will bring awareness to the issue on and off tribal lands.
"One of the biggest problems that we're being faced with is when an American woman gets reported missing, it gets national attention right away. We have American Indian women reported missing. It gets zero attention," said Manuel.
According to a report published by the Urban Indian Health Institute, Arizona has the third-highest number of missing and murdered Indigenous women and girls in the country. It found 54 cases between 1943 and 2018.
The institute looked into the issue city-by-city. It identified 31 cases in Tucson, tying it with Anchorage, Alaska. These cities have the third highest number of cases in the United States. Phoenix had 14 cases, Flagstaff had seven, and there were three in Tempe.
Manuel said he knows how this silent epidemic can impact a family.
"My wife's sister was murdered. She was murdered in San Francisco and it was never resolved. We never heard anything — the family never heard anything to what happened," said Manuel.
He said they never learned how or where his sister-in-law was killed.
"A lot of people don't know that it is a major problem among American Indian women — being abducted, being reported missing, being killed," said Manuel. "And now they're bringing awareness to it from different groups. I commend them for doing what they're doing."