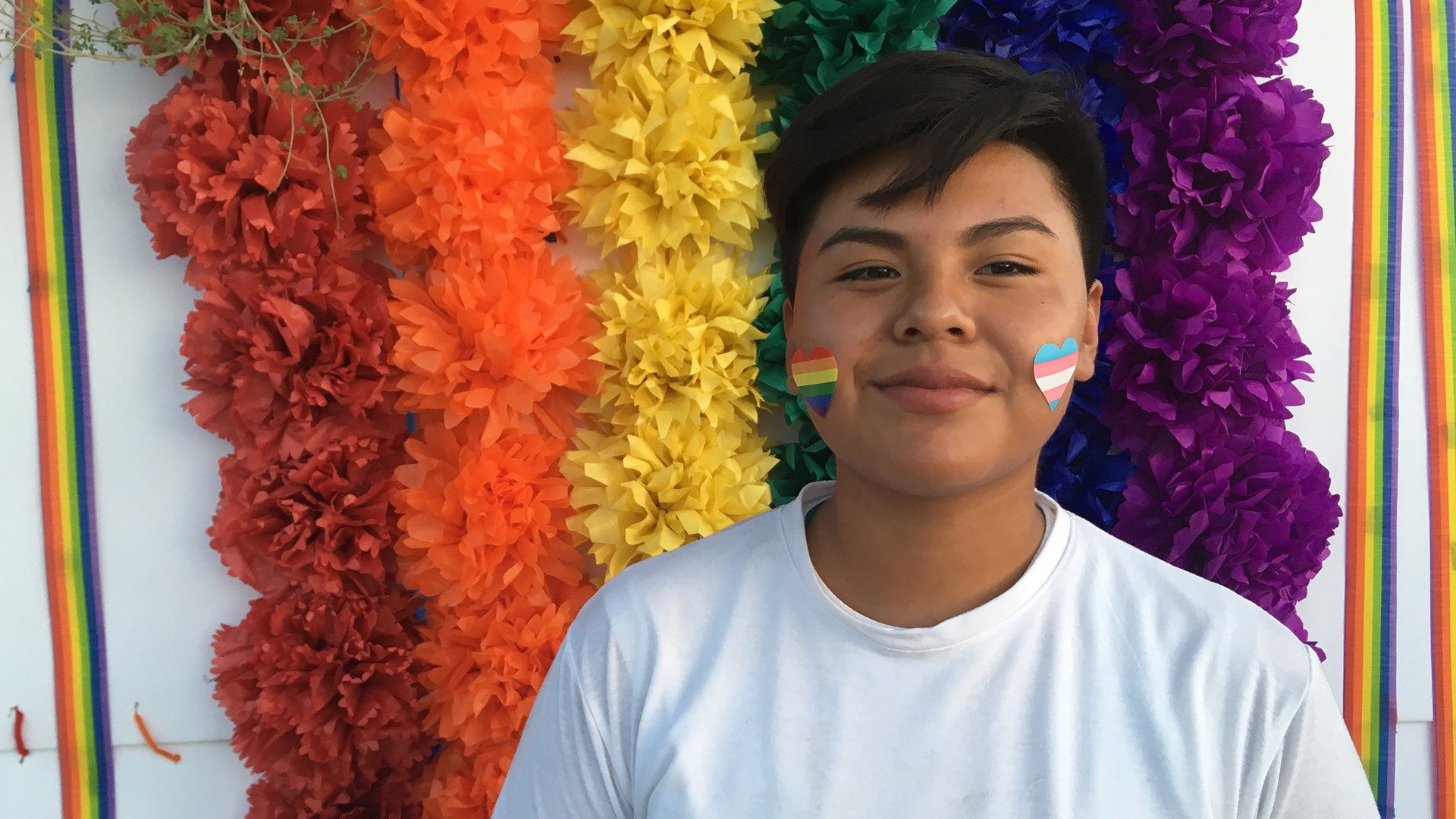 Katrina Folson, the youth advocate for Friends Advocating Mutual Individuality by Loving Yourself, gave out flyers for the LGBTQ+ support group during the Tohono O'odham Nation's first Pride event June 28, 2019.
Emma Gibson/AZPM
Attendees used poetry and storytelling to celebrate Pride on the Tohono O'odham Nation Friday, June 28, at an event organizers said was the first of its kind on the reservation.
At the open mic night, several people in the Tohono O'odham LGBTQ community read poems or shared stories with a crowd full of children, teens and adults. Indivisible Tohono, an advocacy group that organized the event, estimated the crowd swelled to over 100 throughout the night.
Grace Gonzales is one of the co-founders of Friends Advocating Mutual Individuality by Loving Yourself, an LGBTQ-plus support group on the nation that gave out flyers during the event. She said the LGBTQ and two-spirit communities have always been a part of the Tohono O'odham people, but over the years, social pressures caused many people to hide their true identities.
"With the coming of other ethnic groups to our home here, it's kind of put us in a place where we kind of feel ashamed of ourselves — afraid of who we are, to show it to other people for fear of being discriminated against," said Gonzales.
Gonzales said this is the first time she's socialized with such a large group of LGBTQ Tohono O'odham people on the reservation, and it made her feel more comfortable being herself on the nation.
The event also attracted Indigenous LGBTQ supporters from across Arizona. Angela Santos travelled from the Gila River Indian Community to celebrate with the Tohono O'odham.
"I was just really happy for them that they were gonna do something because nobody's really actually done something like this — you know, Pride — telling everybody to come out. Be yourself. Have the open mic. It's awesome. That's why I made the drive here," said Santos.
Santos said she's glad there were people of all ages there, because it showed everyone on the nation who may need someone to talk to that they have a support system. She said she hopes open communication between the generations helps reduce suicides within the Indigenous LGBTQ community.
The festivities also included information on domestic violence and sexually transmitted diseases.