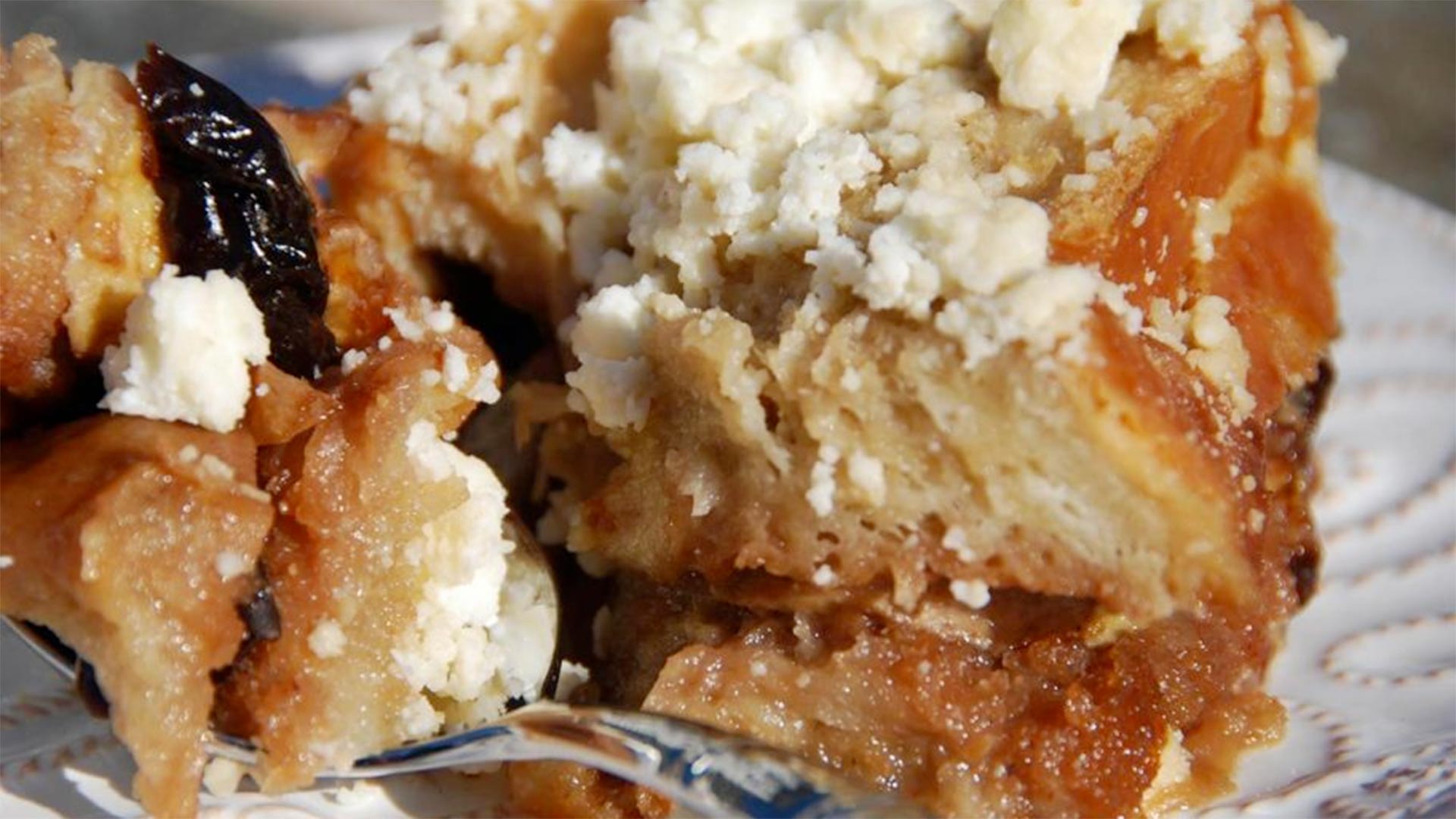 Patti's Mexican Food
PBS
"Sliced bread brushed with melted butter, toasted until golden, layered with handfuls of nuts and dried fruits, drenched in piloncillo syrup, topped with crumbled salty cheese and baked until it all comes together…. Once out of the oven, it tastes like a cross between French toast and bread pudding. Crisp-on-the-top and moist-in-the-center, every spoonful a delightful mess.
That is Mexico's most well known version of Capirotada" - Pati Jinich
Ingredients
8 cups water
1 pound piloncillo, grated, or about 2 cups packed dark brown sugar
1 ceylon or true cinammon stick
3 whole cloves
1 challah or brioche, preferably a couple days old, cut into 1/2 inch slices or cubedHot sauce (optional)
1/4 cup unsalted butter, melted for brushing bread, plus more for greasing the casserole
2 ripe bananas, peeled and sliced
2/3 cup pitted prunes, chopped
1 cup pecans, roughly chopped and toasted
4 oz, or about 1 cup, crumbled Queso Fresco, Añejo or Cotija
Ground cinnamon, optional, to sprinkle on top
Yield: Serves 10

Directions
In a medium sauce pan, pour the water and set it over medium high heat. Once it comes to a simmer, add the grated piloncillo, cinnamon and cloves, reduce heat to medium and simmer for about 25 minutes, until it has all dissolved and has a light syrup consistency. Turn off the heat and remove the cinnamon and cloves.


Preheat the oven to 350 degrees. Brush the bread slices with unsalted butter. Place in a baking sheet and into the oven. Bake for 12 to 15 minutes or until golden.


Butter a 9 x 13 casserole. Place a layer of bread in the bottom covering the entire surface. Cover with the banana slices, prunes and pecans. Pour half the syrup on top. Add another layer of bread, pour the remaining syrup on top and sprinkle the crumbled cheese. Sprinkle with cinnamon if desired.


Cover with aluminum foil and place in the oven for 45 to 50 minutes, or until the syrup has been absorbed. Remove from the oven. Let it sit for at least 20 minutes for the Capirotada to settle and for the entire syrup to be soaked up, then serve. You can also serve it lukewarm or cold. It can also be reheated.


Recipe Credit: Pati's Mexican Table of Fresh Tastes. For additional tips and photos for this recipe visit PBS FOOD online.
Watch Pati's Mexican Table on PBS 6 Plus