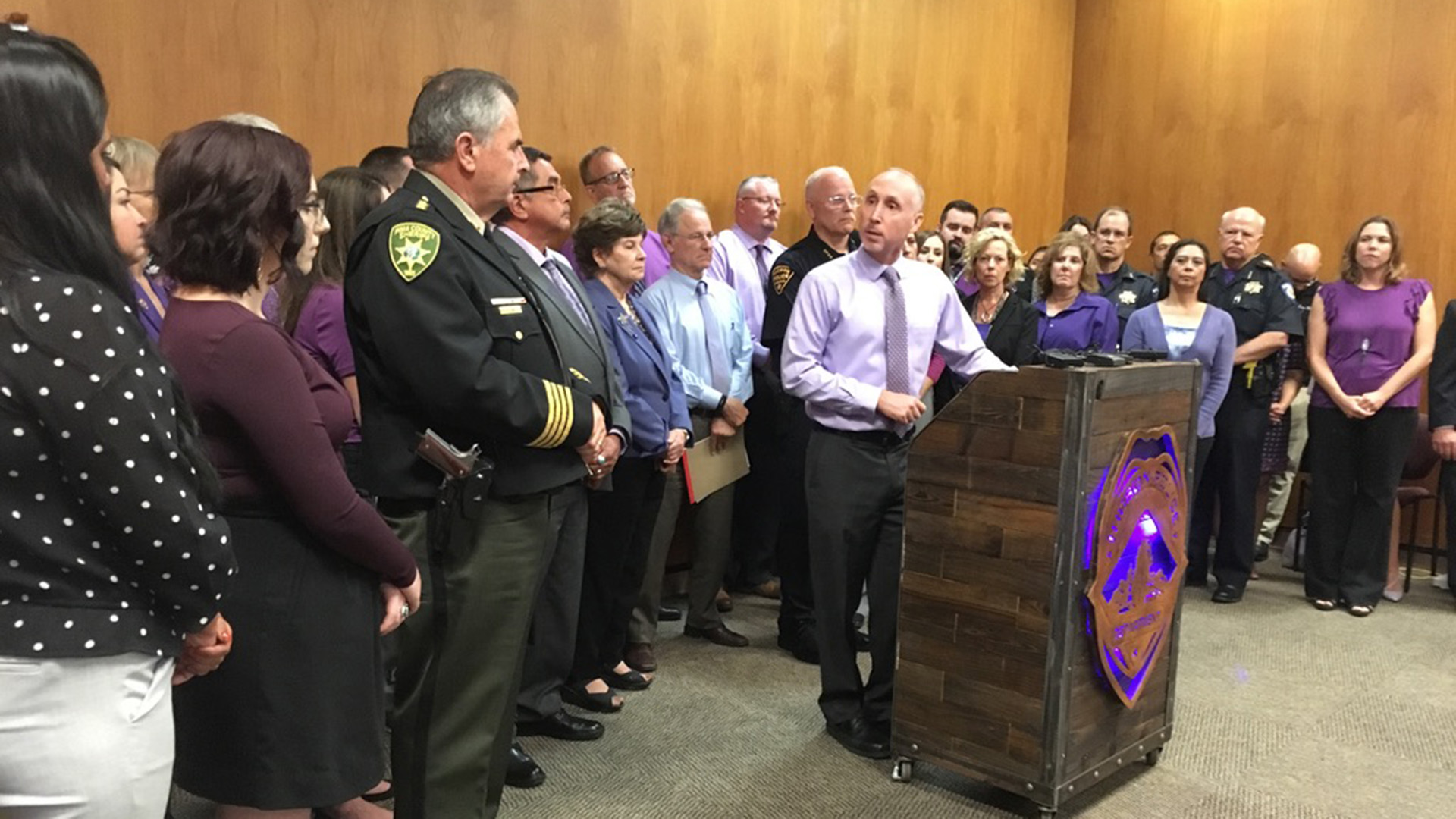 Ed Mercurio-Sakwa, the CEO of Emerge! Center Against Domestic Abuse, speaks to a group of city and county officials and staffers at a press conference for Domestic Violence Awareness Month October 1, 2019.
Emma Gibson/AZPM
A domestic violence questionnaire implemented last year has already helped thousands of victims in violent relationships connect to emergency services, according to Pima County.
The county started using the Arizona Intimate Partner Risk Assessment Instrument System in April 2018. It's a form that law enforcement officers fill out when they respond to a domestic violence call. It helps gather information from the victim about the attacker for the judge to use when establishing the defendant's terms of release.
Some of the questions are: "Has he/she ever tried to kill you? Is he/she known to carry or posses a gun? Does he/she control most or all of your daily activities?"
Vanessa Helms, director of the victim services division at the Pima County attorney's office, said since the form was put in place last year, her division has been able to identify thousands of people in high-risk relationships.
Without the form, she said, victims weren't always getting the support they needed from social services, like Emerge Center Against Domestic Abuse. The nonprofit coordinates with the county by acting as an emergency shelter and offering other support systems.
"Victims may be left with some information to call Emerge and make an appointment for a later date, sometimes that can be a week or so later," said Helms. "If they screen in at high-risk, with this appraise instrument system, then they get a next-day appointment at Emerge and will get immediate follow up services as well."

Helms said though agencies use this system statewide, not every jurisdiction connects victims to services right away like Pima County does.
She said confirmation of a certain number of questions on the form can predict that a victim is 7.5-10 times more likely to be hurt again or killed within seven months of the incident.
"We know that [domestic violence] is dangerous, but this tells us how dangerous it actually is, which is an 'ah-ha' moment for service providers but can really be an 'ah-ha' moment for victims, too, when they realize they are at a legitimate risk," said Helms.

According to a press release from Emerge, 46 people died in Arizona because of a domestic violence-related incident between January and May 2019. Nineteen of them died in Pima County.
Between July 1, 2018, and June 30, 2019, Emerge helped 5,914 people experiencing domestic abuse.
The head of Emerge and several officials from various city and county agencies discussed the impacts of domestic violence in Pima County Tuesday.
At the press conference to mark Domestic Violence Awareness Month, Tucson Mayor Jonathan Rothschild said that domestic abuse doesn't stay within one demographic or socioeconomic status. It can be found all throughout the city and county.
"But if there is a common theme it's that its roots lie in entitlement, the belief that we're somehow entitled to the services, the obedience and the affections of another."