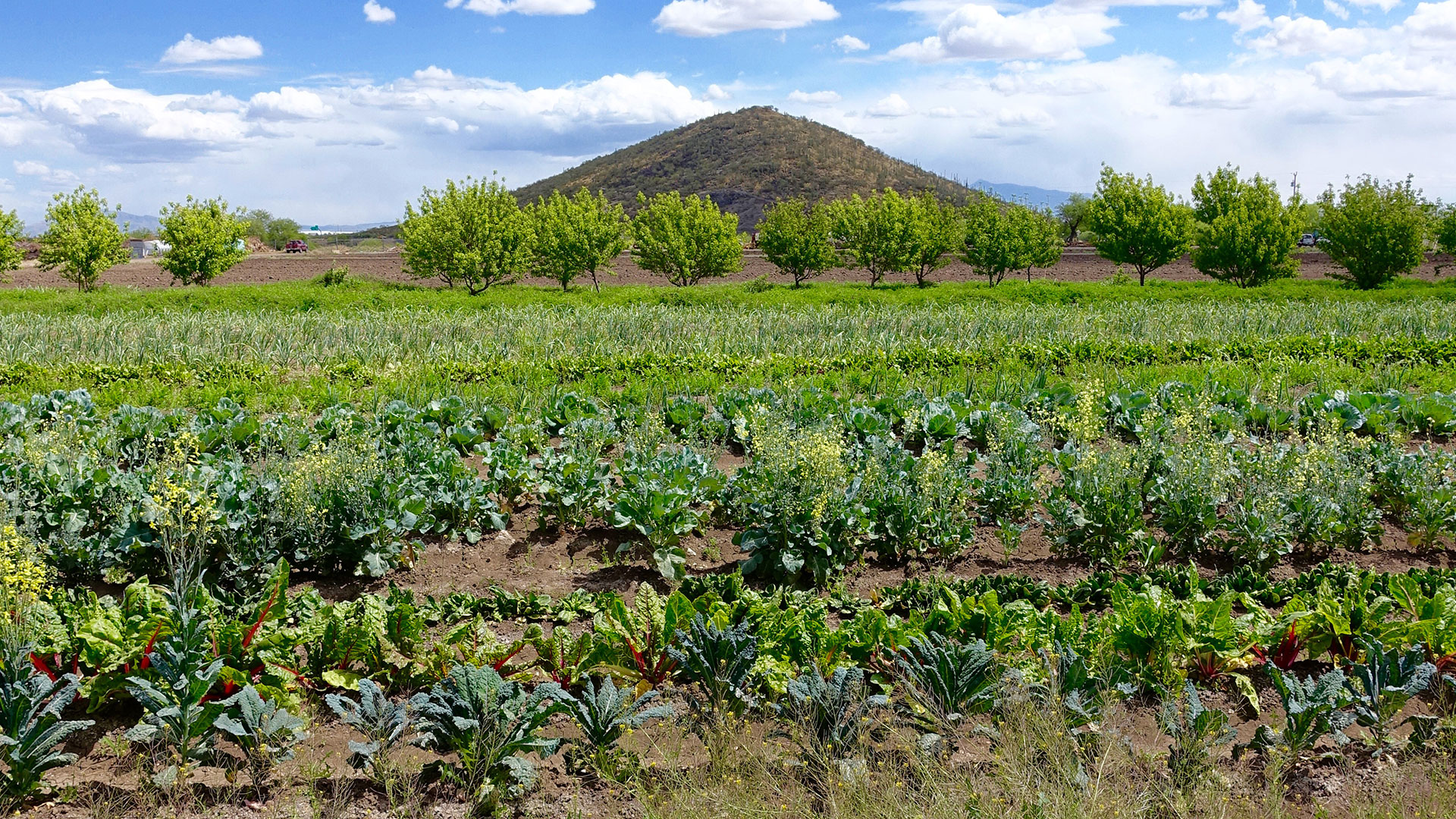 The San Xavier Cooperative Farm.
Vanessa Barchfield/AZPM
A fire at the San Xavier Co-Operative Farm Tuesday night consumed approximately 20,000 bales of alfalfa and an undetermined amount of income for the farm.
Gabriel Vega, the farm manager at the co-op in the San Xavier District of the Tohono O'odham Nation, said the price of hay fluctuates based on the season and type of hay. He said in the winter months a bale of horse hay could have sold for up to $16 and a bale of cow hay could have brought in a minimum of $6.50.
He said the mix of cow and horse hay represented 90% of the farm's alfalfa harvest.
"We do have some available to customers, so come purchase the remaining hay, and come stop in the store and maybe pick up some tepary beans and some honey," said Vega.
He said the co-op doesn't know exactly how many bales the fire destroyed yet, but he estimated no more than 20,000 bales burned. A press release from the Tohono O'odham Nation government stated the fire consumed 5,000 bales, but Vega said that number isn't correct. The farm completed its end of fiscal year inventory on September 30 and data from that report support the higher loss estimation.
The Bureau of Alcohol, Tobacco, Firearms and Explosives is still investigating the cause of the fire, said Vega. However, he said the leading theory is the hay collected too much moisture, allowing microorganisms to breed and generate heat as they multiplied. This form of internal combustion is most common cause of hay fires.
The fire hasn't kept the farm off schedule. October marks the start of alfalfa season, so employees are preparing the ground for the seedlings to thrive.
"We have a lot of individuals on the farm that pour their heart and soul into this work, so we're going to remain positive and continue to do what we do — and that's farm," said Vega.
He said many of the farm's customers across Southern Arizona have been calling asking how they can support the farm. Vega said the hay was still smoldering in some areas Thursday morning, but the co-op plans to re-open on Saturday.