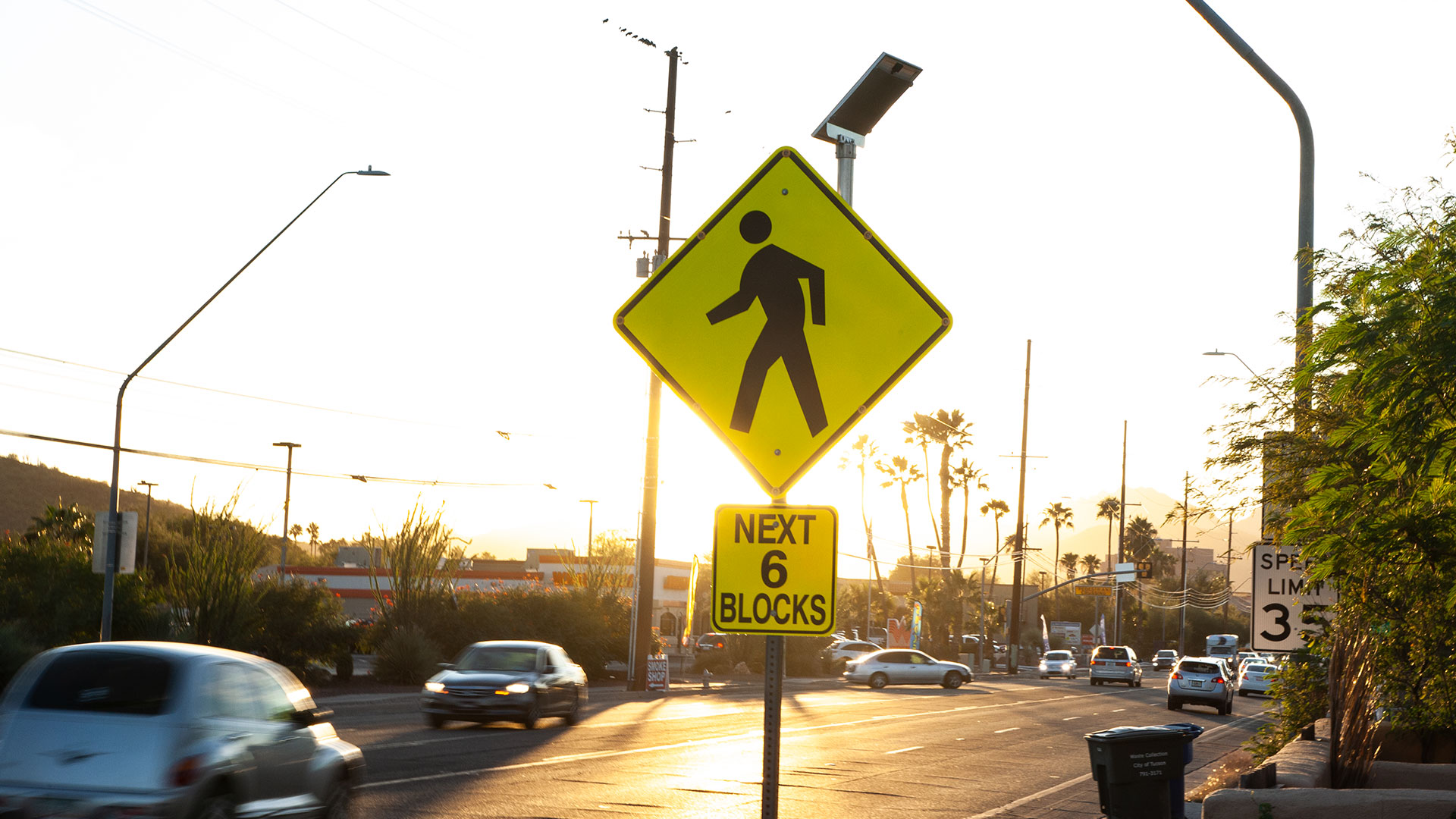 A sign warning drivers of high pedestrian traffic on West St. Mary's Road in Tucson on a late October afternoon.
Nick O'Gara/AZPM
A troubling trend is playing out on Tucson's streets: It's getting deadlier for pedestrians.
The number of people killed in traffic while walking this year has already surpassed last year's total, with two months left in the year. By the end of October, at least 31 pedestrians had been killed, at the time roughly one fatality every nine and a half days, according to counts provided by the city's bicycle and pedestrian program.
While officials say numbers may differ among state and local agencies, figures from the city Department of Transportation suggest this year Tucson is in danger of tripling the number of pedestrian fatalities recorded in 2014. The number of deaths has risen steadily since that year.
"We're seeing an epidemic on our arterial roadways - those are roadways of speed limits that are 35 mph and higher, they're six lanes and more," says Krista Hansen, a planner with the Bicycle and Pedestrian Program.
Tucson's increase in pedestrian fatalities is dramatic over the last five years, and around the country the number of pedestrian fatalities has been on the rise for the last 10 years or so, following a decades-long decline. All other traffic deaths combined are decreasing, and cars appear to be getting safer for their drivers and passengers. A recent report said fatalities decreased for nearly every type of vehicle last year, but increased for pedestrians and cyclists.
Experts say the trend is worse in so-called Sun Belt states. Arizona, California, Florida, Georgia and Texas made up 46% of all the pedestrian traffic deaths, according to 2018 numbers from the Governor's Highway Safety Association.
And certain groups are more vulnerable as pedestrians, Hansen says.
"From what we're seeing across the country, we see that people who lack access to a vehicle, live in poor areas, are dependent on transit and walking, are dying at disproportionate rates than the rest of the city."
The Buzz looks at the issue this week through the lens of law enforcement, transportation and urban planning, and history, hearing voices of people working to understand why this is happening in Tucson, and around the country, in order to look for solutions.
Everyone who spoke to the show echoed the sentiment that there don't appear to be simple explanations for the increase, but the guests explore a range of factors and discuss possible solutions, including steps being taken by city agencies. Several experts say solving the problem goes beyond getting pedestrians and drivers to pay more attention, and includes reconsidering how we design cities, roads and transit systems.
In the show:
Tucson Police Capt. Diana Duffy, traffic safety coordinator
City of Tucson bike and pedestrian program planner Krista Hansen
Arlie Adkins, University of Arizona associate professor, urban planning
Peter Norton, University of Virginia associate professor of history