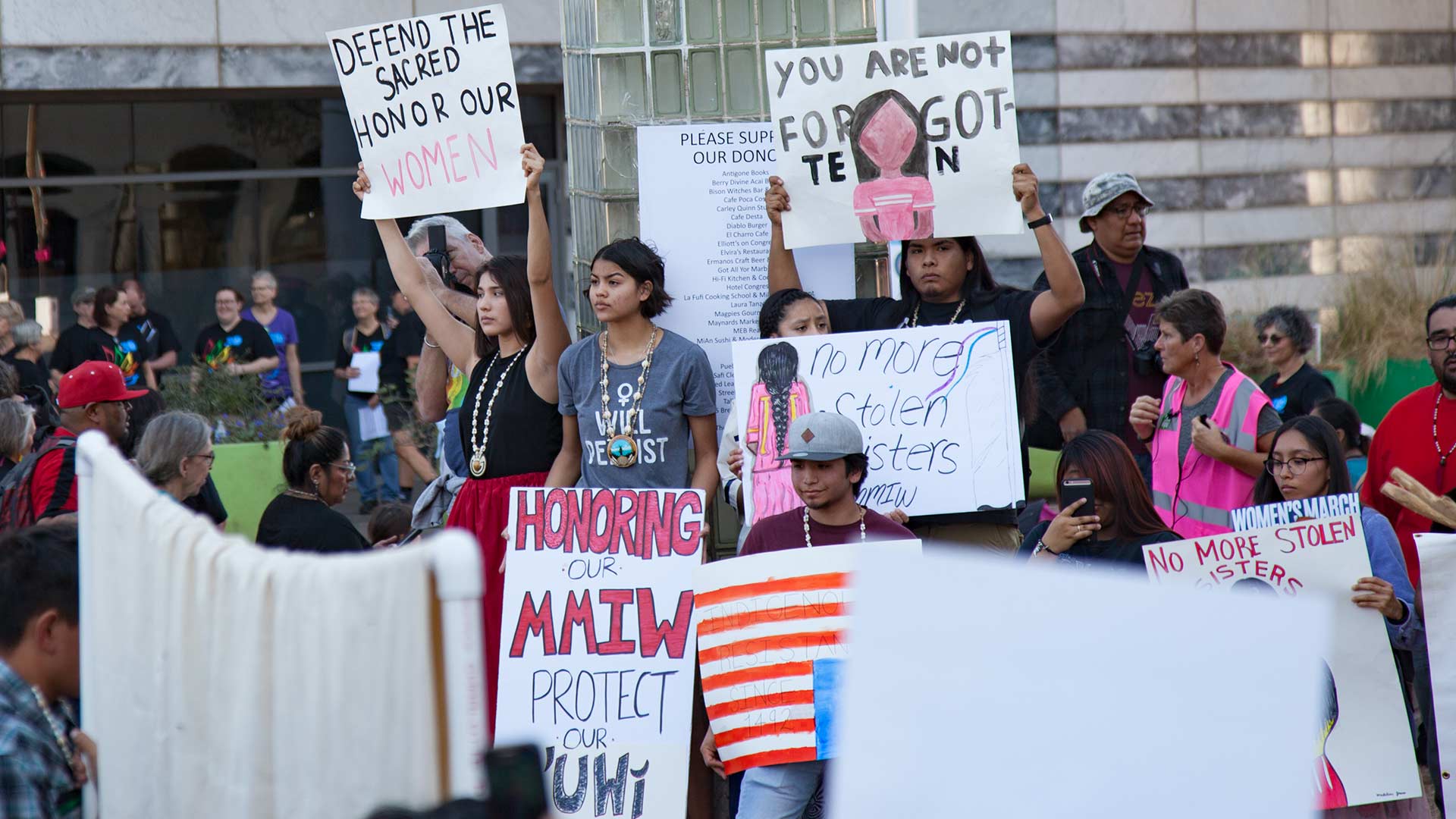 Demonstrators at the 2019 Tucson Women's March carry signs reading "MMIW" ("missing and murdered Indigenous women") and "no more stolen sisters."
Nick O'Gara/AZPM
A new version of the Violence Against Women Act introduced in the U.S. Senate has some worried about its negative impacts on tribal courts.
Melissa Tatum, a research professor of law at the University of Arizona, said the replacement bill introduced by Iowa Republican Joni Ernst would restrict tribal courts in ways state and federal courts are not. She said Ernst's bill implies tribal courts aren't capable of prosecuting non-natives without bias.
"It makes me sick to think that people with no experience of tribal courts, people that are just prejudiced against and think tribal courts aren't fair are going to ruin the progress that's been made," Tatum said.
Thirty-five years ago, the U.S. Supreme Court revoked tribal governments' abilities to prosecute non-tribal members in Oliphant v. Suquamish Indian Tribe. In 1994, President Bill Clinton signed the Violence Against Women Act. The legislation addressing domestic violence did not restore tribal jurisdiction over certain cases. The reauthorization of the Violence Against Women Act in 2013 returned to tribes the authority to prosecute certain non-tribal members for domestic violence, dating violence and violation of protection orders.
VAWA 2013 lapsed during the federal government shutdown at the beginning of 2019, but was briefly resurrected with an extension until Feb. 15, 2019.
Tatum said Ernst's bill would require defense counsel to be licensed in a state court, not recognizing tribal bar exams and impeding a defendant's right to self-representation. She said the bill would also remove the Indian Civil Rights Act from within VAWA 2013 and place a time limit on appeals.
Tatum said the bill also steps on tribal sovereign immunity as it would allow civil action for defendants to claim tribal courts violated their civil rights throughout the case.
"These will put huge burdens on the tribal court infrastructure and will result in a lot of limitations, and really will limit tribes' ability to exercise this new authority," Tatum said. "And the problem is there's no reason for these limitations."
Since VAWA was reauthorized, she said, zero non-native defendants have accused tribal courts of violating their rights, and senators are the only ones with complaints.
U.S. Sen. Dianne Feinstein (D-Calif.) introduced another version of the bill to the U.S. Senate that mirrors the one the House of Representatives passed in April.