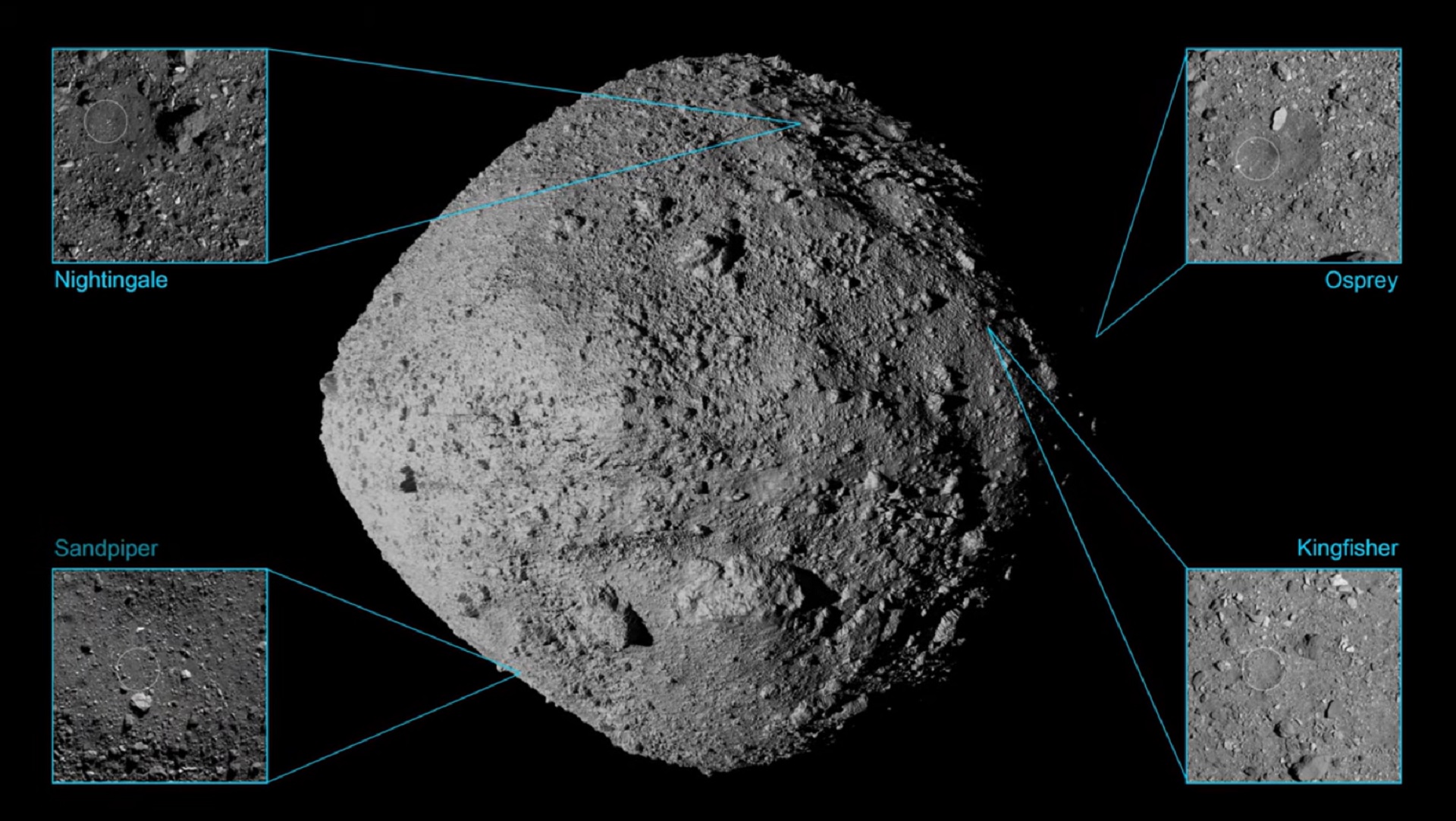 This screen grab from a NASA video released Aug. 12, 2019 shows four potential locations on Bennu for the OSIRIS-REx probe to collect soil samples.
A University of Arizona-led team has picked a spot for grabbing a sample of material from an asteroid and bringing it back to Earth.

Since launching in 2016, the OSIRIS-REx spacecraft has spent a year orbiting the asteroid Bennu looking for the best spot to grab a sample of its gravely outer layer. Team leader Dante Lauretta says there were so many sites to choose from, they turned to a very "Arizona" solution to narrow them down: They made a bracket.

"We ultimately got down to our 'Sweet 16,' and then the elite eight and to the 'Final Four' where we are right now, about to crown the champion and the runner-up of this process," Lauretta said.
The winner has been dubbed Nightingale, a spot near Bennu's north pole. Lauretta says Nightingale is the site of the "Final Four" with the best potential for scientific discovery.
"High latitudes means that it stays relatively cool, and the primary objective of OSIRIS-REx is to bring back organic material and water-bearing material from the early solar system, and being in those high latitudes we think gives us the best chance to preserve that kind of material," he said.
The biggest problem is a 20-foot boulder the spacecraft will have to avoid on its way down. "It's a substantial building-sized obstruction, and we're trying to get into a crater that's on the order of a few parking lot spaces wide," Lauretta said.
The runner up is a similar spot near Bennu's equator nicknamed Osprey. The team aims to "tag" the asteroid and grab a few spoonfuls of material next year, returning them to Earth in 2023.