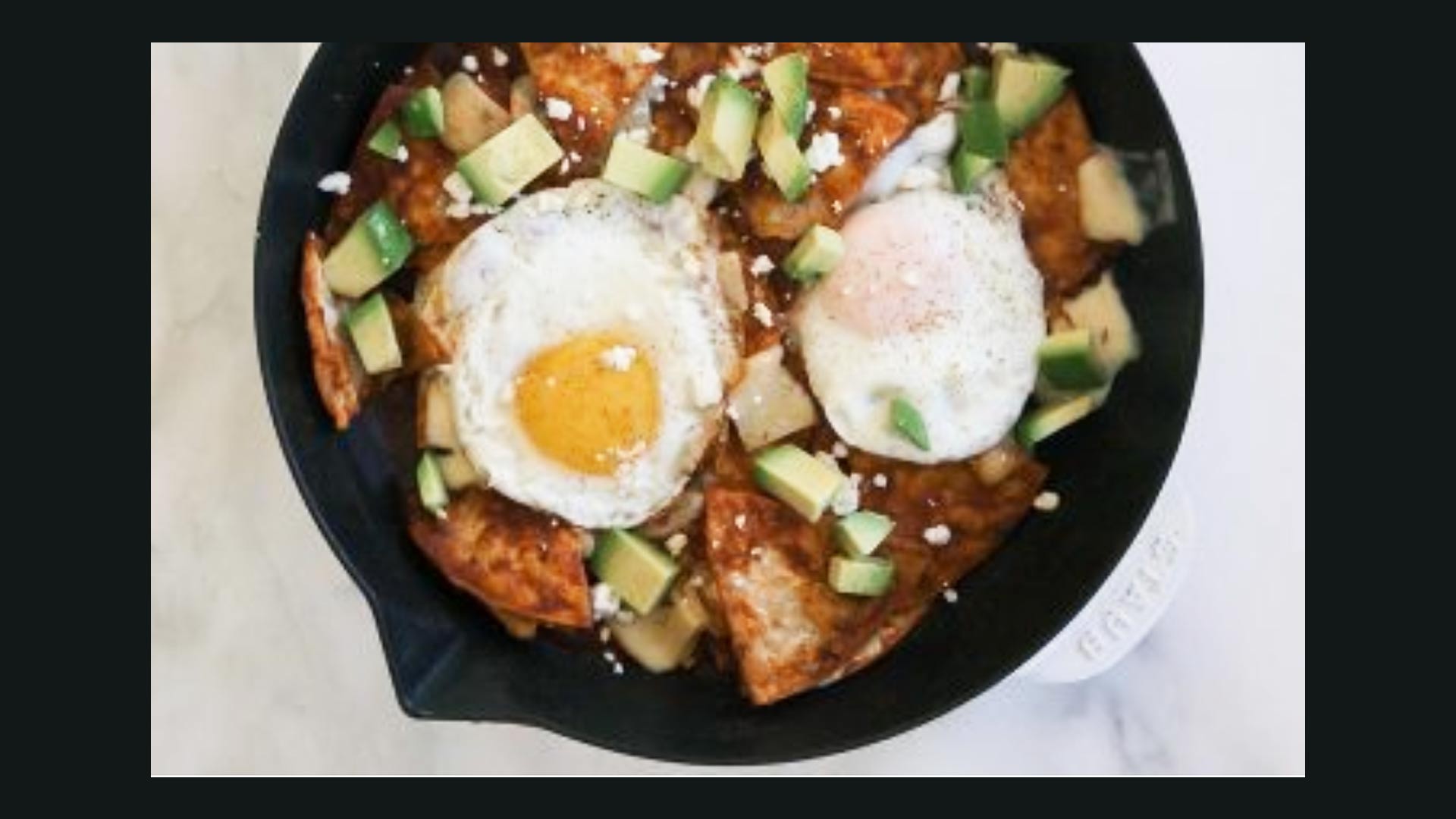 PBS Food Quick Chilaquiles
"Chilaquiles are one of my favorite dishes to eat for breakfast. Yet, I hardly ever find myself making them. I think the reason for this is that I usually like to make the sauce from scratch. This requires a bit of time. You have to sear the dried chiles, onion and then rehydrate them for a bit. And then, put everything in the blender with some tomatoes. It's a bit labor-intensive and not really something I'm up for on a Saturday morning. I'd rather spend time making cinnamon rolls or something like that haha.
But the other day, when I was craving chilaquiles, I decided to take a huge short cut and use a store-bought enchilada sauce and cook it down a bit. It was dreamy and literally took about 15 minutes. It was divine—I can't recommend it enough." - Adrianna Adarme

Ingredients
10 corn tortillas, cut into triangles (or store-bought chips)
Vegetable oil
1 (14-ounce) can of enchilada sauce
1/2 cup shredded Pepper Jack cheese
2 tablespoons cotija cheese, crumbled
Two fried eggs, as topping
1/2 avocado, cubed, as garnish
Yield: Serves 2-3
Directions
To a saucepan, set over medium heat, add a few tablespoons of vegetable oil. When hot, add the slices of tortillas, in batches, and fry until the tortillas are crispy. Transfer to a bed of paper towels and repeat with the remaining triangles of tortillas.



To a medium skillet, set over medium heat, add the enchilada sauce. Cook until it's reached a simmer and thickened, about 5 to 8 minutes. Give it a taste and adjust any of the seasoning according to taste. The brand that I bought was absolutely perfect so it required zero additional salt or seasoning.


Add the chips or freshly fried tortillas to the sauce and toss until thoroughly coated. Cook for an additional 2 to 3 minutes. Add the cheese and cover the pan until the cheese has melted, about 2 minutes. Top with cotija cheese, fried eggs and avocado.


Adrianna Adarme is a food blogger and author. For additional recipes: Adrianna Adarme of Fresh Tastes.