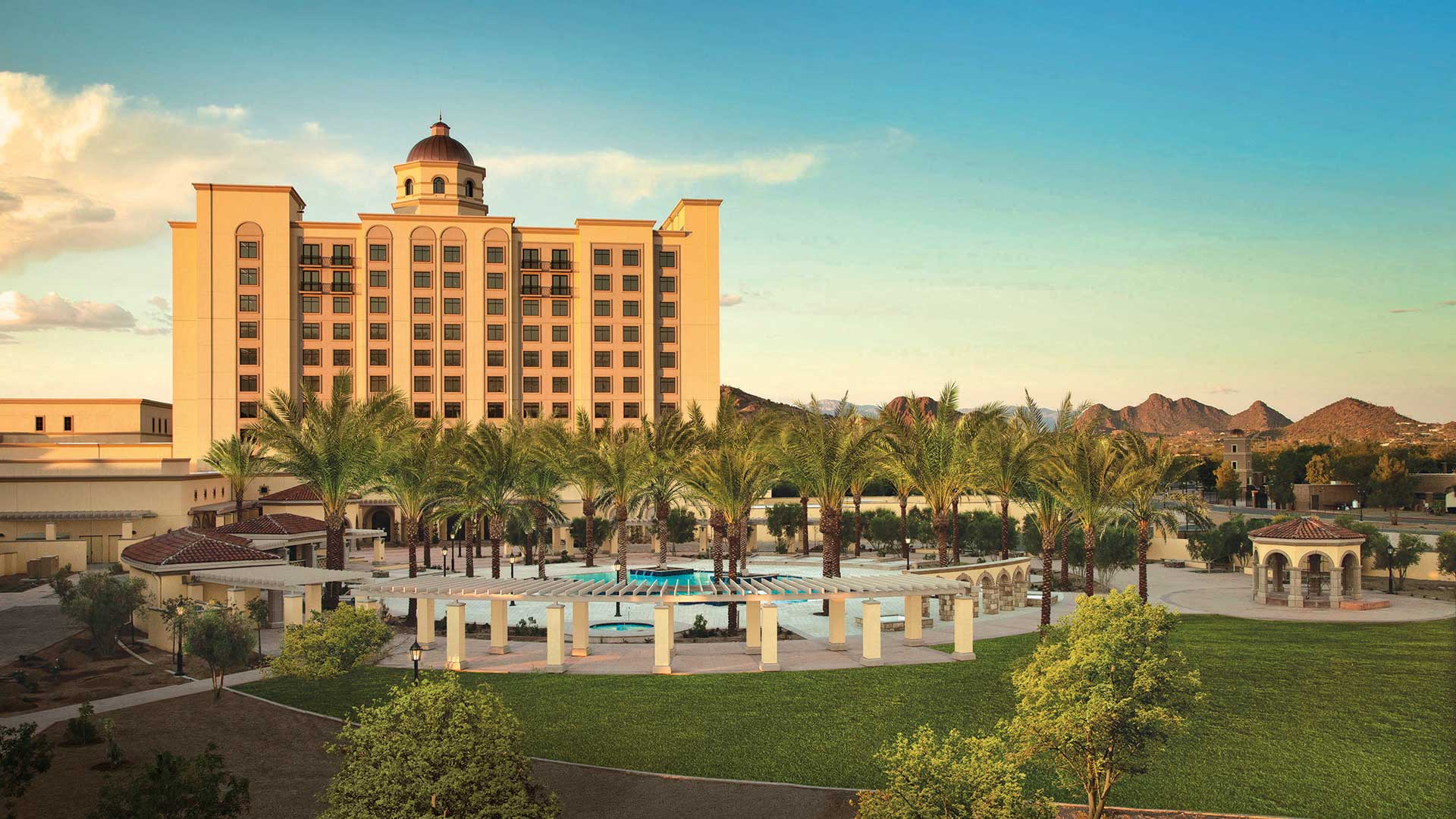 The exterior of Tucson's Casino Del Sol.
Courtesy Casino Del Sol
Casino del Sol and Casino of the Sun will be closed from 5 p.m. on Wednesday, March 18 until 8 a.m. Monday, April 13, in response to the COVID-19 pandemic. The Pascua Yaqui Tribe was the first in the state to announce it would shutter its casino operations, a major economic driver for the community.
"The impact is significant," said Casino del Sol CEO Kimberly Van Amburg. "While the tribe certainly has other sources of income, the casino income is the primary source. But the message that I received from tribal council was clear and unanimous that this is the right thing to do."
The approximately 1,600 employees at the two casinos, hotel, concert venue, RV Park and golf club will be paid during the closure. Full time staff will receive regular pay.
"If you're part time, we're going to look over your average pay over the last five pay periods and do that," Van Amburg said. "That will get us very, very close to making those part-time team members whole."
The company will reimburse guests with reservations for hotel rooms or events, or offer them the chance to reschedule.
Another major casino in the area, the Tohono O'odham Nation-owned Desert Diamond Casino, announced late Wednesday it would also be closing its doors at 11:59 p.m. on March 18.
The closure will impact all four of the Nation's Desert Diamond Casinos near Tucson, Sahuarita, Why (Ajo), and the West Valley, in Glendale.
In a statement, Tohono O'odham Nation Chairman Ned Norris, Jr. said: "In this unprecedented time, it is our duty to protect the community and collective action is needed to slow this virus. We are all in this together and I am proud to be a part of the vital Arizona Tribal Gaming community, which employs thousands of workers. I commend the other tribal casinos who are also making tough decisions for their own communities as well. It is in moments like these that our communities must rise to the challenge by relying on the shared values of compassion, collaboration, and generosity that have inspired us for generations."
---
Eds.: This story was updated Thursday morning following the closure announcement by the Tohono O'odham Nation.