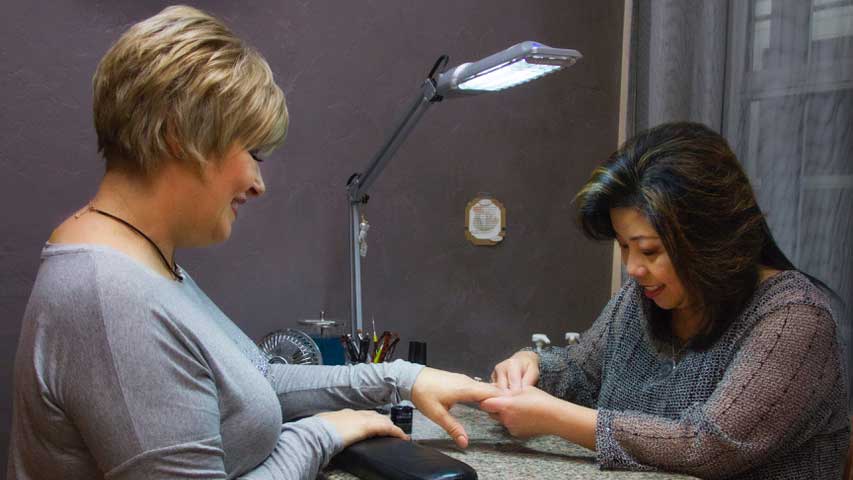 VIEW LARGER Mary Muljadi, on the right in this photo dated 2018, is calling on the governor to remove nail salons from list of essential services.

Courtesy Mary Muljadi
UPDATE: The governor's office released additional guidance Friday afternoon, after the publication of this story, ordering nail salons and other businesses to close by 5 p.m. Saturday.
---
Under Gov. Doug Ducey's stay at home order, services deemed essential are allowed to stay open. But not everyone who works in the industries included on that list wants that designation.
Mary Muljadi is a nail tech who rents space at Sola Salon, across from Park Place Mall. She wants the governor make sure nail salons are not included in that list.
"In my position as a manicurist and pedicurist, this is luxury," she said. "People don't have to have it, people can wait for it."
Her landlord has kept the doors at Sola Salon open. Owner David Woods said 60% of his tenants have chosen to close their businesses, and 40%, including Mary, remain open. That means she's still on the hook for $237 in rent, each week, even though business is down 90%.
Muljadi said it's put her in a terrible position
"I have to pay the rent still, so I have to go to work," she said. "And in the meantime if I go to work, I might get exposed, so I don't know what to do."
In her line of work, keeping the recommended six feet of distance between people is impossible.
"People sitting in the pedicure chair, I guess that's like three feet away," she said.
Woods said he's offering tenants rental deferral until government programs like paycheck protection program kick in.
"We're trying to make sure everyone at Sola is still in business when this is over," said Woods.
The governor's list of essential services has been interpreted to include barber shops and salons, which drew criticism from leaders like Tucson Mayor Regina Romero. She issued guidance "highly suggesting" that such businesses close to maintain social distancing.
The governor's messaging on the matter has been contradictory, according to the Arizona Republic, which reported that Ducey said in a town hall Thursday that salons were not covered in the order, despite a previous press release saying otherwise.