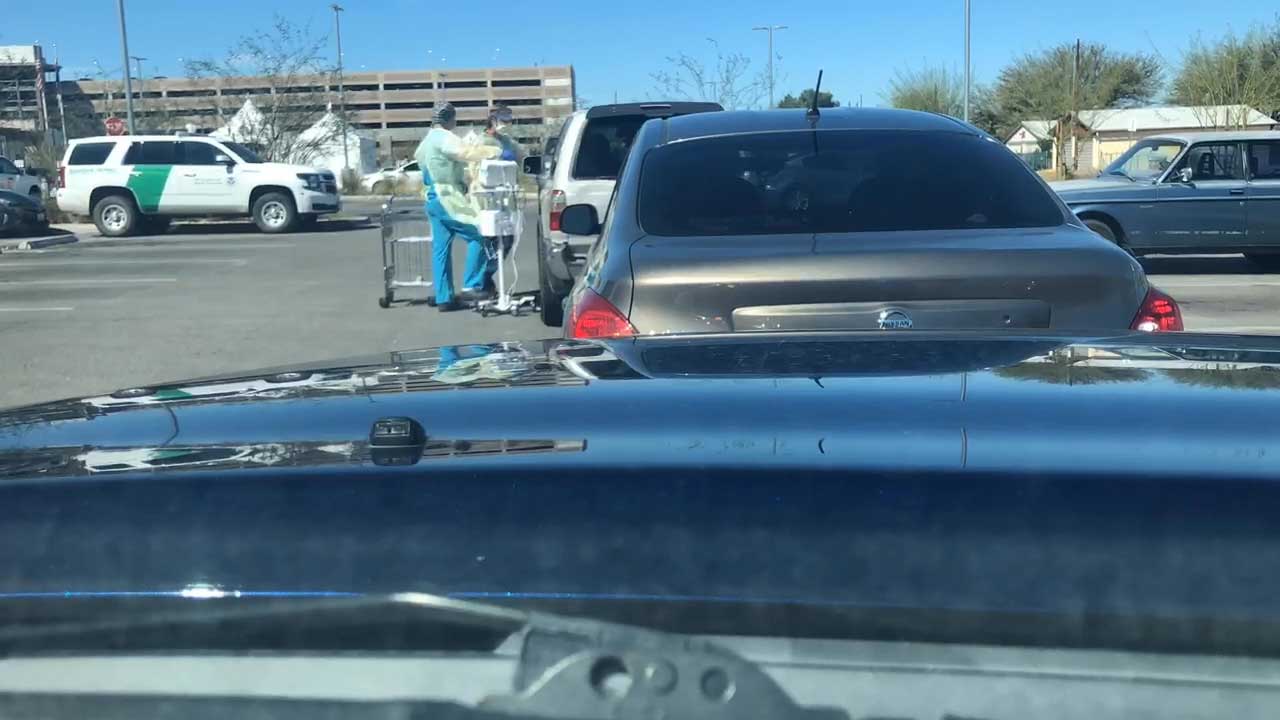 VIEW LARGER Still image from a video provided by ACLU Arizona. The video shows a parked Customs and Border Protection vehicle at Diamond Children's Medical Center, located at Banner-University Medical Center, which the ACLU says was recorded on March 20.

Courtesy ACLU
UPDATE: Customs and Border Protection responded Thursday, April 18 to AZPM's request for comment. A spokesperson for the Tucson Sector said agents are not carrying out enforcement activities in hospitals, but are frequently at medical facilities for detainee and agent care.
---
The ACLU of Arizona is is calling on agents with the Border Patrol to halt enforcement operations at medical facilities in Southern Arizona.
A video sent to the legal aid group shows a Border Patrol vehicle in the parking lot of a mobile coronavirus testing site at Tucson's Diamond Children's Medical Center, located at Banner-University Medical Center, on March 20. ACLU Staff Attorney Yvette Borja said agents have been seen at medical facilities in Arizona before, but this is the first report since the pandemic began.
"It's always wrong to deter people from accessing medical care and other essential services, but it's particularly antithetical to the public health needs of the current crisis," she said.
More 20 civil rights groups signed on to a letter sent by the ACLU to Tucson Sector Chief Agent Roy Villareal calling for the halt of enforcement operations like these. Borja said the sector has acknowledged receiving it but has not responded yet.
Borja said in the past Border Patrol has said it would not conduct enforcement in essential facilities like hospitals, schools and courts. That protocol needs clarification now.
"CBP [Customs and Border Protection] should already understand this, they've adopted a similar framework before," she said. "They need to publicly do that again, so that everyone is on the same page and we know what to expect from them."
A Tucson Sector spokesperson said the agency was looking into the complaint.
In March, Immigration and Customs Enforcement said during the pandemic it would limit enforcement efforts to cases deemed to pose a risk to the public.
During a press conference last month, President Trump was also asked whether undocumented people were welcome at testing facilities and could get tested without fear. He replied they could.