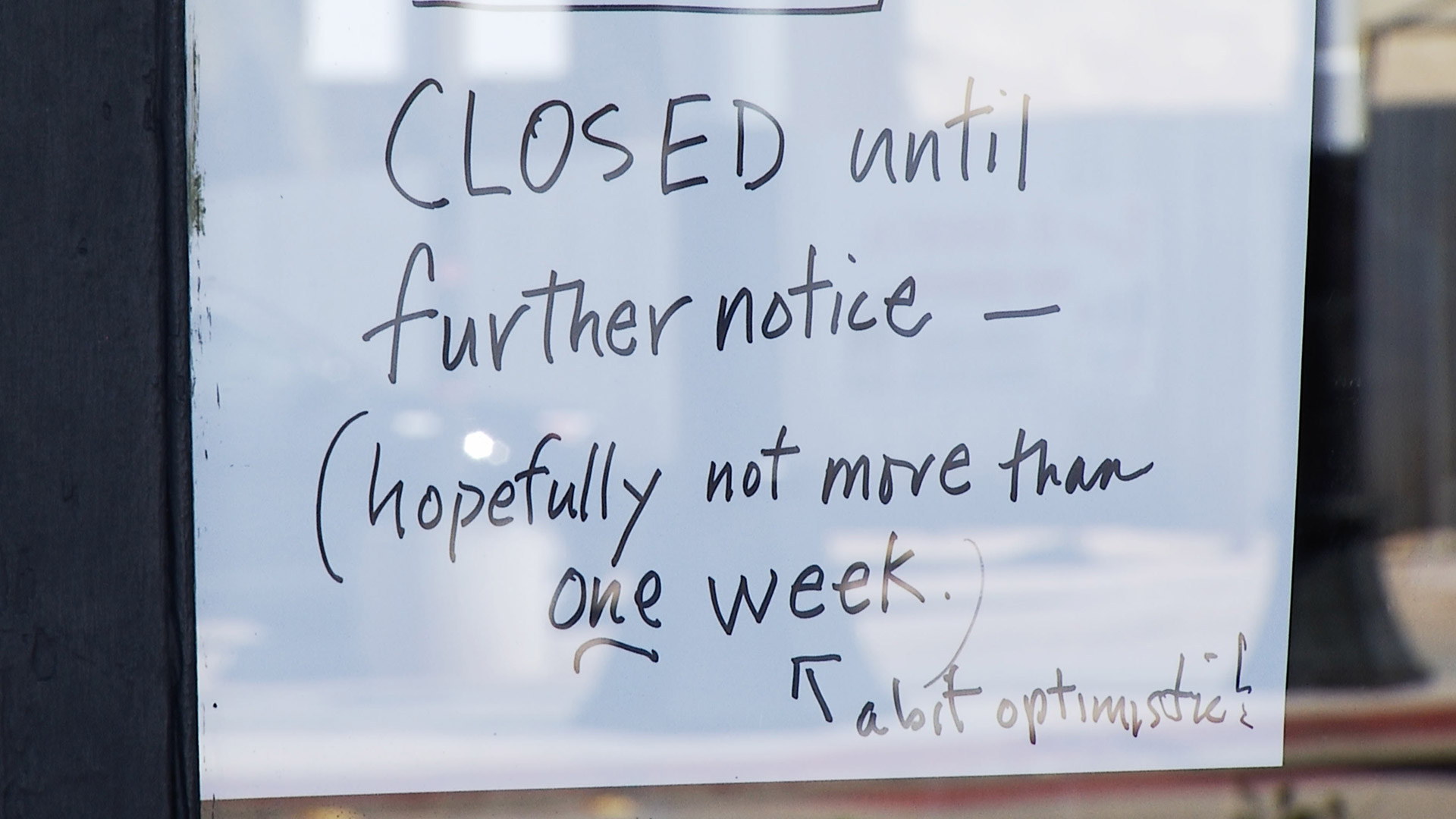 A handwritten sign posted by a business on Fourth Avenue about the store's closure as a result of the COVID-19 pandemic.
AZPM
For businesses deemed essential or not, the last month has been devastating to say the least.
Nicole Rivera and her husband own Apex Mixed Martial Arts in Tucson, where they teach judo, kickboxing, and jiu-jitsu. The training is intensive. People join their gym because they want to compete or learn practical self-defense.
"So it actually has to work. So we have to charge more because we actually put a lot into our credentials," she said.
But because of the coronavirus, she's had to move her training online. Now, her business competes with countless free online workout videos. Rivera said she's losing members by the week.
"A lot of people are hanging with us because they know us," she said. "But it's really expensive compared to what people can get for free, you know?"
She applied for the Paycheck Protection Program as soon as she could. Part of the $2 trillion CARES Act, the PPP offers forgivable loans for payroll and rent meant to help businesses keep people employed. But the program ran out of money in less than two weeks, and Rivera's application was frozen in the process.
She's not alone. The U.S. House of Representatives on Thursday voted to add over $300 billion to the program, but interviews with local business owners, accountants and chambers of commerce reveal very little of the initial money made it to Southern Arizona.
"I have not spoken to anybody that has gotten funding," said Tucson Hispanic Chamber of Commerce administrator Isabel Georgelos. She said business owners struggled with an onerous and confusing application process, one which requires detailed financial documents.
Many small businesses, especially minority-owned businesses, don't have this information on hand, said Anthony Villari, a CPA with Essentage, which does bookkeeping and accounting services for small companies in Tucson.
Villari said in his view, the PPP's critical flaw is that it's administered by the banks. He said banks are risk-averse institutions, that's why national chains like Shake Shack and Potbelly were able to secure loans while thousands of small businesses have been forced to wait.
"These guys got prioritized, and the reason they got prioritized is there is a fee structure that goes with the PPP loans. So [banks] were doing the math on where can we deploy these funds and get the best bang for our buck," he said.
Small businesses in California on Sunday sued four of America's biggest banks — Bank of America, Wells Fargo, JPMorgan Chase and US Bank — for allegedly "prioritizing the applications that would make the bank the most money."
Smaller banks and community lenders reportedly did better at delivering on loan applications.
"Your relationship with your banker was really important in this process," said Amber Smith, president and CEO of the Tucson Metro Chamber. According to a survey of chamber members, only around a third of businesses that applied for the PPP have seen any money.
Due to the application backlog, banks and financial experts are predicting the new funds will go fast. But this time around, at least $30 billion is going to to so-called Community Development Financial Institutions, which are meant to steer funds to minority- and women-owned businesses.
But for many who have been left to fend for themselves, the help is too little too late. Businesses are simply running out of cash, and Villari said that ultimately the paycheck protection program is failing to live up to its name.
"Unfortunately, as a business owner, what you end up having to dispense with to save the most money is labor and your employees," he said. "And the problem is if you don't have PPP funds, you're laying people off and you're pushing them into an unemployment system that's backed up."
Since mid-March, the Arizona Department of Economic Security has received over 400,000 applications for unemployment benefits.
But people like MMA gym-owner Nicole Rivera are in an especially tough spot. Arizona currently doesn't offer unemployment to self employed people, despite federal funds set aside for that. Rivera still has to pay rent on her 4,000-square-foot gym, on top of all her personal expenses.
"We're definitely not gonna be able to bring anything home to pay for our own bills. We'd be lucky if we can break even. I don't know if that's gonna happen," she said.
Some governors have started to ease restrictions on social distancing. So far, Arizona Gov. Doug Ducey has emphasized the need for a gradual transition. He has not announced a date for reopening the economy.