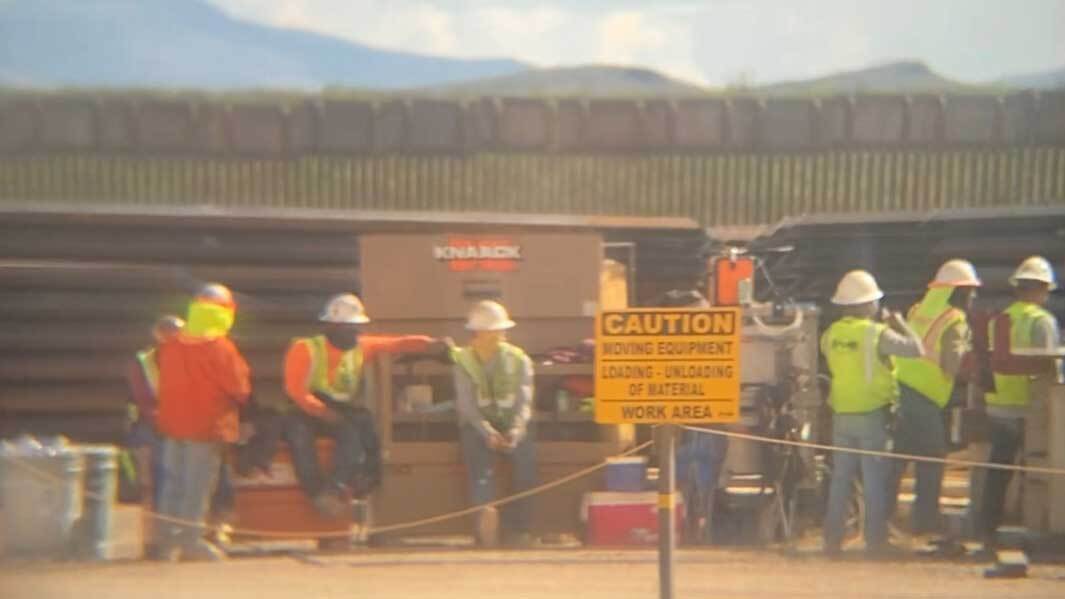 VIEW LARGER An image provided by the Center for Biological Diversity shows a group of construction workers at a site in the San Bernadino National Wildlife Refuge on April 8.
Arizona residents have been under a stay-at-home order for nearly a month to help stop the spread of COVID-19. But some residents of border communities worry that continued construction of the president's wall is putting them at higher risk.
Maria Singleton's home is just off Highway 85 in Ajo. The quiet border community normally has around 3000 residents. But the wall project has changed that. The highway is usually dotted with tourists on their way across the border to Mexico or into the nearby Organ Pipe Cactus National Monument.
That traffic has stopped almost completely in the wake of COVID-19. But Singleton said that doesn't mean the road is quiet.
"One morning between six in the morning and 7:30, I counted 22 construction trucks for the border wall going past my house," she said.
Even as the pandemic triggered statewide business closures and a stay-at-home order, Singleton said traffic for the construction hasn't slowed.
Construction workers from Kentucky, Texas, Montana and other states have relocated to Ajo for the wall projects. They rent local homes or stay in RV parks. Singleton said she understands that people want to continue working. Both her son and son-in-law work construction in Colorado, but many of their projects have been scaled back during the pandemic. She said the number of workers required for the border wall strains already-limited local resources.
"Out-of-state trucks coming through using our one grocery store, we have a couple of gas stations, having the wall workers that live here 2-3 people per house. Why isn't a pause happening right now?" she said.
Singleton said RV parks empty during long weekends. Residents assume that means workers are leaving to visit other cities. She worries they could contract the virus elsewhere and bring it back to town. She and other residents also worry construction workers aren't observing safe social distancing on or off the job.
Footage sent to AZPM by the Center for Biological Diversity — an outspoken critic of the border wall — shows around 10 workers at a wall construction site in the San Bernardino National Wildlife Refuge. Their mouths and noses are covered by handkerchiefs, but they appear to be standing within a few feet of one another.
Multiple residents report workers seen at the grocery store and gas stations also do not wear masks and travel in large groups.
Susan Guinn-Lahm is a 65-year-old retiree and a third generation Ajo resident. She has an autoimmune disease and her husband has diabetes. She's made multiple calls to the Pima County Sheriff's Office after hearing about loud, crowded parties at construction worker homes in town.
"The problem I have with them is not following social distancing guidelines," she said. "I'm in a high risk category and basically I feel like they're making me a prisoner in my own home."
Guinn-Lahm has also contacted Southwest Valley Constructors — the firm behind the project. In an email exchange viewed by AZPM, a spokesperson for the company tells her they would remind workers to follow guidelines.
In a statement to AZPM, a company spokesperson said the construction firm has implemented improved hygiene practices on and off the job and made recommendations to more safely conduct essential travel. She said numbers of employees on-site have also been reduced.
Residents are not the only ones raising the alarm about the project. Earlier this month, Reps. Raul Grijalva and Ann Kirkpatrick joined other lawmakers to call for a halt of construction during the pandemic.
"We continue to build the wall, even though people in AJo and other communities are complaining that you have all these construction workers, living in close quarters, working everyday without any protections," Grijalva said.
Medical care in Ajo is limited even in normal times. Many residents are older retirees and low-income families. Native American families can travel to the Tohono O'odham Nation around 50 miles away to receive care at an Indian Health Services facility there. Non-tribal members or those with more serious conditions or emergency cases have to travel almost 100 miles to facilities around Phoenix.
So far Ajo hasn't reported any official COVID-19 cases. But Maria Singleton says residents worry it's only a matter of time.
"It's a sense of I think of we are being unnecessarily exposed for a project and I wonder, why does it need to be done right now?"
Customs and Border Protection did not respond to requests for comment. In March, the agency announced over 90 more miles of wall projects in Arizona are on the way.