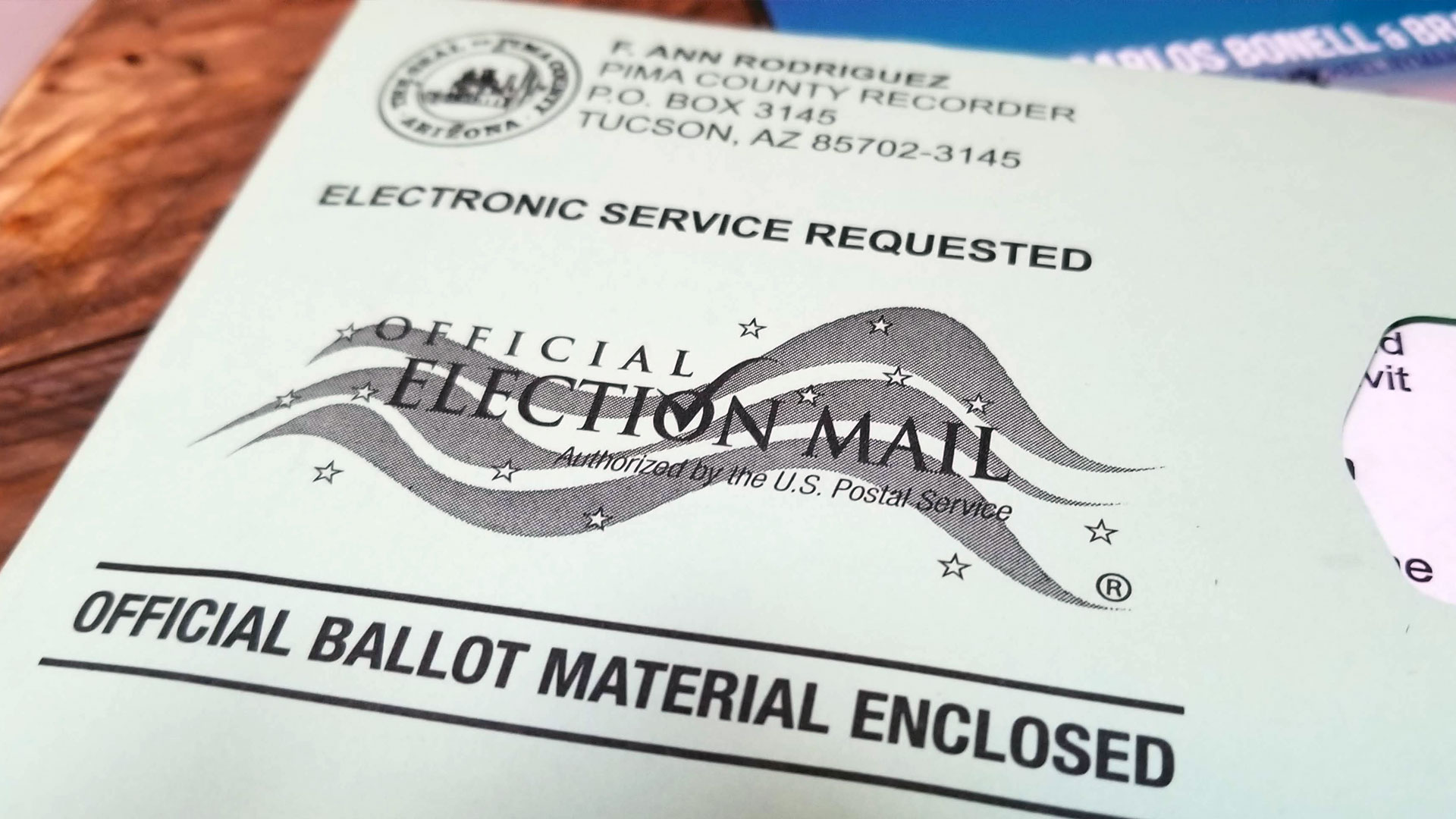 An envelope containing Pima County's vote-by-mail ballot.
AC Swedbergh/AZPM
Running for office does not begin on Election Day, it starts months in advance with a candidate getting their name out, collecting signatures to get on the ballot, and fundraising. But this year, candidates like Joe Ferguson, who is running for constable in Pima County, faced an additional challenge.
"In the early weeks of it before people were really taking COVID seriously or were really aware of it there really wasn't a problem. We knocked on doors, people talked, it was pleasant, we had great conversations. By late February, we began to change our strategies," said Ferguson.
Gov. Doug Ducey issued a stay-at-home order on March 30. But even before that things were slowing down: gatherings of ten or more people were discouraged, and schools were closed.
Two weeks before Ducey's order, Arizona held its Presidential Preference Election. That election is a big day for candidates, like Ferguson, to gather the signatures they need to qualify for the ballot later this year.
"I was out on Election Day and talking to people at the polling place," he said. "We had masks on, we were washing the pen. We were doing everything we could to make sure we didn't contribute to the virus spreading," Ferguson explained.
On that day, he gathered more than 200 of the eventual 700 signatures he turned in to qualify for the ballot.
For candidates in down ticket races, like constable, meeting people is a key. The fact that social distancing is now a way of life makes this campaign season "uncharted territory," according to Kate Kenski, a political communications professor at the University of Arizona.
"What social distancing is going to do is really put a damper on a lot of those things that are hard to measure in terms of getting the so-called ground game going…getting those volunteers, keeping up the energy. So that's where things change and that's where at the local level I think races are really made by that enthusiasm, by that meeting with people, still needing those face to face interactions," Kenski said.
Face-to-face interactions are important at every level of campaigning, especially when the candidate is a newcomer like Democratic Senate candidate Mark Kelly.
He's been on the campaign trail for a year, but COVID-19 changed everything.
"Probably over six weeks ago now, we stopped that in person voter contact, which is not what we expected but it is important because our number one priority as a campaign is the safety of the public and the safety of our volunteers and our team," said Kelly.
Kelly continues to hold meeting with business and other groups, but like so many of us, now those meetings are held on-line.
He also turned part of the fundraising arm of the campaign to community service.
"The money we are raising through our campaign, I think it is over $65,000 now, has gone to food banks," said Kelly.
Republican Martha McSally announced she was putting campaign fundraising on temporary hold on April 1.
"As I launch a 15-days of giving campaign, we will use all parts of my campaign and my team to raise as much money as possible to help people who are hurting because of the coronavirus," McSally explained in a video sent to supporters.
During that time, the McSally campaign said it raised $200,000 for the Salvation Army in Arizona.
McSally, as the current office holder in the race, has an advantage during the crisis because she gets coverage for working in the Senate.
"This is hands down the best thing that could happen to her especially with this 2-trillion-dollar stimulus package," said Mike Noble, pollster with OH Predictive Insights in Phoenix. "So there is a bit of an advantage there."
Noble pointed out that going into the pandemic, McSally has trailed in every poll except one and trails Kelly in fundraising.
McSally used her office-holder advantage as soon as her fundraising moratorium was over. Just days after it ended, she launched a TV ad highlighting her work during the pandemic.
For local candidates, like Ferguson, who don't have money for campaign TV ads, Kenski said the way around social distancing is social media.
"In order to be viable at all, even local candidates will need to be thinking about this. What's difficult though is how to get a reach. Social media can be fantastic when you already have a network on your side," Kenski said.
She added that the use of social media is important for all candidates from president on down the ballot.
"We are moving to a strategy of using mailers to reach people and doing a lot of social media," Ferguson said. "While I have told you before that I have a face for radio, I'm doing a lot of videos."
History will likely remember the 2020 campaign as much for the outcomes as for how candidates made their way through a pandemic.