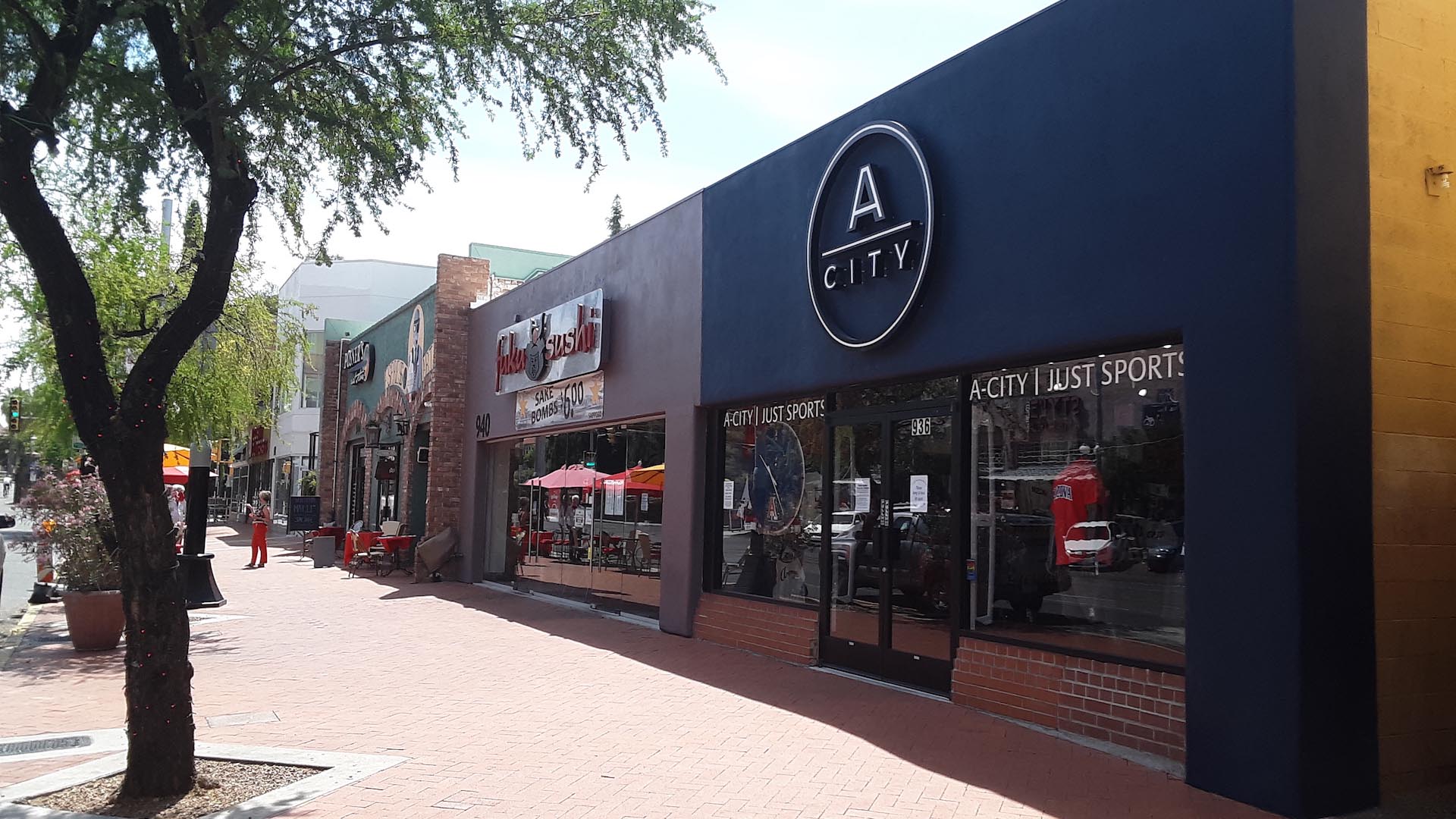 Shops along University Boulevard, Tucson.
Tony Perkins
Some Arizona businesses are reopening today amid continuing concerns about the coronavirus.
The lifting of restrictions comes as surveys show many people are hesitant about going back to business as usual. AZPM talked about this issue with University of Arizona consumer sciences professor Sabrina Helm.
Transcript
TONY PERKINS: Consumers built habits during the shutdown: shopping online, takeout food, Instacart, parking lot pickup. Will any of those habits stick around now that the restrictions are being lifted in Arizona?
HELM: I assume yes. We'll have to see in the next couple of days what the consumers' experience is and also what retailers do in order to safeguard their employees and shoppers, and taking the right measures to protect employees and shoppers. I think that there is room for worry for consumers and we will see that persisting.
PERKINS: At what point will people be more comfortable to go back to the stores and restaurants? Is it just the fact that they're open that's going to drive people back or do they have to be more confident and comfortable?
HELM: I think people have to really see and witness that it is a safe environment that they are exposing themselves to when they are going out shopping. Maybe now there is some novelty value, we've been cooped up for a while and we would like to go out there and see what is happening in the world, but overall, that fear and worry is still lingering.
If we now go to stores and we find them to actually not take the necessary precautions, we currently only have some guidelines in place in this state. If consumers don't see that enacted then they will probably remain very cautious and maybe even distrustful of retailers' efforts. And so, it will be very important that retailers really adhere to those guidelines and make every effort to keep the employees and their customers safe, because the current trend points in the direction that that consumers will remain very cautious and very interested in keeping themselves and their families safe.
PERKINS: There's some bad forecasts for certain retailers out there. What do they have to do to respond to this situation?
HELM: These trends have been going on for a long time. We've seen certain retail formats and particularly, for instance, department stores on the decline for quite a number of years now, and so COVID-19 basically has accelerated what's going on there and that, kind of, transition. It's not the root cause of that kind of change. So, in order to survive this crisis on top of the past, basically, downturn in interest among consumers, and the financial difficulties in particular, it's going to be difficult. I am quite pessimistic in that regard, I must say.
I think in certain areas it will go back to business as usual, but in other areas I think consumer habits will change. And I think there is also going to be more mindfulness of how we spend our time, how we work, that has an impact on how we consume, and also with regard to the sustainability of our current activities, our economic model, and the way we consume.
PERKINS: Professor Helm, thank you.
HELM: Thank you very much for your interest.