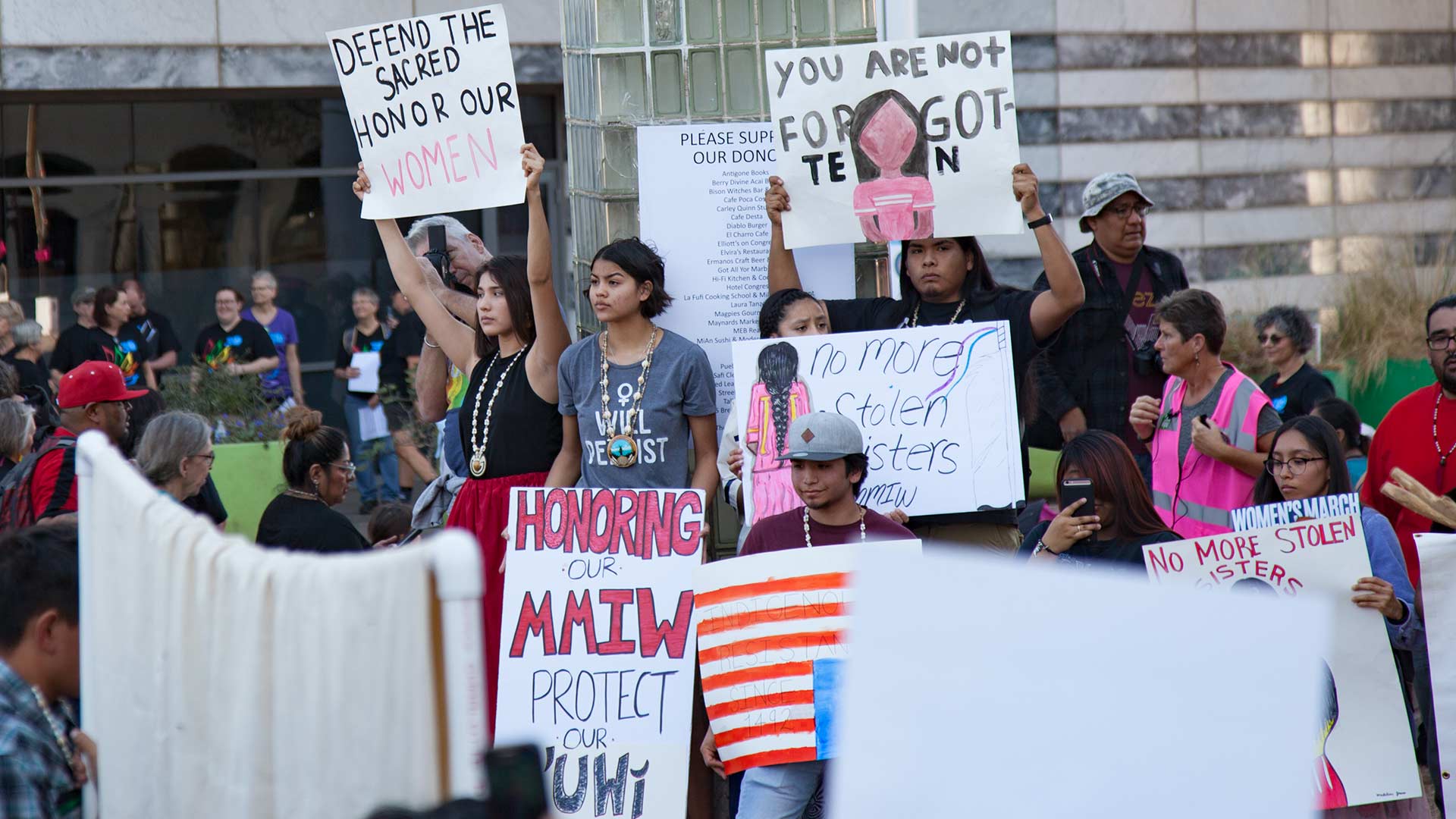 Demonstrators at the 2019 Tucson Women's March carry signs reading "MMIW" ("missing and murdered Indigenous women") and "no more stolen sisters."
Nick O'Gara/AZPM
The Presidential Task Force on Missing and Murdered American Indians and Alaska Natives heard stories of loss, racism and neglect from tribal leaders and advocates in Arizona and nine other states Friday, May 29.
Members of the task force, also known as "Operation Lady Justice," hosted the listening session to hear from tribal leaders and community members about how the missing and murdered Indigenous peoples crisis is affecting their communities. The goal of the task force is to improve the criminal justice response to American Indians and Alaska Natives experiencing violence nationwide. After several instances of cross talk and technical difficulties, a dozen or so tribal leaders, advocates and attorneys shared their thoughts, ideas and frustrations with the task force.
Navajo Nation Council delegate Amber Kanazbah Crotty was among the first to speak.
"Me as a tribal leader, I cannot tell you how many Navajo are missing here on the Navajo Nation," said Crotty. "That demonstrates just a lack of data sharing, that reflects the lack of communication and coordination, and that also reflects the lack of support that our families need."
The listening session also saw updates from task force members, White House officials and law enforcement officers. Charles Addington from the Office of Justice Services in the Bureau of Indian Affairs said they're forming teams to investigate unsolved cases, also known as cold cases, in seven locations throughout the United States.
Crotty emphasized how important it is for tribal governments to know how to fully utilize the tools within the task force. She said she didn't know how to refer unsolved cases to the cold case unit.
Caller after caller from Western states asked the task force to improve local and federal law enforcement's response to the human trafficking of Indigenous peoples, missing persons cases or domestic abuse.
Grace Bulltail shared her family's struggles as they searched for her niece, Kaysera Stops Pretty Places, who went missing in Montana in August 2019. Bulltail retold issues with missing persons reports, problems identifying Stops Pretty Places' body, and gaps in the investigation of her death.
Another speaker from the Navajo Nation closed the listening portion of the event. Meskee Yanabah Yatsayte is the founder of Navajo Nation Missing Persons.
Yatsayte said she and some of her other family members have been searching for her uncle for almost a month. She said the pandemic restrictions' have made her search even harder.
"And because of the COVID delays we were not able to search for my uncle in the Gallup, New Mexico, area," Yatsayte said. "That caused a lot of dilemma for us, and now our hope for finding my uncle alive was just totally demolished right there and then."
The task force has two more listening sessions with leaders from 12 other states scheduled for early June.