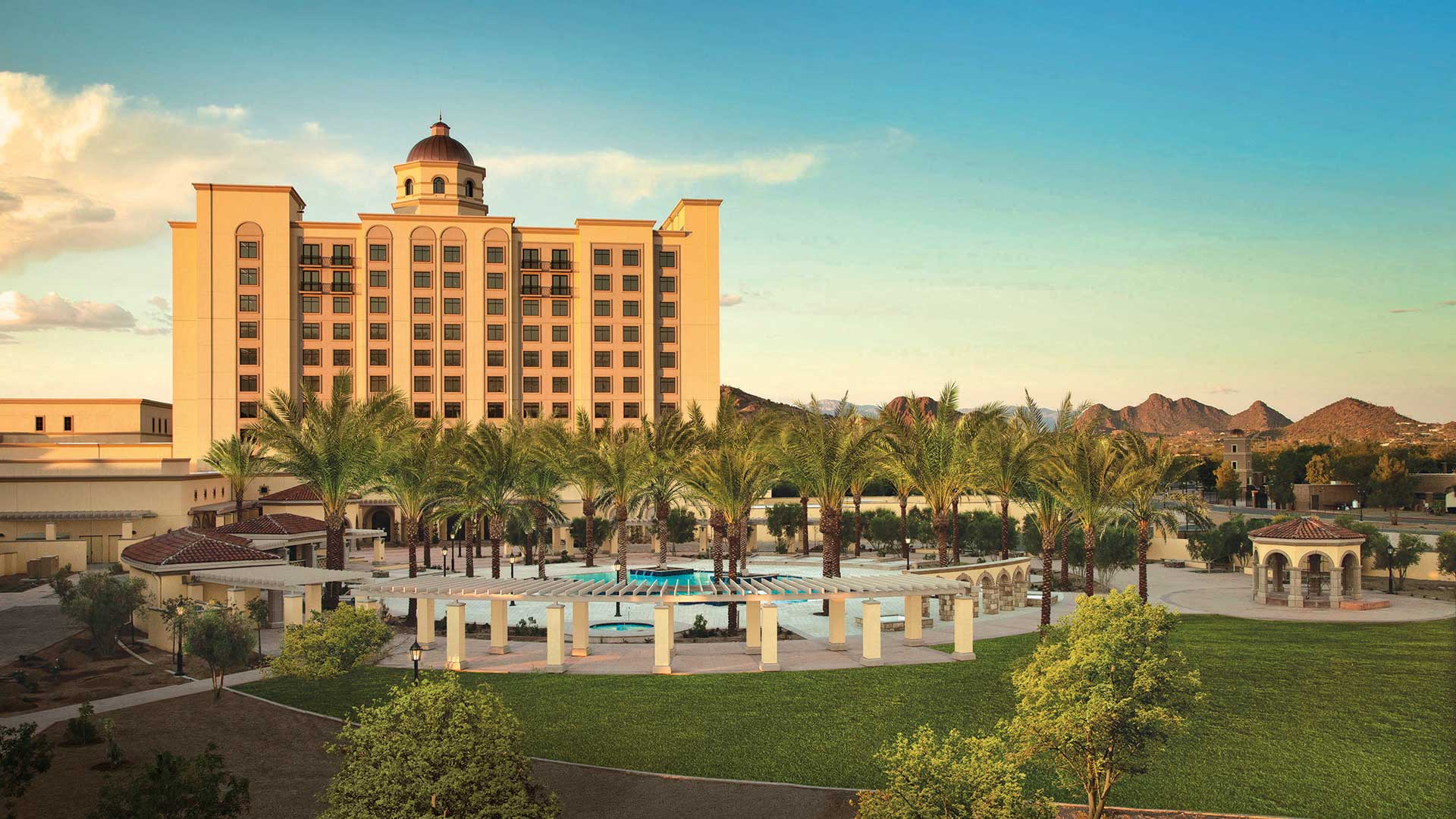 The exterior of Tucson's Casino Del Sol.
Courtesy Casino Del Sol
The hustle on the gaming floor at Casino del Sol is reminiscent of a slow night before it closed due to the pandemic March 18.
At least that what it reminds Kimberly Van Amburg of now.
Van Amburg is the CEO of Casino del Sol and Casino of the Sun. She describes the entrance of Casino del Sol as a checkpoint for mandatory masks and temperature checks before a checkerboard network of disabled slot machines, quiet restaurants and plexiglass barriers at tabletop games to enhance social distancing.
"You can't sit right next to each other if the machine right next to yours is turned off, right?" said Van Amburg.
She said slot machines that once belonged on the gaming floor now dot rooms that once housed conferences or weddings.
The Pascua Yaqui Tribe owns both Casino del Sol and Casino of the Sun. Both of the casinos and those belonging to the Tohono O'odham Nation reopened last week in the midst of a surge in COVID-19 cases in Arizona, making the state one of the nation's new hot zones.
Van Amburg said the Yaqui casinos are watching the case counts closely, listening for advice from experts and planning to be flexible as the pandemic progresses.
She estimated that since reopening June 3 they're hitting about 75% of the casino's former occupancy.
"But at least in the first few days of reopening, people spent more time here than they normally would, so the gaming revenues were not significantly lower, and I think that accounts for some of the pent up demand. People are just ready to get out and do something that they're comfortable doing and that they enjoy doing," said Van Amburg.
Casino del Sol, Casino of the Sun and Desert Diamond Casinos are all making efforts to clean their equipment. Van Amburg and Treena Parvello, the director for government and public relations for the Tohono O'odham Gaming Enterprise, said guests appreciate their efforts to separate patrons and employees, be it with fabric, space or plastic barriers.
Both representatives say their respective Yaqui or Tohono O'odham enterprise paid their employees during the almost three months the casinos were closed.
Parvello said since the Desert Diamond Casinos opened on June 5 their guests have asked questions about the regulations but don't try very hard to find loopholes.
"Once you have that conversation, they pretty much are bought in. They have been accepting of these measures. They understand what's going on and they that we live in a different world."