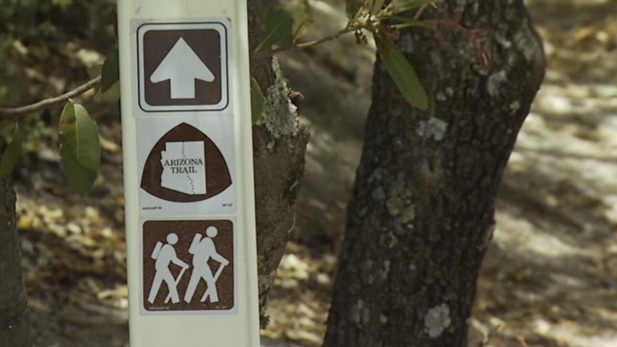 A signpost designating a segment of the Arizona Trail.

AZPM Staff
The Arizona Trail's start along the U.S.-Mexico border will be closed for months beginning Monday so the Trump administration can finish building a border wall in the area.
The U.S. government has several ongoing border wall projects throughout Arizona. Some along tribal lands, others across rivers and now it's about to begin a 2-mile stretch in the Huachuca Mountains and cutting across the southernmost edge of the 800-mile trail.
Matthew Nelson is executive director of the Arizona Trail Association, a nonprofit organization that advocates for the trails.
"I'll say that I'm not surprised but absolutely disheartened by the fact that we recommended a variety of mitigation measures including using virtual border fence technology or naturalizing the area after the border wall was built. but neither of those fit into CBP's plans," he said.
The old barbed-wire fence that serves as the only barrier to Mexico in the region will be replaced with 30-foot bollard-style walls like those going up along much of the rest of the state as well as lighting, cameras and a border road.

Fronteras Desk
is a
KJZZ
project covering important stories in an expanse stretching from Northern Arizona deep into northwestern Mexico.