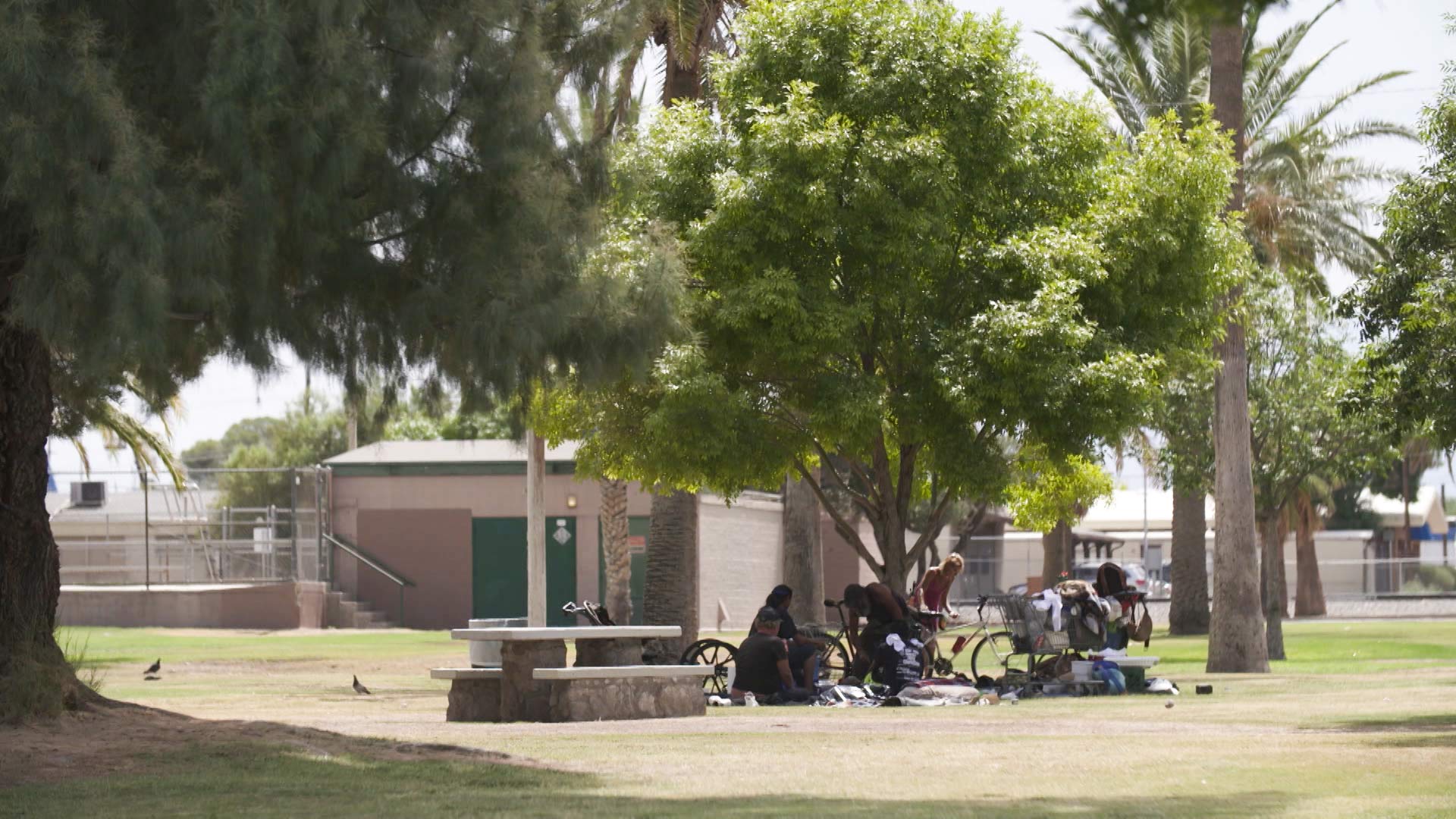 A group hangs out in the shade in Santa Rita Park in Tucson.
AZPM Staff
A recent report out of the University of Arizona estimates that the rate of homelessness could rise up to 29% if Arizona's unemployment rate increases another 10 percentage points during the pandemic.
The U.S. Bureau of Labor Statistics reports Arizona's unemployment rate has bounced from 4.5% at the beginning of the year to 10% in June. The UA report looking at homelessness in Arizona during the pandemic predicted if that number rose to 15%, the authors expect the rate of homelessness across the state to increase by 16%. If the unemployment rate increases to 20%, they conservatively predict a 29% increase in the rate of homelessness. Keith Bentele, an associate research professor with the Southwest Institute of Research on Women, is one of the authors. He said the likelihood homelessness will make these jumps depends on how governments at the local and federal level respond to housing insecurity.
"The question is what are we going to do in the ensuing months as we come up to the expiration of the eviction moratorium at the end of October," Bentele said. "What is going to be done to support those families?"
Before Governor Doug Ducey extended the state's eviction moratorium to Oct. 31, an analysis by consulting firm Stout Risius Ross estimated that 365,000 renters in Arizona are at risk for eviction. Bentele and co-author Claudia Powell were cited in the report.
"Given the magnitude of this problem, I think we need to be really multi-pronged and working on as many levels as possible simultaneously, to spread some of this burden around, in terms of ameliorating the issue," Bentele said.
He and Powell suggest that governments first do what they can to keep people housed. They suggest investing in rental assistance, either with payments to landlords or to renters themselves. They also suggest making applying for rental assistance easier, stopping all non-emergency evictions and increasing the state unemployment benefit level.
"Because our benefit levels are so low, we could double our maximum benefit of $240 and our maximum benefit would still be lower than half of the states in the country," Bentele said.
He said that even if all these suggestions were adopted, many people would probably still become homeless. The report suggests governments fund and fully staff programs that quickly rehouse people who are experiencing homelessness. They also call on governments to make Housing Choice Vouchers, also known as section eight vouchers, easier to use while providing an incentive for landlords to accept them.
They came to these possible estimates in the rate of homelessness after looking at how past rates of unemployment have impacted homelessness, but they realize this recession is unique and so are the policies responding to it.
Bentele said since the loss of the additional $600 federal unemployment benefits that expired at the end of July will "directly cause hardship and increase housing insecurity for households."