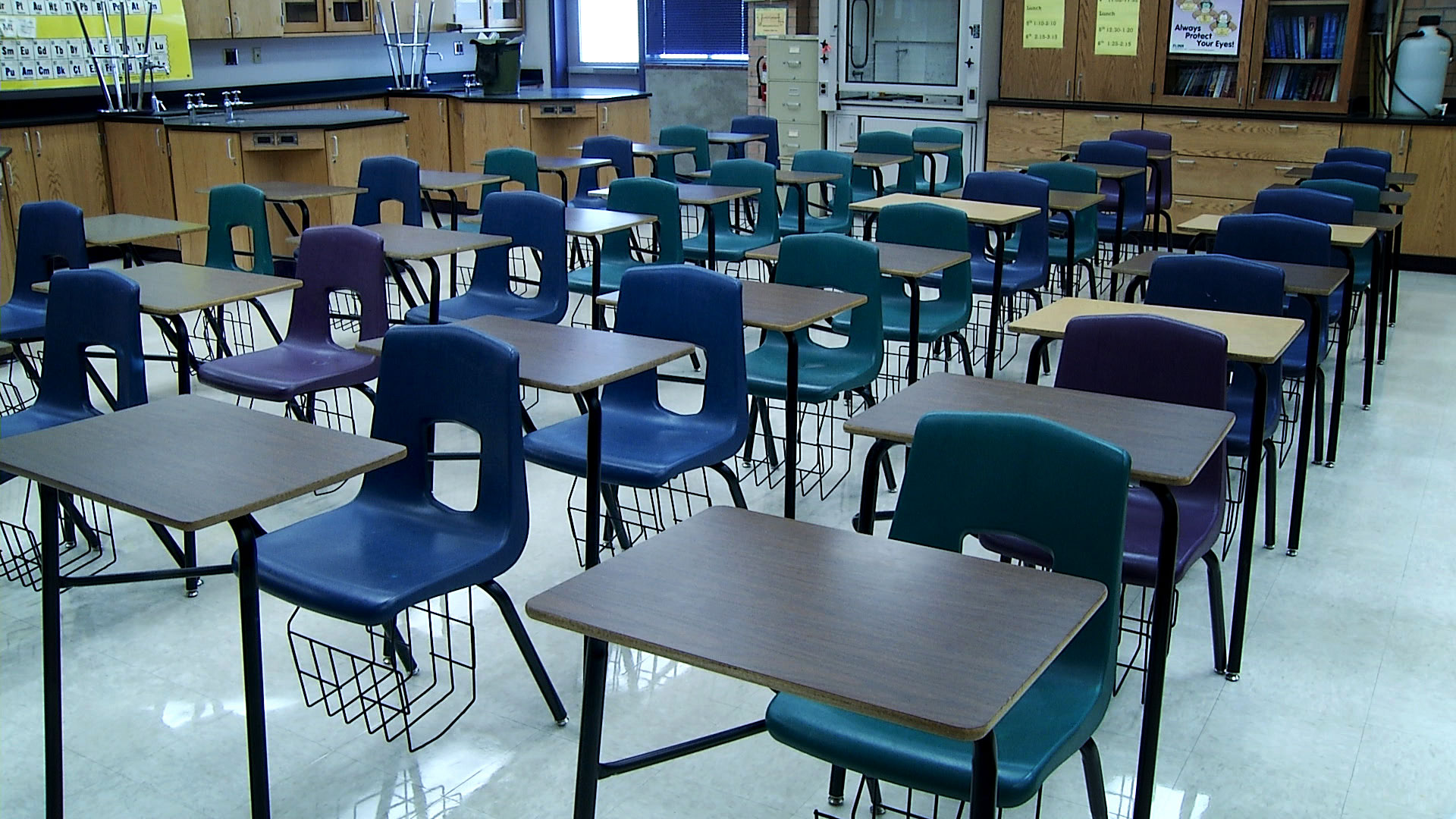 File image of an empty classroom at Sabino High School in Tucson.
AZPM Staff
Class is back in session for the majority of local districts. But "classrooms" this year vary based upon each student and teacher's situation. Some are back in physical classrooms and some remain fully online, perhaps at a kitchen table somewhere.
Much like the modes of instruction this year, there is no single statewide reaction to how schools are delivering education.
Local public health officials have been pretty clear that the coronavirus pandemic in Pima County presents too much danger to return children to schools en masse.
Meanwhile, a vocal subsection of parents and community members support sending kids back to in-person classrooms.
While polls suggest that parents still do not feel comfortable sending their children to schools, it is far from a firm decision. Certain safety guidelines can make people change their minds about that. But safety guidelines are only effective if people follow them.
The decision of when to fully reopen schools lies with district leaders, but per the governor's orders, schools need to offer on-site learning spaces by Monday in order to qualify for full funding.
According to state data, not a single county in Arizona meets all three benchmarks set to safely reopen schools for all students. A majority of counties meet at least two of the benchmarks.
In the world of higher education, the University of Arizona continues to prepare for Aug. 24, the first day of classes. The effort to test incoming UA students began this week. Tensions remain between the more optimistic attitude of university leaders and members of the faculty, staff and student body.
In another blow to normalcy, the PAC-12 announced that there will be no sports this fall. According to the Arizona Daily Star, this decision will lose the university millions of dollars.

For those interested in a long read for the weekend, the investigative journalism organization ProPublica teamed up with the Arizona Republic to look into the quality of education Native American students receive.
---
A look at Vail teacher's first day of school in virtual environment
Arizona 360
After receiving more guidance from the state about how to safely reopen campuses, the new school year is off to a virtual start for the majority of Arizona's students. Arizona 360 visited Mesquite Elementary in the Vail School District on the first day of class to see how educator Shannon Jelle was managing distance learning with her fifth grade class.
---
It's still unsafe to reopen schools for in-person learning, Pima County health experts say
AZPM
Pima County health officials say it's currently unsafe to reopen schools to in-person classes next week. The state's official start of the school year is Aug. 17.
At a meeting with education officials Monday, the Pima County Health Department reiterated its earlier assessment that won't be safe to start school with traditional learning, and may be unsafe to do so for several weeks.
The county currently isn't meeting any of its back-to-school criteria, according to Dr. Francisco Garcia, the county's chief medical officer. Garcia said only when those are met can schools welcome more students for in-person or hybrid instruction.
---
Arizona rally favors reopening schools to in-person learning
AP
PHOENIX — A rally in support of reopening Arizona schools for in-person learning amid the coronavirus pandemic drew hundreds of people to the state Capitol.
KNXV-TV reports that many parents and others at the Monday night rally wore green and demanded a green light to have students return to school. People voiced concerns over social-emotional wellness and families who need critical support services.
The Department of Health Services on Tuesday reported 1,213 additional confirmed COVID-19 cases with 45 additional deaths. The reports increased the state's confirmed cases to 188,737 and its death toll to 4,199.
---
A few Arizona districts moving to start in-person learning
AP
PHOENIX — A few Arizona school districts are moving to begin in-person learning next Monday over the objections of some teachers. Some parents and students are cheering the decision.
The board of the Queen Creek Unified School District outside Phoenix voted on Tuesday to resume in-person learning. The J.O. Combs Unified School District in nearby San Tan Valley voted Monday to begin offering in-person instruction. Both districts said they would continue to provide online learning.
Educators had asked the Queen Creek board to stick with education online until Maricopa County met public health benchmarks included in voluntary guidelines issued by the state last week.
---
Arizona district cancels classes after teachers revolt
AP
PHOENIX — An Arizona school district that had planned to resume in-person classes against the advice of public health officials is now backing off after teachers refused to show up. The J.O. Combs Unified School District in Pinal County announced that classes will be canceled on Monday, and it's unclear when they'll resume.
Superintendent Gregory Wyman says in a letter to parents that the district received "an overwhelming response from staff" who feared for their health and safety. He says so many people would be absent Monday that schools can't open.
---
TUSD on-site learning will prioritize at-risk students
Arizona Daily Star
The Tucson Unified School District will welcome back students who are seen as particularly vulnerable for on-site classes starting Monday. This plan will include students who are refugees, facing homelessness, in the foster care system or require special education with high needs.
The district had its first day of online classes this school year on Aug. 10. Monday is the deadline set by Gov. Doug Ducey to offer some sort of on-site option for students.
---
UA President Robbins optimistic about university COVID-19 test results
AZPM
University of Arizona president Robert Robbins says more than 1,200 UA students have been screened for the coronavirus and only one has tested positive. He gave that update during Thursday's briefing on the university's reentry plans.
Robbins says he hopes the result shows students are making good choices about their health. "Maybe these students have already had the virus or there they've been doing a great job of following the rules, and we hope they continue to follow the rules when they come back to our campus," he said.
So far the UA has only tested students living off campus on a voluntary basis. Starting Friday, the university will begin mandatory testing for all students who plan to live in dorms on campus.
---
'Die-in' protests UA reopening plans
AZPM
Several dozen people "played dead" on the University of Arizona mall Friday morning to show their concern over the university's reopening plan during the pandemic.
The protesters, who were students and instructors, displayed signs such as "We are not your experiment." They say they want the university's plans to be guided by public health data, not arbitrary dates on the calendar, in order to keep people safe.
Organizers said they were concerned about having equitable options available so that everyone can study or work safely and what they feel is a lack of transparency from the university.
---
Covid Watch app part of UA reentry plan
AZPM
Sometime before the first wave of 5,000 students returns to the UA campus on Aug. 24, the Covid Watch Arizona app will roll out on the Apple and Android app stores. It tracks how often the phone's owner comes in close contact with other users of the same app, so if one of them tests positive for the coronavirus, the other users can be notified.
Molecular and Cellular Biology Department head Joyce Schroeder says the app is in the final testing phase. It will be free and anonymous, Schroeder says, but it depends on a high level of acceptance by the community.
The app has drawn the attention of national health officials.
---
Navajo president: Schools should use online learning in fall
AP
WINDOW ROCK — Navajo Nation President Jonathan Nez is urging all schools on the tribe's reservation to use online learning during the fall semester to help reduce the risk of spreading the coronavirus. Nez's statement released Thursday night cited all public and private schools, including charter schools, schools operated by the federal Bureau of Indian Affairs and those controlled by the tribe.
Over 9,300 confirmed COVID-19 cases have been reported on the reservation, which includes parts of Arizona, New Mexico and Utah.
---
Judge orders changes to explanation of education tax measure
AP
GLENDALE — A judge has ordered changes to the description of a proposed tax increase on the wealthy designed to fund education that will be sent to voters if the initiative makes the November ballot. The order came after another judge blocked the Invest in Education Act from the ballot because of what he said was a misleading 100-word summary seen by more than 400,000 people who signed qualifying petitions. That ruling is being appealed to the state Supreme Court.
A Maricopa County Superior Court judge ruled Tuesday that If the high court resurrects the initiative, language adopted by majority Republican members of the Legislative Council must be modified.
Learn more here.](https://apnews.com/38097109e67ccfe0dbefd14daadc7994)
---
Rights group demands Arizona schools not ask citizenship
AP
PHOENIX — A national Latino rights group has warned two Arizona school districts that their practice of asking about citizenship and Social Security numbers on enrollment forms violates a Supreme Court decision that ensures children have access to public education regardless of immigration status.
The Mexican American Legal Defense Fund said it sent the letters by certified mail and email Friday morning, demanding that Coolidge Unified School District in Pinal County east of Phoenix and St. Johns Unified School District in eastern Arizona's Apache County revise their forms. The high court's 1982 Plyler v. Doe decision said citizenship should not be a factor in ensuring children get an education.
---
PAC-12 calls off fall sports
AZPM
The PAC-12 announced today it is suspending all fall sports and holding off on the start of play for winter and spring sports until January due to the novel coronavirus. In a virtual news conference, PAC-12 Commissioner Larry Scott said the conference looked at many options including starting fall sports season like football later.
"We came to the conclusion, reluctantly that there is no indication that things are likely to change in terms of the criterion that influenced this in the next few weeks," Scott said at the conference.
While basketball teams will not be allowed to play their first games until January instead of the usual late fall start…the teams can begin to practice in the fall. All fall sport student athletes will keep their scholarships.
---
Ducey disappointed in PAC-12 cancellation
AZPM
Fall sports are on hold at PAC-12 schools like the University of Arizona and Arizona State University, and that has fan Gov. Doug Ducey upset.
"Over the course of time a vaccine at some point, lower positivity, more rapid testing there's all kinds of things that we could have done to mitigate it from a fan or observer standpoint," Ducey said. "Some of the sports are non-contact at all and they've been canceled as well, so I was disappointed with the decision."
Ducey said the loss of fall collegiate sports at two of the state's largest universities means a loss of tax revenue for the state. President Trump is urging college sports, especially football, to play in the fall.