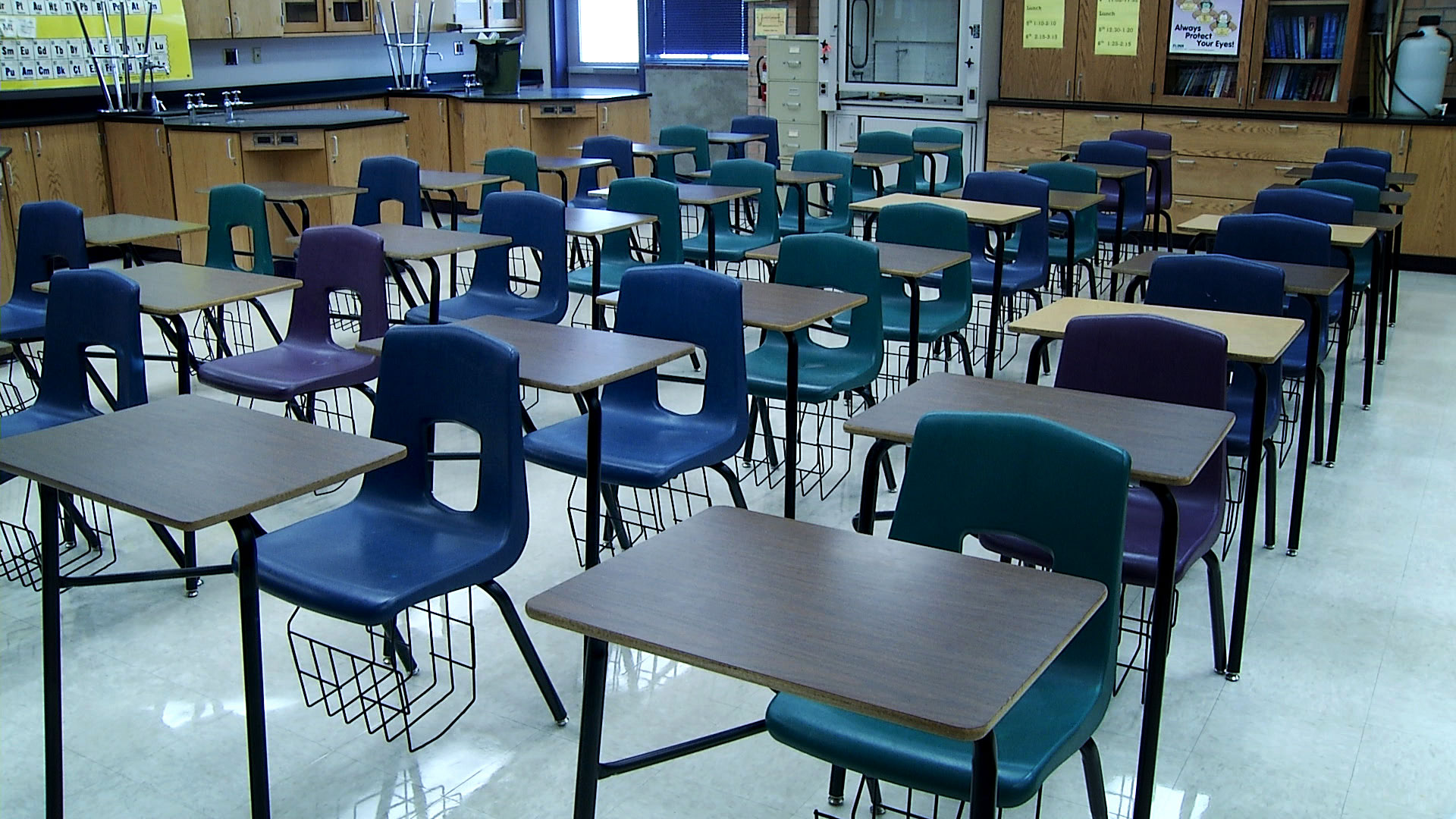 File image of an empty classroom at Sabino High School in Tucson.
AZPM Staff
School is well underway for K-12 grade students in Arizona. Two counties in Arizona, Apache and Yavapai, have been cleared by public health authorities to partially reopen for in-person learning, according to the Associated Press. Both counties, which are up north and largely rural, met the state's three criteria for reopening.
As of Aug. 20, Pima County was the only county in Arizona that only meets one of those benchmarks, according to state data. Cochise, Santa Cruz and Yuma Counties all meet two.
While Pima County coronavirus cases have leveled off in recent weeks, local conditions would need to further improve before a safe reopen is a realistic possibility.
The first day of school is nearly here for Wildcats. The University of Arizona starts classes on Aug. 24, though what that will look like largely depends on a student's class schedule.
Some classes will begin in person, with some safety measures in place. Others will be online with an instructor providing real-time lessons. Some are a mix of the two and still others are online for students to complete at their own pace.
There's no shortage of things going wrong for colleges that have reopened. But UA President Robert Robbins said that he does not foresee the UA abandoning its reopening plan..
For those looking for a series to binge listen this weekend, Serial and The New York Times just released the final episode of their five-part limited podcast series, "Nice White Parents." The podcast chronicles decades of integration efforts at a Brooklyn public school. Some of the situations may seem familiar to Tucson residents, as the Tucson Unified School District has been locked in a legal battle on school segregation since the 1970s.
---
Arizona Supreme Court revives education tax initiative
AP
PHOENIX — The Arizona Supreme Court has restored a citizen's initiative that would raise taxes on the wealthy to help boost education funding to the ballot. Wednesday's unanimous ruling is a major victory for proponents of the initiative who turned in signatures from more than 400,000 voters to qualify it for the ballot.
The Secretary of State's office has not yet completed its review of those signatures to determine if it will go before voters on Nov. 3.
The high court overturned a July 31 ruling by a trial court judge who said the 100-word summary on petitions voters signed inaccurately described the measure and petition circulators were illegally paid.
---
Invest in Ed initiative headed for November ballot
AZPM
With the Arizona secretary of state certifying the Invest in Education initiative Friday, it's now official: It'll be on the November 2020 ballot.
The citizen's initiative, Proposition 208, adds a tax for wealthy Arizonans to increase education funding. After some legal battles this summer, the secretary of state certified 253,047 signatures out of the 435,669 the group submitted July 2. It needed 237,645 signatures to qualify for the ballot.
"If it passes, this will be a huge win for Arizona students, teachers and parents, because it will put millions of dollars each year into Arizona's public schools," said David Lujan, one of the authors of the 2018 and 2020 versions of the initiative, and director of the Arizona Center for Economic Progress.
---
Arizona clears 2 counties to partially reopen schools
AP
PHOENIX — State health officials say COVID-19 conditions in Arizona have improved to the point where it is safe for two rural counties to reopen schools for partial in-person learning. The counties given the green light are Apache and Yavapai.
The state health department says its earlier statement that Cochise and Coconino counties were OK to open was incorrect. Prescott in Yavapai County and St. Johns in Apache County are among the large communities affected along with many smaller communities.
The state's other 13 counties, including Maricopa, which includes Phoenix, and Pima, where Tucson is located, still haven't cleared benchmarks based on case numbers, testing positivity and hospital visits.
The virus outbreak has eased after Arizona became a national hot spot in June and July.
---
Arizona schools attempt reopening amid outcry, resignations
AP
QUEEN CREEK — The first day of school, a normally happy ritual, was fraught with conflict Monday at some schools opening in Arizona, echoing debates across the country over the risks of holding all in-person instruction amid the coronavirus pandemic. In some districts, worried teachers resigned or called in sick.
While Queen Creek Unified School District opened its doors, J.O. Combs Unified School District in neighboring Pinal County canceled its planned reopening Monday after an overwhelming number of staff said they planned to be absent. The school board in Queen Creek, about 40 miles southeast of Phoenix, voted last week to offer in-person instruction full time
---
TUSD school closes after staff members test positive for COVID-19
Arizona Daily Star
The Tucson Unified School District closed the Tolson Elementary School campus Tuesday after two staff members tested positive for COVID-19. The closure came after only two days of the district offering in person learning spaces to children who qualified, as per Gov. Doug Ducey's orders.
According to a district spokesperson, no children came to the campus Monday.
---
UA: At least nine students test positive for COVID-19 on return to campus
AZPM
University of Arizona officials confirmed Wednesday afternoon that nine students had tested positive for the novel coronavirus when they arrived on campus to move into their assigned dorm.
University officials said three more students had positive results, but the university is waiting for confirmation of those tests.
All students must first complete a COVID-19 test before being allowed in the dorms. Those who test positive are isolated. More than 4,000 students have been tested since move-in began earlier this week.
---
UA launches Covid Watch Arizona app
AZPM
The University of Arizona launched its COVID-19 exposure notification app, called Covid Watch Arizona, Wednesday. The app works by notifying a phone's user if they've been close to another app user who has tested positive for the coronavirus. Both people have to have the app running on their devices in order for it to work.
Joanna Masel is a professor in the Department of Ecology and Evolutionary Biology and the app's technology lead for the UA with Covid Watch. She says they hope to get "clusters" of students to adopt it, rather than aiming for wide acceptance right away.
The UA and the separate non-profit that created the app, also called Covid Watch, plan to push it statewide after a pilot test at the university.
---
Arizona school official to comply with US high court ruling
AP
PHOENIX — The superintendent of one of two Arizona school districts put on notice by a national Latino rights group for asking about citizenship and Social Security numbers on student enrollment cards says officials have updated the forms and shredded previous ones.
Charie Wallace is superintendent of Coolidge Unified School District in Pinal County. She said Monday she is happy to comply with the demand Friday by the Mexican American Legal Defense and Educational Fund to not include those questions for students and their families.
The 1982 Plyler vs. Doe decision said children should have access to public education regardless of immigration status.
---
Businesswoman becomes new member of Arizona Board of Regents
AP
PHOENIX — Cecilia Mata, a native of Panama who came to the United States in 2000 and started a global security business five years later, is joining the Arizona Board of Regents. Gov. Doug Ducey announced the addition of Mata to the board Thursday. Mata, who lives in Sierra Vista, will fill a vacancy created when Ram Krishna's term expired.
Regents can serve up to two four-year terms. The board oversees the state's three public universities — Arizona State University, the University of Arizona and Northern Arizona University.
Ducey said in a statement that Mata is an "enthusiastic advocate for women-owned and minority-owned small businesses."
---
ASU regents sues Facebook over Instagram account
AP
PHOENIX — Arizona State University regents are suing in federal court Facebook and the owner of an Instagram account that advertised "ASU COVID parties" online. The regents say an account with the Instagram handle "asu_covid.parties" was sharing misinformation about the coronavirus to students and claimed to be throwing large parties at the university as students returned to campus for the fall semester. The lawsuit says the account is improperly using the school's logos and trademarks.
The Arizona Republic reports it is unclear who runs the account. The lawsuit names "John Doe aka 'asu_covid.parties'" as the defendant alongside Facebook.
Facebook did not immediately respond to a request for comment.