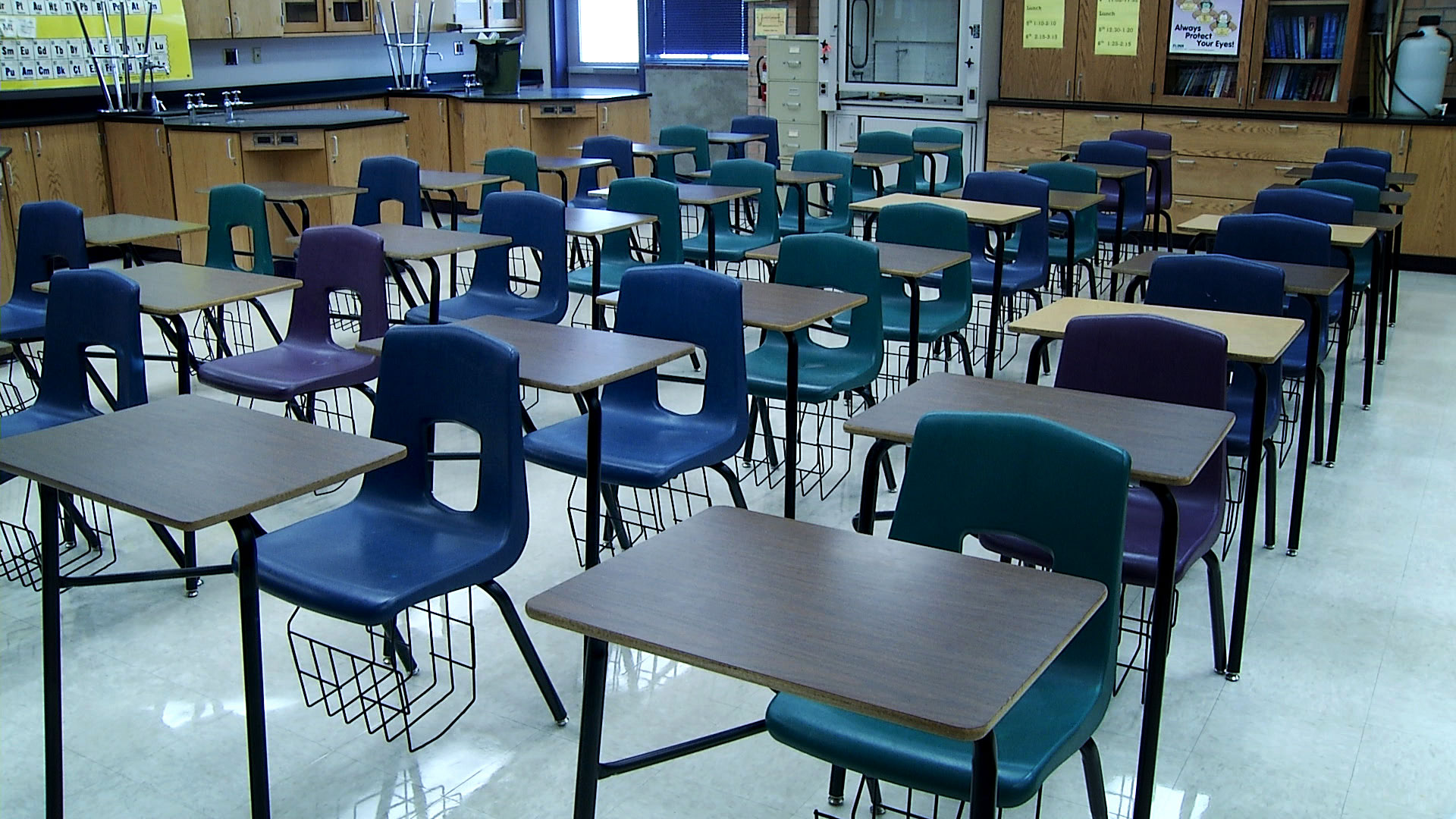 File image of an empty classroom at Sabino High School in Tucson.
AZPM Staff
As anyone who has ever been a student knows, once the school year starts, the end seems very far away. Instead of waiting the days out in classrooms, most students in Arizona face the fall semester on a computer screen.
That could change, at least for some. As of Aug. 27, two more counties, Greenlee and La Paz, meet the criteria to reopen schools for in-person learning, according to the Arizona Department of Health Services. Whether or not they will reopen, and what that might look like, is left up to individual districts.
The news in local higher education was a mixed bag this week. The University of Arizona resumed classes, with only a very limited number of them held in person. University officials decided to extend phase one of UA's reentry plan, meaning only essential classes will be allowed to meet in person until at least Labor Day.
According to the UA's COVID-19 response website, as of Aug. 28, a total of 65 antigen tests out of over 10,000 completed have come back positive since July 31.
In addition to antigen testing incoming students, UA monitors the wastewater from its dormitories. The novel coronavirus was detected in the wastewater from one dorm and quick testing found two students living there were positive for the virus. Experts say that the quick detection and response might have stopped a large outbreak from happening.
Of course, schools can only monitor their students so much, particularly students who live off campus. UA president Robert Robbins has previously threatened serious disciplinary action if students violate public safety rules and attend large parties.
Meanwhile, Arizona State University in Tempe revealed Friday the number of combined student and faculty COVID-19 cases had nearly tripled, according to the Arizona Republic, with more than half of the cases in people residing off campus.
Legendary UA basketball coach Lute Olson died Thursday. For those interested in reading how Olson changed the lives of his players, the Arizona Daily Star spoke with Sean Elliot about his relationship with Olson.
---
Arizona nonprofit focused on bridging students' digital divide
Arizona 360
As many schools opt to keep campuses closed, the decision creates obstacles for families who don't have the resources to pull off distance learning. Tony Paniagua reports on how the Arizona-based nonprofit Chicanos Por La Causa is stepping in to help students connect to their classrooms remotely.
Watch the full video here.
---
TUSD closes second school
Arizona Daily Star
The Tucson Unified School District has now closed a second elementary school, and part of a high school, due to COVID-19 infections.
The district's website lists Erickson school, on East Stella Road, closed from starting Aug. 25 through Sept. 7. The Arizona Daily Star reported one of the students at the KIDCO program within the school tested positive for the disease.
This comes after Tolson Elementary School was closed last week after two employees tested positive.
The Star is also reporting that two special education classrooms at Rincon High School have been closed after a staff member tested positive.
Learn more at Tucson.com
---
Science fair goes completely virtual for 2021
AZPM
Southern Arizona's regional science fair isn't happening until March, but organizers have already decided the competition will be held completely online.
The Southern Arizona Research, Science and Engineering Foundation has put together local science fairs for more than 60 years. Last March the group pivoted to holding its final competition virtually, streaming its awards ceremony online. Julie Euber, with the group, says next Spring, the entire event will be held virtually.
A SARSEF news release says details of the event are "evolving," but the group has decided the virtual fair will take place March 1-6, 2021.
---
Poor AC systems in schools could contribute to coronavirus transmissions, experts say
Arizona Republic
Over 500 HVAC repair requests have been filed with the School Facilities Board, making it the most frequent issue filed, according to an Arizona Republic data analysis. School budgets are already strained by the increased cost of daily disinfecting, leaving not enough money for adequate repair.
However, those faulty HVAC systems could potentially make it easier for COVID-19 to spread in schools, public health experts said.
---
UA slowing its plan to return to campus
AZPM
University of Arizona Provost Liesl Folks sent an email to the campus community Tuesday announcing the continuation of phase one of the university's reentry plan.
Phase one only allows what were deemed "essential" classes to meet in person. That phase was supposed to end after one week but has now been extended until at least Sept. 4.
Phase two will allow small classes to be held in person. Like the first phase, it is supposed to last for one week before all classes, regardless of size, will be allowed to be held in person.
UA officials said they made the decision to delay the start of phase two so they have time to gather more COVID-19 data.
As of Tuesday, university officials have confirmed 31 positive COVID-19 tests out of the more than 9,000 students, faculty and staff who have been tested so far.
---
UA wastewater testing finds COVID-19 cases in dorm
AZPM
The University of Arizona's wastewater testing system alerted university officials to COVID-19 cases in an on-campus dorm this week.
On Tuesday, the wastewater testing system at Likins Hall alerted the university that students or staff in the dorm may be positive for COVID-19.
UA President Robert Robbins said during his weekly briefing that a team immediately went to the dorm and tested every resident and staff member. Two asymptomatic students tested positive for the virus and were immediately sent to the quarantine dorm.
---
COVID-19 wastewater testing saves 'precious' time in outbreak prevention, researcher says
AZPM
Wastewater testing at University of Arizona dorms caught two cases of COVID-19 early, but it was what happened next that officials say made sure a potential outbreak was stopped before it started.
The 300 residents of Likins Hall, where wastewater tests alerted to the virus, were tested, and a special UA cleaning crew was brought into to disinfect the dorm, according to university officials. The two students who tested positive were isolated in another residence hall and the next day the wastewater was tested again.
The wastewater testing is extremely sensitive. The two students in question were asymptomatic, something UA President Robert Robbins calls a good thing. According to Robbins, wastewater testing can detect the virus up to a week before symptoms show.
Ian Pepper, the researcher in charge of the wastewater testing program, called those seven days "precious" when it comes to preventing a widespread outbreak.
---
UA to lead Center for Quantum Networks
AZPM
The next generation of the internet, one powered by quantum computing, could come out of research led by the University of Arizona.
The university on Wednesday announced it received a $26 million, five-year grant from the National Science Foundation to create the Center for Quantum Networks. The UA will lead a coalition that includes Harvard, Yale and the Massachusetts Institute of Technology.
UA optical sciences assistant professor Saikat Guha will head the effort. He says quantum computing, which exploits the properties of subatomic photons, offers the potential for much faster, more complex problem-solving and improved data privacy.
The project involves networking multiple computers around the Boston metro area using fiber optic cables. Ultimately, the technology could lead to a worldwide quantum network to augment or even replace the existing internet.
---
COVID-19 cases nearly triple at ASU
Arizona Republic
Arizona State University confirmed 480 known cases of COVID-19 within its staff and student body. Over 300 of those cases had been identified in the three-day period between Tuesday and Friday, the Arizona Republic reports.
About half of the cases are from people who live off-campus. Despite an on-campus mandatory mask policy, reports of large, maskless parties have emerged.