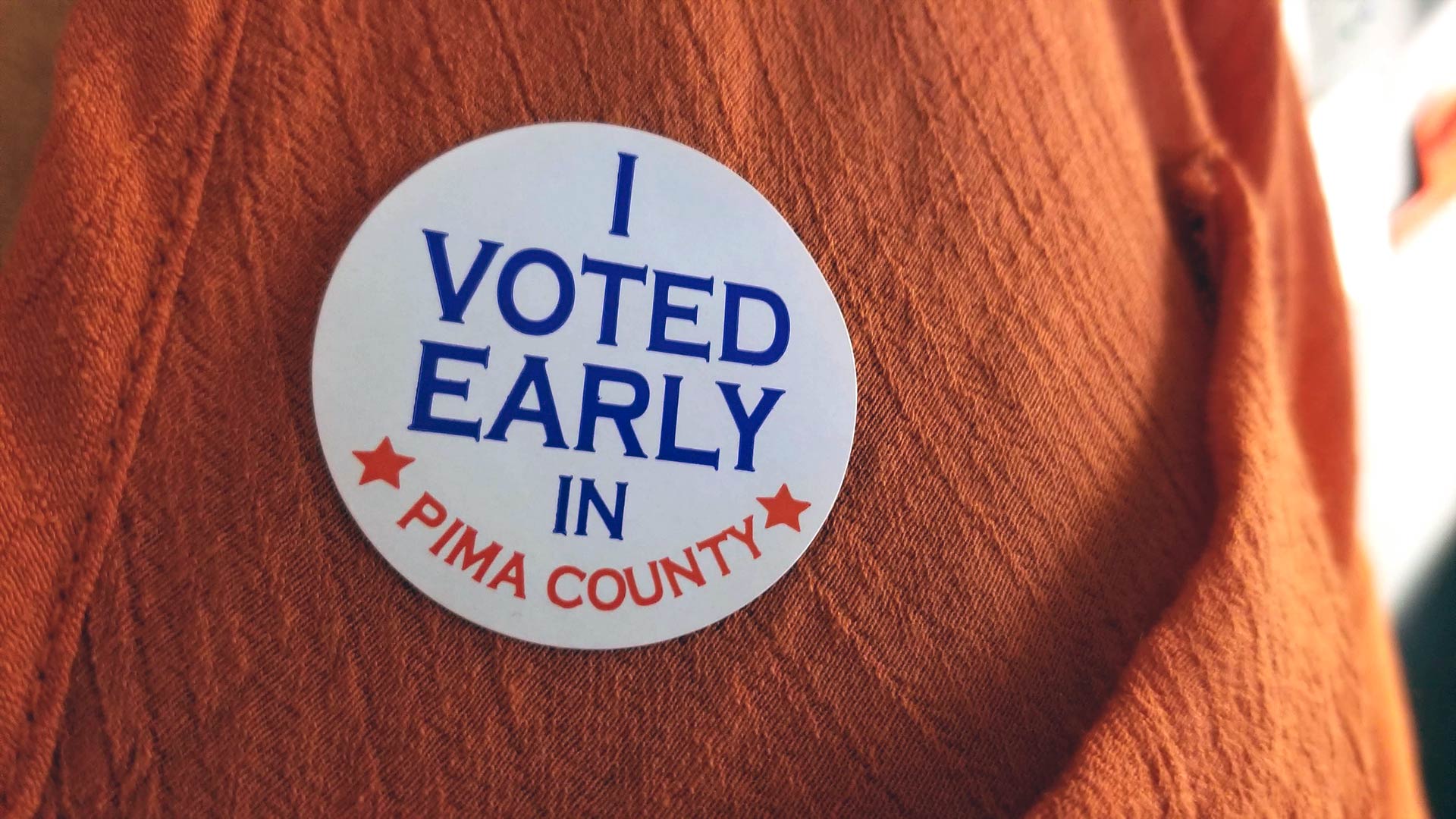 A voter displays their "I Voted Early in Pima County" sticker.
AZPM
The Pascua Yaqui Tribe wants its early voting site back. Chairman Peter S. Yucupicio called on the Pima County Board of Supervisors Tuesday to do what they could to reinstate it.
Pima County Recorder F. Ann Rodriguez closed the site about a month before the August 2018 election, telling the tribe's council that the radio station it used for early voting was insecure and had low voter turnout. Tuesday's plea to the board of supervisors was the latest in the tribe's efforts to reopen an early voting site in its reservation southwest of Tucson. The recorder's office sent out a press release Tuesday saying it was too late to provide another secure voting site this year.
Yucupicio said the tribal government is willing to work with the recorder's office and address her objections, but Rodriguez "hasn't given [them] any opportunity to work together on this issue." He said that officials should be trying to make it easier to vote.
"When I look at the right to vote as a Native American or American, every single jurisdiction should be making every effort that would not hinder a person to go cast their vote," Yucupicio said.
Supervisors Chairman Ramon Valadez said they expect to discuss the site more at their next meeting in two weeks.
Tucson Mayor Regina Romero joined Yaqui officials in asking Rodriguez via a letter Tuesday to amend the election plan that includes the locations of early election sites for primary and general elections.
"It would be deeply unfortunate if disparities in ballot access were simply dismissed and allowed to perpetuate," Romero said. "The Pascua Yaqui Tribal Council has made it clear that they are more than willing to work to find a new location on the reservation that meets your requirements, and are excited at this prospect."
Today, I sent a letter to @Pima_Co_Record asking to restore the Pascua Yaqui Tribe's early voting site removed in 2018. Indigenous communities in #AZ deserve accessible and safe ways to vote in the midst of a pandemic. pic.twitter.com/6FqCh4MmFL

— Regina Romero (@TucsonRomero) September 1, 2020
Both Romero and Yucupicio reflected on the barriers residents of the reservation face in order to vote early before and during the pandemic at the closest voting site approximately seven miles away: the heat, the monsoon and, for some, two-hour round trips on public transit.
If voters decide not to vote by mail or vote early, they must prepare to face lines on Election d\Day.
"Our elders can't stand in the sun like that that long. Our elders need the right to be able to just go up and cast their vote," Yucupicio said. "And even if it's one more vote that somebody casts, that's as important as 1,000 votes."
Neither the mayor nor the board of supervisors can make Rodriguez restore the tribe's early voting site.
Rodriguez sent out a press release late Tuesday responding to the request for an early voting site by outlining the importance of security at early voting sites, including location security, ballot storage and IT infrastructure.
She also urged the tribe's citizens to register to vote. She said her office does not have access to the tribe's membership role and therefore is "unable to target tribal voters and encourage voter participation."
Before the 2018 election the Pascua Yaqui government launched its own voter registration campaign that registered more the 296 voters. It restarted the campaign in November 2019, gaining more than 217 registered voters by mid-August 2020, according to Rebekah Lewis, an administration support service specialist for the tribal government.
The recorder's release also said that the closest early voting site, Mission Public Library, serves the Pascua Yaqui and members of the Tohono O'odham Nation who live in the San Xavier district. She also mentioned an additional early voting site in the Tohono O'odham Nation close to 60 miles away from Mission Public Library.
"The T.O. Nation encompasses a large geographic area, so some voters must drive 63 miles (over one hour) to reach that site," according to the press release.
The office also suggested that the Pascua Yaqui government pay the way for residents of the reservation without cars to vote early.
"Instead of requiring Pascua Yaqui voters to take the bus, Pascua Yaqui leadership could provide transpiration for their membership by setting up a telephone number for ride requests to Mission Library Early Voting Site. This would be similar to Uber, but the Pascua Yaqui would provide and pay for the service," according to the press release.
Rodriguez offered to promote voter registration on the tribal radio station and via flyers.
Rodriguez is retiring this fall. This November, voters will choose between Democrat Gabriella Cázares-Kelly and Republican Benny White to fill the seat.